TuneIn Radio on Android Auto brings the world's sounds to your car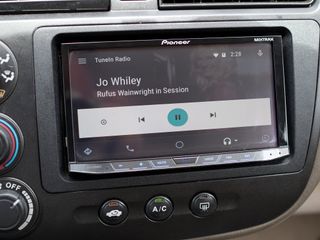 TuneIn Radio is a longtime player in the Internet radio game. And while it might seem a little odd to be talking Internet radio in the car when we have access to millions of songs in various traditional music apps (not to mention satellite radio coming standard on just about anything new, and available in most aftermarket units), terrestrial radio isn't going anywhere anytime soon. And TuneIn — with its free version having been installed more than 100 million times from Google Play — brings the online component for that.
The use case is easy enough to figure out. Say you've got a favorite radio station from home, or even from other part of the world. TuneIn can bring it to you. Sports. News. Talk. Music. All there in one handy app. (I've used it locally for years with phones that don't have an FM tuner.) And more recently TuneIn has integration podcasts into its repertoire. So it's a perfect fit for Android Auto, really.
Let's take a quick look.
You install TuneIn just like you would any other Android Auto app. That is, it's on your phone, inside the regular app. No special downloads or anything. And TuneIn Radio Pro works just fine, too.) (For more, see our primer on the basics of Android Auto.) You'll access TuneIn by pressing and holding on the music icon, then selecting the app.
The menu structure is the same as every other Android Auto media app. That's good and bad. It's familiar, and it's easy to drill through. But TuneIn suffers from the same problem we've seen in other apps. It's possible to drill down so far that you run into the safety block — that "For safety reasons, no more items can be displayed" message that you get after too many taps on the screen, as if it's your fault for trying to get to the item in the menu.
Voice commands work just fine, though. But, again, that's assuming you know exactly what you want to listen to. And we had problems with the podcast section not populating, which probably also explains why we couldn't use voice commands to launch the Android Central Podcast. (TuneIn can play it just fine on the Amazon Echo, for what it's worth.)
There aren't really any controls other than that. No real playlists or track skipping or anything, for the obvious reasons. Just an easy(ish) way to bring Internet radio into your car.
Image 1 of 15
Get the Android Central Newsletter
Instant access to breaking news, the hottest reviews, great deals and helpful tips.