TuneIn Radio on Android Auto brings the world's sounds to your car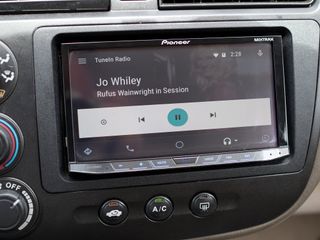 TuneIn Radio is a longtime player in the Internet radio game. And while it might seem a little odd to be talking Internet radio in the car when we have access to millions of songs in various traditional music apps (not to mention satellite radio coming standard on just about anything new, and available in most aftermarket units), terrestrial radio isn't going anywhere anytime soon. And TuneIn — with its free version having been installed more than 100 million times from Google Play — brings the online component for that.
The use case is easy enough to figure out. Say you've got a favorite radio station from home, or even from other part of the world. TuneIn can bring it to you. Sports. News. Talk. Music. All there in one handy app. (I've used it locally for years with phones that don't have an FM tuner.) And more recently TuneIn has integration podcasts into its repertoire. So it's a perfect fit for Android Auto, really.
Let's take a quick look.
You install TuneIn just like you would any other Android Auto app. That is, it's on your phone, inside the regular app. No special downloads or anything. And TuneIn Radio Pro (opens in new tab) works just fine, too.) (For more, see our primer on the basics of Android Auto.) You'll access TuneIn by pressing and holding on the music icon, then selecting the app.
The menu structure is the same as every other Android Auto media app. That's good and bad. It's familiar, and it's easy to drill through. But TuneIn suffers from the same problem we've seen in other apps. It's possible to drill down so far that you run into the safety block — that "For safety reasons, no more items can be displayed" message that you get after too many taps on the screen, as if it's your fault for trying to get to the item in the menu.
Voice commands work just fine, though. But, again, that's assuming you know exactly what you want to listen to. And we had problems with the podcast section not populating, which probably also explains why we couldn't use voice commands to launch the Android Central Podcast. (TuneIn can play it just fine on the Amazon Echo, for what it's worth.)
There aren't really any controls other than that. No real playlists or track skipping or anything, for the obvious reasons. Just an easy(ish) way to bring Internet radio into your car.
Image 1 of 15
Android Central Newsletter
Get instant access to breaking news, the hottest reviews, great deals and helpful tips
always installed on my devices and good choice in Jo

Nice,
Wonder how many people ACTUALLY have android auto Posted via My G2

I do, have the the pionner aftermarket and it's great.

Which car do you have? Do you have steering wheel controls? Do you still? Backup camera? From the looks of my dash, I don't think it has a standard 2-DIN hole....

I got the pioneer avh-4100nex, i have a backup camera but no sterling wheels which is available on this unit, my truck just don't have it. I have just an average ford pickup truck nothing special. What kind of car do you have?

Cant fit in my car sadly Posted via My G2

I know a lot of people who just use bluetooth with their android phone and just use "OK Google" to voice command their phones. Seems to work best with a Bluetooth stereo and a Moto X device, because it has the best Voice assist compared to other devices.

Yup I'm one of those. It's a lot more practical for me. I don't have a Moto X though, I have a Nexus, but it works just fine with my my Pioneer car stereo. Posted via the Android Central App

I've tested out many different radio apps on my phone to use while doing 5 mile walks outside. I've used XiiaLive, Radio.com, and Tunein Radio... but every single one of them suffered from the same problem.. too many "dropouts". Granted, it could simply be a hardware issue or a dropped signal. I picked up iHeart Radio from the Amazon App store since it was given away for free and so far it's been fairly decent. I seem to have fewer dropouts. I did like Tunein Radio, but so far out of the four, iHeart seems to give the best constant music and surprisingly, not too many commercials between songs.

Your problem sounds like cell coverage, and some radio apps buffer more content than others. The larger the buffer, the less problems there will be with pauses and drops. Posted via the Android Central App

I thought that too... but one of the radio apps has a setting to increase the buffer size.. and no, it didn't work. Besides, why would iHeart work the best... as least for my area? Update: I just went into the Tunein Radio settings and set the Buffer Size to the maximum of 30 seconds. The next time I walk outside to do my 5 miles I'll check to see if that helps. I like Tunein Radio and I try to be open-minded... I'll see if that helps at all.

Tune-In sucked on my GS3 and was slow and laggy, but with my Nexus 6 it is amazing once again as with my other devices. Tune-In is my favorite app, every radio station in the world, rewind live cache, record, comedy, podcast, etc.

You should get iheart radio from the Play Store. It has always been free. Amazon apps aren't updated very well.

Actually, Amazon has little to do with the frequency of apps being updated...it's the developer that decides that. Also, the reason why Google's Play Store apps need more updates quickly is because they have countless dozens of devices from many different vendors it needs to support. Amazon's App store, on the other hand... gives priority to Amazon's Kindle devices and Fire phone, with open access to other non-Amazon devices. For example, if an app is released on both stores... and if there is a problem with say HTC devices... then an update to address that problem would be released on Google's store. If there was never a problem with Amazon's own devices... there is LESS URGENCY to release that update on Amazon's store. At least that's my theory... Besides, I think Amazon's App Store is way more polished than Google's with a better review section.

TuneIn Radio is pretty much my favorite app. I install it on every new device that I get. I have a number of international radio stations that I listen to every day and follow numerous podcasts as well. Love this app.

Tunein Radio is a great app, but depending on what stations you wish to listen to they may or may not be available. One of my favorite stations WZZO out of Allentown, Pennsylvania isn't available, but I can get it in IHeart Radio. So I find I need to use both apps to cover all of my selections. Posted via the Android Central App

Yeah, I have iHeart Radio for the occasional station not supported in TuneIn, but that's a very small percentage of my stations. TuneIn is definitely my go-to app for radio. -- RCA Voyager

You can submit the streaming link and they'll add it , or at tunein.com just creat a custom station and put the stream url dirrectly as a custom station before they add it officially http://tunein.com/broadcasters/

Ug, I wish other head units would release. SHUT UP AND TAKE MY MONEY. Posted via the Android Central App

Low bit rate. Ew. Unless it's talk.

That's my issue with a lot of stations. Too many of them stream at 56kbps or lower, and end up sounding worse than AM Radio. Posted via the Android Central App

I been a Tuneln radio user for years. It's awesome to be able to listen to your favorite radio stations anywhere in the world. Great article. Posted via the Android Central App

Tunein is the one I use, but it does not get used very often because I have tons of albums on the phone, which also has a real radio built in. I use the free version, but like to buy the paid version on apps I like. What's the difference between the free and pro versions? Posted via the Android Central App

You should install the Amazon App Store on your device. A few weeks ago the paid version of Tunein Radio was one of their Free Apps. That's how I got mine.

Same here. I believe the pro version removes ads and allows recording. -- RCA Voyager

How many people still listen to traditional radio? Just wondering? Posted via the Android Central App

Most people I'd imagine. Traditional radio works better than anything else, doesn't rely on a data connection to a cell tower, and is free. So if you have good local stations why wouldn't you? Posted via the Android Central App

The best TI stations tend to have much fewer commercials than local broadcasts, and it's quite rare to have half a dozen REALLY good local stations. I even quit my SiriusXM account in favor of TI

I do occasionally, but mostly for news, or to listen to my wife. Posted via the Android Central App

Love Tune- in for my local, and world wide. I let it cache a bit and then can FF through the annoying commercials, but interesting to listen to commercials elsewhere in the world sometimes.

I heard a number the other day that was as high as 90 percent of people listening (or, rather, "hearing," I bet) terrestrial radio daily.

A lot of people still listening. And working in the field...like myself. Though we (independently owned local stations) do have a separate Android app, we openly promote TuneIn as well. FYI, you can't get iHeart/former Clear Channel stations outside their own app, but you can now get CBS Radio stations on both Radio.com and TuneIn.

I do, sports radio and NPR.

I had the Pro app for a while but their updates have killed it. When the top 6-7 reviews on the app store are 1-star, something is off.

If that pioneer radio in that car/truck mysteriously becomes missing, I don't have it! Posted via the Android Central App

If TMobile ever gets around to putting this on its Music Freedom list, this would be awesome.

It most certainly would Posted via Android Central App

I just tweeted that to them. Hopefully it helps.

I have been using Tunein for years. Its worked well. I can drive 1000 miles and lose the signal once on Rt 80 in a dead zone. Better have a lot of data tho I use 2 or 3 GB a month listening to ESPN. As far as the app, I use the widget...it doesn't get any easier or safer than that. It lists your 5 most recent stations. One touch and its done. Also the quality is top notch, I've never understood complaints about BT. In my vehicles using different but high quality Head Units, its sounded great. Posted via Serenity

I really enjoy TuneIn and use it to bring my local radio with me when I travel.

I use TI rather than a streaming (or on device) music library because those are static collections. With TI it's more random and varied which is what I want since I drive so much and quickly grew bored or repeating my own library.

I use TuneIn when I go traveling in rural NW Pennsylvania, cause the radio stations are far and few between, and I can also get my local radio station when I'm out of town. Recording is top notch, and yes, sometimes those ads can get annoying, but TuneIn has everything that I want in a music streaming app.. Posted via the Android Central App

Still wondering why TuneIn hasn't been added to Tmobiles free music streaming. iHeart Radio is on the list so why not TuneIn?

WWTuner is a good alternative, because it's free and does not require Android Auto, you find it here: https://www.androidcentral.com/e?link=https2F2F...

I just got a new car that has Android Auto (2017 Hyundai Elantra). I love TuneIn but for the life of me I can't figure out how to access my preset/favorite channels using the AA interface for TuneIn. If I select TuneIn and touch the three horizontal bars menu there is a list of categories but none of them is my presets. So there doesn't seem to be any way to select my channels. This seems like the most basic of features so I figure it must be possible or the whole app would essentially be useless.
Android Central Newsletter
Get instant access to breaking news, the hottest reviews, great deals and helpful tips
Thank you for signing up to Android Central. You will receive a verification email shortly.
There was a problem. Please refresh the page and try again.