Qualcomm's Bluetooth SoC aims to make truly wireless headphones a whole lot better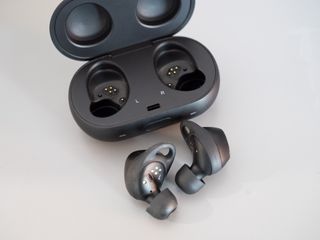 While Qualcomm is mostly known for its smartphone chips, it also makes components for PCs and headphones. The latter category is our focus today, as Qualcomm has announced its new QCC5100 Bluetooth SoC.
This component will go into truly wireless Bluetooth headphones, and will bring features that only larger headphones have had until this point. Most importantly, the new chip will be more power efficient than current solutions, allowing you to spend more time listening to music and less time with your earbuds in their charging case.
Qualcomm is also including support for "Hybrid" Active Noise Cancellation on the SoC itself, rather than requiring a dedicated component for the ANC. There will also be dedicated support for voice assistants such as Alexa and Google Assistant. From Qualcomm:
The exact features will depend on exactly what OEMs want to enable, so your next pair of earbuds may not have all the features this SoC will bring. Are you in the market for a new pair of earbuds this year? Let us know in the comments!
My next pair of headphones are going to be awesome! I honestly don't even need more battery life than my Gear IconX 2018 give me, but I'll definitely take it. Hopefully now we'll see APT HD in the next round of headphones.

True wireless headphones are awesome. I've love my airpods. They work great on the iPhone of course but good enough on my note 8 I switched into. For those of you swapping out your iPhone for an Android here's some tidbits concerning your airpods You lose all battery indicators
Auto connecting to your phone is spotty
You can't use bixby or ok Google without handling your phone. For this issue I made the headsets a trusted device and my note 8 is always unlocked

Thanks for that info!
I keep reading reviews on the new offerings. Every time I'm settled on which to buy, I end up investing more into crypto currencies. Hmm The bragi dash and icon x both look good, would be nice if Apple had a variation. Maybe version 2? Thinking of quality/ sound/ badly for money.

I looked at those but for $160 the airpods are priced competitively. Apple may have gotten the iPhone X wrong but the headsets are on point.

Trust me, the Airpods are utter cheap plastic trash compared to IconX.

Download Airbtts from the Play Store. They'll tell you the battery capacity for each headphone and the case :) Auto connecting is poor but that's ok, it happens rarely. Not bothered by voice stuff.

Price for what? You going to by the SoC and make your own headphones?

Glad the industry is being pushed towards better battery life and audio quality. I'm a big fan of wired headphones on the U11, but in the car I can't beat the functionality of having full control of the phone from the stereo. The sound quality in the car over bluetooth is what I would call "decent", but I'll have to shop around once the new SoC finds it's way into aftermarket units.

Kenwood and Clarion already make head units that support aptX. This SoC is more for headphones.
Android Central Newsletter
Thank you for signing up to Android Central. You will receive a verification email shortly.
There was a problem. Please refresh the page and try again.