True wireless earbuds have pulled me almost entirely away from over-ear headphones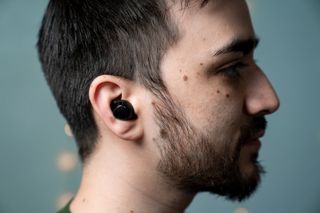 (Image credit: Hayato Huseman / Android Central)
I'm a big fan of over-the-ear Bluetooth headphones. I've sworn by my Sony WH-1000XM3 cans since I first got them over a year ago, and before that I was loyal to the 1000XM2s. I always leave a spot in my backpack for headphones (at least, I did back when traveling was still a thing), and up until fairly recently, I used my over-ears almost every day to focus while I work or drown out the background noise around me.
These headphones always seem to offer my favorite blend of exemplary battery life, sound quality, comfort, and portability. I've tried popular alternatives like the Bose QC35s and 700s, both of which excel in certain areas like comfort and relatively neutral sound, but neither gets the rest just right for me. I'm absolutely in love with my Sonys.
But lately, I just haven't been wearing them. They're still my best-sounding headphones (sorry to my trusty old wired V-MODA Crossfades), and they're comfortable enough to wear for hours on end. But back when I unboxed the Star Wars Edition Galaxy Note 10+, I got a pair of Samsung's Galaxy Buds in the box that I started to use more and more.
They didn't sound nearly as good as my Sonys, nor did they last as long, and the built-in microphone was abysmal; I quickly learned to not even bother trying to take phone calls with the Galaxy Buds. Just about everything from an audio perspective was worse than on the WH-1000XM3 ... but they were so convenient that none of it really mattered.
I still opted for the Sonys on most flights, since the Galaxy Buds don't have any form of noise canceling to drown out the ambient cabin sounds, but especially when traveling to a walkable city like New York City or San Francisco for work, it was so much more convenient and freeing to be able to ditch my backpack in my hotel room and carry my earbuds in my pocket, rather than draping bulky headphones over my neck.
I've gotten a few more pairs of true wireless earbuds over the last few months; I just wrote a re-review on the followup Galaxy Buds+, and my manager Daniel Bader convinced me to check out his favorites, the Jabra Elite 75t, as well. As more and more true wireless earbuds come into the office, I'm spending less and less time with my beloved Sonys.
In defense of the 1000XM3s, a lot of the blame can be pointed at the state of the world amidst the global pandemic. I haven't traveled since February, and when I'm home and want to listen to music in the best quality possible, I sit at my desk and fire up my Adam A3X studio monitors. Any other time, if I need to listen to audio and don't want to disturb my partner, it's easier to just pop in an earbud.
Sure, I'm sacrificing a bit on the sound quality, but hey — Bluetooth headphones have never been known for their pristine audio in the first place. There's a time and a place to fire up your DAC and run your open back over-ear headphones into the 1/4-inch jack to listen to FLAC files. I've done it, and it's glorious. But when I'm walking down a busy city street or sitting in on a meeting, I don't need the best audio modern technology can offer me. I just need portable, convenient headphones that don't slow me down.
I still use my Sonys whenever I'm cutting a video together. Lining up the voiceover and background music with the corresponding footage is important, and Bluetooth latency just slows that process down, so I run a 3.5mm cable into the WH-1000XM3s whenever I fire up Final Cut Pro X. Every time I do, I'm reminded of how great these headphones sound; how comfortably they sit on my head and over my ears. And you had better believe I'll snag a pair of XM4s whenever they finally drop.
But at least until I can hop back on a plane, I'm sticking with my true wireless earbuds for the time being. There's just no beating that convenience for what are, first and foremost, portable headphones.
Ditch the wires
Convenience rules above all else
The Galaxy Buds Plus offer a nearly perfect balance of sound quality, battery life, and ease of use that make them my go-to true wireless earbuds. I wish they offered active noise canceling, but given the affordable price and compact form factor, it's hard to complain.
Sign up for Black Friday email alerts!
Get the hottest deals available in your inbox plus news, reviews, opinion, analysis and more from the Android Central team.
Hayato was a product reviewer and video editor for Android Central.