Toshiba Thrive gets ICS update earlier than expected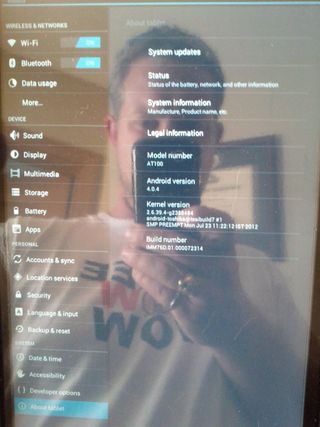 The last we all heard from Toshiba about the Ice Cream Sandwich update for the Thrive (AT100), was that it wouldn't be showing up until this fall. Toshiba missed their mark, but in a good way -- the Android 4.0.4 update is rolling out now to the 10-inch tablet. Besides all the greatness that comes with Ice Cream Sandwich, the update for the Thrive also has a few performance improvements.
Improved video and audio performance
Improved camera functions
Improved signal strength and connectivity
There's no detail on the rollout itself, but we know it's available as a reader sent in a pic through the old Android Central app. With Jelly Bean being released already it's a bit late to the party, but it's nice to see Toshiba coming in earlier than expected. Still waiting for the update? Or did you get it and want to discuss? The best place to do either is in the Thrive forums.
Source: Toshiba; via Android Central forums
Android Central Newsletter
Get instant access to breaking news, the hottest reviews, great deals and helpful tips
Senior Editor — Google Ecosystem
Jerry is an amateur woodworker and struggling shade tree mechanic. There's nothing he can't take apart, but many things he can't reassemble. You'll find him writing and speaking his loud opinion on Android Central and occasionally on Twitter.
Awesome! Love my Thrive, and my Nexus 7. ;)

I'm going to go update right now! :)

Woot! Picked up a refurb off of 1saleaday recently. It is a great device, ICS should make it that much better.

http://1saleaday.com/ Looks like you can pick one up today for $200. Coincidence... I think not.

I will definitely welcome ICS to my Toshiba Thrive. Just like Illustrator Joe said, it will make it that much better.

Great!!! Downloading now!

Mine is updating now. My Nexus 7 is a week old and I was contemplating selling my Thrive.
Maybe not!

Great!!! Downloading now!

I just finished my update. This is sweet!

It's working great so far. Stock browser is much improved.

Download keeps freezing about half way through. Tried 3 timest

My thrive was downloading SLOW and freezing also. Then I re-read the download/update instructions and removed my SD Card. After doing that, the download and update completed in just a few minutes. Looking forward to enjoying ICS on my Thrive and cannot wait to see what it can do.

But will it let me save to SD without having to root... Im sure the pros outweigh the cons... Has anyones flash support for their browser stopped working... just curious...

Yes. ICS supports media. IT was Goggle's decision not to put any external media options in their Nexus Devices.

This has nothing to do with Nexus devices. Toshiba sold users a tablet that supported not only internal memory but an external SD card and USB storage devices. Things worked quite well with the external SD until Toshiba released a Honeycomb 3.2 update where they locked the SD card and external USB drives so you could only save files to them from within Toshiba applications (Toshiba file manager, Toshiba photo editor, etc.) This is the main reason I resent Toshiba and will never buy any hardware from them. Given that my Galaxy Tab 2 10.1 can save files to the SD card from any application that can save files, Toshiba can't blame Google (like they did with the Honeycomb update) for having external storage conveniently locked to their own apps.

i love the new ics on my thrive. the contacts icon chenged and just says people. anyone recomend a better clock then anolog one on it?

Why that picture? Did Toshiba block the ability to take screenshots?

I was so sick of the support on the Toshiba Thrive, and it not getting ICS when other similar tablets did that I finally sold it and moved on to an ASUS.

Installed this am, since my bride to be mostly uses this, I will play around with it later. It's about time I created some folders for her and organized this thing! Apps all over the place with no rhyme or reason!

anyone experiencing issue with the update to ICS?
heard reports of issues with the screen rotation not working properly...

Looks like none of the Tegra2 devices got the 3.0 kernel?

HELP! I've searched the forums but can't find an answer to this. I have downloaded the update and its ready to install, but upon reboot, during the install I get this error icon: http://www.flickr.com/photos/55899340@N04/7738123640/in/photostream
I'm rooted running build: HTK55D.31.5.0003

Check out thrive forums. www.thriveforums.org. I think that you might be fudged dude/dudette. Never update within service station from a rooted rom. You lose root amongst other things that you seem to be experiencing. Check out this thread at Thrive Forums for the rooted ICS rom and someone who can help you. http://www.thriveforums.org/forum/dalepl/13661-rom-dalenet-imm76d-01-000...

im having the same exact problem my tablet is rooted runnin honerycomb no one is helpin or answering me

Anyone else having trouble with their tablet freezing a lot, especially when using the browser?

Hay guys after the tablet turns off nd the android appears the blue bar loads half way the and android with a red triangle appears on it and nothin happens my tablet is rooted idk if that is the problem its currently running 3.2...:/ can some one tell me why its not updating or how or if i can fix it plzzzzz
Android Central Newsletter
Get instant access to breaking news, the hottest reviews, great deals and helpful tips
Thank you for signing up to Android Central. You will receive a verification email shortly.
There was a problem. Please refresh the page and try again.