Top 6 things to know about the LG Stylo 4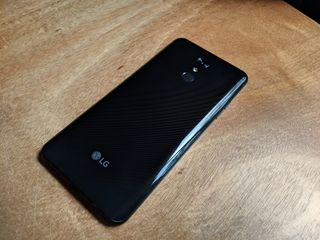 (Image credit: Android Central)
The LG Stylo series has been the company's low-mid-range for the last few years, and the Stylo 4 is better than ever. Out of the box, you're getting a good experience: a decently fast chipset, a good camera in most situations, and overall good software. But if that phone is on your shortlist of devices, there are some things to know before spending your money.
Here are six things to know about the LG Stylo 4!
There's no NFC
NFC payments are becoming more and more commonplace at retailers, but you're not going to use them with the Stylo 4. NFC is one of the most common components that gets cut when a company is targeting a lower price range since each component inside translates to what the customer ends up paying. Google Pay can still be used to send money to friends or keep track of loyalty programs, just not for mobile payments.
More: Google Pay: Everything you need to know
There's a USB-C port and a headphone jack
Another cost-cutting measure at this price range is to use the older Micro-USB port instead of USB-C, but fortunately, LG opted for the newer port. That means if you've bought a new laptop or Chromebook in the last couple of years, you should be able to use the same charger for both your phone and laptop.
Another potential cost-cutting idea that LG thankfully didn't use is getting rid of the headphone jack. The 3.5mm port is here in all its glory, ready to be used with headphones new and old.
More: Best USB-C Portable Battery Power Packs in 2018
There's an Amazon Prime Exclusive
LG and Amazon have teamed up for a few Prime Exclusive phones, and the Stylo 4 is another great option. The Prime version comes carrier unlocked, with compatibility with Verizon, AT&T, Sprint and T-Mobile in the United States. There are seven Amazon apps installed out of the box, but these can be uninstalled, disabled or otherwise ignored. You'll also be prompted to sign into your Amazon account when you set the phone up, but you can skip this.
Besides Amazon's apps, this Prime Exclusive version also includes 3GB of RAM, instead of the 2GB that comes on the T-Mobile version of the phone. That means opening apps, switching between apps and just navigating around the interface is going to be faster on the Amazon version. But…
See at Amazon (opens in new tab)
Still consider the T-Mobile version
While the Amazon version will work with T-Mobile, Metro, Mint Mobile and others that use T-Mobile's network, it's missing a few antenna bands. That may be a big deal, or may not. But if you use one of those networks, consider getting the Stylo 4 straight from T-Mobile or Metro. The lower RAM will mean it'll be a bit slower, but being able to use your phone, well, as a phone is likely more important.
See at T-Mobile (opens in new tab)
Don't hold your breath on software updates
The Stylo 4 is currently running Android 8.1 Oreo, which is good, because the Stylo line hasn't gotten regular software updates. The Stylo 3 is still running Android 7.0 Nougat, so there's a good chance the Stylo 4 won't ever be updated to get a slice of the Android 9 Pie.
More: Will my phone get Android Pie?
The stylus is pretty capable
A Galaxy Note this is not, but the stylus that comes in the Stylo 4 is useful on its own. When you pop the stylus out of the phone, you'll see quick toggles for a quick memo, screen capture, GIF capture, and Pop Lens, a tool that lets you magnify portions of the screen. The pen isn't going to allow for super fine detail like the Note's S-Pen, but it'll still be fun for coloring books apps. Finally, you can just use the stylus to navigate around the interface, and for ultra-fast glide typing on the keyboard.
What do you want to know?
What other questions do you have about the LG Stylo 4? Let us know down below!
More: Amazon Prime Exclusive Phones: Everything you need to know
Android Central Newsletter
Get instant access to breaking news, the hottest reviews, great deals and helpful tips
A shame that they can't bring their stylus to the Vseries

I like LG and the Stylo line. I especially like that the Cricket Wireless variant has the very desirable Sd 450 chip with 3 gigs of ram and 32 gigs of storage. I don't think that is to much to ask considering the phone costs $225 after adding their stupid upgrade fee. Cricket's LG K30 variant called the Harmony 2 is $165 after upgrade fee but isn't nearly as well speced.

I bought the stylo4 for my son as a birthday gift. He actually likes it. He says the 450processer has been working very well, no stutters or lags which came to a surprise to me. Plus he likes the stylis & battery power. I guess good phones can be purchased on a budget. He actually recommends this phone for the $$. I wish they would include the stylis with the V series!

I actually have been using a T-Mobile - Stylo 4 for about a month now. I love this phone!! For the money I paid for it, I'm extremely happy I made this purchase. I'd like to correct you and the info in the first thing you listed "Stylo 4 doesn't have NFC" My Stylo 4 from T-Mobile DOES IN FACT HAVE NFC. It was one of the main reasons why I bought it. So again The T-Mobile Stylo 4 Does have NFC.

I was going to say, the Telus version called the Q stylo + has NFC too. Its a great device for the money. Even has wifi calling.

My sister has one of these (Amazon version). Not only will it likely never get Android 9.0, it doesn't received any of the monthly Android security patches. Not recommended.

NFC! This phone does include NFC capabilities. I just purchased the T-mobile version to replace my now defunct Galaxy S7 Edge. This phone is great for it's price. It has Facial Recognition, Fingerprint Sensor, Stylus, big IPS screen which is nice on the eyes, 3300 mAh battery. For less than $250 you can't go wrong.

I also have the stylo 4. But from metro pcs. And my stylo 4 has the nfc. I ported my number over from cricket. Big mistake. The phone is OK. But has a lot of problems I'm going back to cricket. MetroPCS gave me stylo 4 for free.

The metro version has NFC. And it also supports OTG something i haven't seen mentioned anywhere.

The Stylo does have NFC connection, personally use one and it does hav it. The mobile carrier that I bought it from does say it has it (Metro PCS)

What T-Mobile bands are missing from the Amazon version? Don't tell me it's band 71 or 12.
Android Central Newsletter
Get instant access to breaking news, the hottest reviews, great deals and helpful tips
Thank you for signing up to Android Central. You will receive a verification email shortly.
There was a problem. Please refresh the page and try again.