Best Android apps for taxes and getting money back in 2022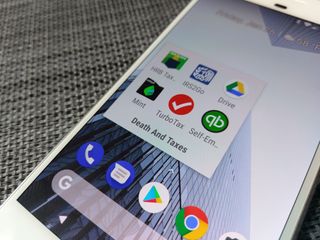 Benjamin Franklin was right, and considering the former has not reached us yet, you can bet that the latter has rolled around yet again. I have found these apps that will help you to get the job done with as little fuss as possible. They can also help you to stay on top of budgeting and storing files during the off-season so that you are more than ready for next year!
So grab your 1040 and let's go get that refund! Maybe.
TurboTax Tax Refund App
This app is perfect for those who want to get their refunds done fast, with a simple step-by-step guide to getting the most out of your refund. TurboTax's Tax Refund app can sync with your TurboTax account so that you can fill out the question-by-question tax preparation throughout your busy day. Also, if you had previously filed with the app, then all of your past tax information will already be on there. It's perfect when you're searching for your past tax papers because they'll already all be in your TurboTax account.
Whether you use the free software or you decide to put some money into the app, it's easy to use and quick to follow. You can purchase the Deluxe edition for $59.99, which gets you the maximum deductions and credits possible for your tax return, the Premier edition for $79.99, which takes investments and rental property into consideration, the Self-Employed edition for $119.99, perfect for personal and business incomes and expenses or even freelancers, or TurboTax Live for $179.99, where you can get CPA and EA advice when needed and a final review of your refund to make sure you're getting all you need. All the payments for these features will be paid after you file your refund, so it could come out of your tax return or out of your wallet.
Download: TurboTax Tax Preparation (Free, in-app purchases)
QuickBooks Self-Employed
We're living in a world where being a freelancer or owning your own small business is more common than ever. When you aren't dealing with a traditional W2 to file, and especially if you have multiple sources of income, this is a great way to keep track of everything you have going on. You can store your receipts, get help with tracking mileage, and even get quarterly updates on your taxes so you know what to expect in April, and it will sync up with TurboTax because it's by the same company.
As a freelancer or small business owner, you're used to spending a bit more on taxes, so it's no surprise that you have to purchase this self-employed version of QuickBooks. They do have a free trial of the app if you're interested in giving it a go before putting money into it. QuickBooks currently has a sale for its software — where it's regularly $10, it's on sale for $5 right now — and if you bundle it with TurboTax, it's currently on sale for $12 (versus the usual $17).
QuickBook Self-Employed (Free, in-app purchases)
Mint
Keeping track of your personal expenses is a good habit to form, but this year is a bit too late to start. Start tracking next years expenses with Mint, an app made by Intuit, the company that made TurboTax. It's a simple way to keep an eye on your budget and maintain a trail of where you spent money over the year for your tax return. It's a great app for freelancers who have the chance of an audit by the IRS, since you can keep a digital trail of where you spend all of your money.
Mint will help you keep track of your donations that are tax-deductible as well as your business expenses throughout the year. That way, when refund time comes, you have a simple place to find how much you spent in those areas. You will be so happy to have your expenses and income all in one place, and this will help make refund season less stressful.
Google Drive
If you're a small business or self-employed, then you will always have the fear of an audit rearing in your mind. There is one great place to keep all of your tax items online and in one place, and that is Google Drive. Simply scan your documents to your Google Drive, and put them all in a folder to keep them together.
Whether you scan in your 1099 or you store your income statements there, you will never have to worry about losing papers if you store them on your Drive. Since it's all in the cloud, you can access them on any computer system or mobile device. This is great for when you need to enter in travel expenses or receipts when you're on the go, so you are always ready for any pop-up audit.
Google Drive (Free, in-app purchases)
H&R Tax Prep and File
H&R Block Tax Prep and File is the app for one of the most popular non-TurboTax tax services in the country, and their app can help you get your tax return done as painlessly as possible. With their More Zeros tax filing system, you don't have to pay anything to file with them.
If you're new to tax filing or you have a very busy schedule, their quick and simple step-by-step guide is perfect for you. There is a check system to ensure that everything is done correctly, and they will be there even if the IRS decides to audit your return. If there are any problems in the filing and you get penalties from the IRS, they will even reimburse you, which makes them a great competitor for TurboTax.
H&R Block Tax Prep and File (Free, in-app purchases)
Are you using these apps?
Taxes are pretty much always a stressful process, no matter how used to them you actually are. Thankfully the days of having to do everything on paper are past us, and these apps can help you to streamline that process. Whether that means using them to track your expenses so you avoid surprised, or just to keep track of when your refund hits, they can be a serious help in reducing your stress levels.
Are you using any of these apps? Is there a good one that we failed to mention? Be sure to drop us a line in the comments and let us know about it!
Updated March 2018: The tax apps have been refreshed for the 2018 tax season, and so has our article!
Get the Android Central Newsletter
Instant access to breaking news, the hottest reviews, great deals and helpful tips.