Thunderbolt's free mobile hotspot extended through June 15, post-promo pricing revealed [updated]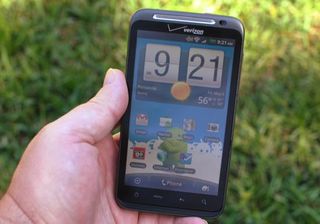 (Image credit: Android Central)
According to Verizon's official Twitter account, Thunderbolt users will in fact get to enjoy another month of free mobile hotspot, presumably thanks to the Charge's delay and subsequent promo of its own:
Now that Thunderbolt and Charge users are on the same page, it looks like Verizon's ready to price the LTE hotspot feature post-promotion with the same structure currently in place for its 3G hotspot:
Remember, blowing through 2GBs on LTE will be a much quicker task than on the 3G network, but we won't get too antsy until we see it in written in stone. With that said, is $20 worth it? Who'll be signing up on June 15?
Sources: @VZWSupport (extension); @VZWSupport (pricing)
Thanks everyone who sent this in!
Update: And now it seems that Verizon has backpedaled a bit, and is saying that information about the hotspot is not available:
Maybe *VS and *CM should meet at the water cooler and have a chat?
Android Central Newsletter
Get instant access to breaking news, the hottest reviews, great deals and helpful tips
Worthless... can you say PdaNet?

that's the standard hot spot fee. not worth it

My phone uses 4 gig a month.. can't imagine if I wanted to run my computer through the hotspot with only2 gig..

I don't buy it. I believe on Sprint, their mobile hotspot is $30, but at least its unlimited.

$20 for 2GB?
i can go through that watching 8 episodes of Archer on TVShowsStream.
not worth it. definitely won't be signing up.
and now everyone jumps to root.

No way. I might pay for one off usage but no way I'm paying $20 for 2 gb. I only slurp off it now and then with my iPad. Otherwise the thunderbolt is just fine for most surfing needs.

The pricing on the 4G hotspot isn't set yet. https://twitter.com/#!/broadwayblues/status/69474590396653570 @VZWSupport any word on 4G tethering price/plans once the Thunderbolt free hotspot offer expires? https://twitter.com/vzwsupport/status/69479052746047488 @Broadwayblues That information is not available. Please sign up for email alerts about new products & services at https://www.androidcentral.com/e?link=https2F2F... *VS

If it were unlimited, i would consider it. I dont like data caps, soooo... no sale!

$20 for 2bg - NO WAY!! I don't use it now, I'm on WiFi at home, work and most anyplace I go where I "need" access has WiFi. I thought I'd use the hotspot for my iPad, but my iPad never leaves my house. PLUS the ONE time I tried to use it, it didn't work anyway.

My bet is they'll set a 20GB hotspot limit.

Maybe the problem is elsewhere, but even though I have the updated firmware I still get unreliable hotspot service where the speed will be great one minute and almost nonexistent the next on my laptop. The Speedtest.net market app usually shows about 5 Mbps download speed, though. Is anyone else experiencing such problems?

Using with the TBolt and the Charge at the moment and deciding on which one goesbto the mom. Will never have more than two or three devices hooked up so the number of devices is important. Just ease of use.

bpw they extended it for another month.

Thanks, but that's not my question.
Android Central Newsletter
Get instant access to breaking news, the hottest reviews, great deals and helpful tips
Thank you for signing up to Android Central. You will receive a verification email shortly.
There was a problem. Please refresh the page and try again.