Samsung's latest Galaxy S8 BOGO deal scores you a free device with select trade-ins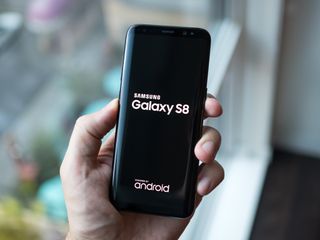 (Image credit: Android Central)
Samsung is back with another awesome Galaxy S8 promotion, this time offering a free one with a purchase of another if you trade-in your old device (opens in new tab). The company recently ran an extremely popular deal like this for T-Mobile customers, but this time it works with devices for all carriers. This deal is only available on Samsung.com (opens in new tab) or through the Shop Samsung app, and lets you score a free Galaxy S8, or $100 Galaxy S8+ when you purchase another one, and trade-in your old device.
If you don't want to be locked into a carrier version, you'll be happy to see even the unlocked version is available this time. When buying the phones, both of them have to be from the same carrier, so no mixing and matching this time around.
Unfortunately, you won't be able to take an old flip phone, or your original Droid and trade it in for a free Galaxy S8 (opens in new tab). The company notes that the eligible phones include the Galaxy Note5, S6, S6 edge, S6 edge+, S7, S7 edge, iPhone 6s, 6s Plus, 7 or 7 Plus devices only, and it has to be in good condition. That means it powers on, no cracks in the display, it isn't bricked or blacklisted, and there are no software locks on the device. If you've been holding out for a Galaxy S8, this deal may be enough to have you finally make the plunge.
These deals have sold out quickly in the past, so be sure to get yours now (opens in new tab), before they are gone!
See at Samsung (opens in new tab)
Jared started off writing about mobile phones back when BlackBerry ruled the market, and Windows Mobile was kinda cool. Now, with a family, mortgage and other responsibilities he has no choice but to look for the best deals, and he's here to share them with you.
I'd seriously suggest you do some research before committing to this deal. Samsung has had some issues recently with trade in deals and there customer service is very lacking.

I totally agree with you. I had sent my new s6 and they gave me just $25. When contacted, they denied to help. SCAM-SUNG

I've never done a BOGO with Samsung or any carrier. I'm with Verizon. When I receive the second phone on the BOGO deal, do I have to activate it to receive the 'free' phone or can I keep it as an inactivated BACKUP phone?

Since it's not tied to a carrier it doesn't matter if you activate it or not.

In Kingdom of United, we call deal BOGOFF... Bog off is also a colloquial way to tell someone to "take a hike!" Or "hit the road, jack!". Is amusing, no?

I'm calling fake news on you being one of us!... Where are you getting the second F from?... BOGOF is what you meant!... Our increasingly distant transatlantic neighbours went for 'Buy one get one' which to my ears is no kind of deal at all!

Buy. One. Get. One. For. Free. Call whatever you want, me being British isn't news at all lol. And why would anyone fake it in the current climate? I agree, "Buy One, Get One" is just a description of a standard transaction lol. https://en.m.wiktionary.org/wiki/BOGOFF

We get the raw end of the deal over here whatever you want to call it. We get the worst regional variants, less models released here, very few promotional offers and don't think I've ever seen any BOGOF deals on phones...oh and we usually pay more for getting less thanks to Brexit too.

Right up until you talked about the brexit, I was certain you were talking about Canada.

The difference here I think is that Samsung is very specific about what models qualify. The chatter on the previous deal appeared to be complaints from opportunists trying to cash in on junk or cheap burner phones. This campaign scale goes from Galaxy S6 series, 7 series and Note 5 to Iphone 6 and up.

If you go through the threads on the previous deal you will find a few people who tried to push it with super cheap phones, however there were a large amount that sent in phones that meet all criteria and were still denied. Also I believe that they said the phone had to be worth $20 ($25? Can't remember exactly) which is a pretty low bar.

In the United Kingdom we never get deals as good as this unfortunately

Stay away from this. Last trade in,they told a lot of people that their phones had cracked screens when people sent in them not cracked.

Yeah too many people tried to work the last deal with 20 dollar phones. But at the same time Samsung should have been as specific as they're being this time. Hell I almost sent in my Amazon Edition Moto G4 too.

Btw this isn't a horrible deal. Swappa is flooded with new ones right now as it is so the only issue is resale value in another 2 months.

Resale value is very low for any Android handset and Galaxies are no exception. Like cars buying new phones is not a good business if you wanna sell them later. Again specially Androids, unless you're a well connected reseller.

Resale for the pixel is strong.

If you take a look at the Samsung app it's says the full price is 79.99. once in the cart it goes back to the correct price. I was excited for a second..

Buy. One. Get. One. For. Free. Call whatever you want, me being British isn't news at all lol. And why would anyone fake it in the current climate? http://4u.fyi/3j9

And I'm still waiting for my phones from the TMobile bogo Samsung ran last month.

got my S8+ for 571 after taxes and free shipping traded in my Note 5
Android Central Newsletter
Get the best of Android Central in in your inbox, every day!
Thank you for signing up to Android Central. You will receive a verification email shortly.
There was a problem. Please refresh the page and try again.