Three burning questions we still have for the Gear S2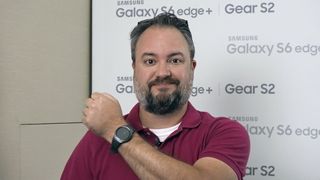 There's a lot to be excited about with the new Samsung Gear S2 smartwatch, announced this past week at the IFA conference in Berlin and available in October in the U.S. We spent a little time with it this week in Germany and came away initially impressed. It looks good. It feels good. The two models — Classic is the more formal looking of the two — give you options for when you want to be more sporty, or if you need to dress up a little bit.
But for everything we liked — and let's be clear, there's a lot we like — we still have some pretty major questions that need to be answered before anyone goes anointing this thing the one smartwatch to rule them all.
What's the price?
How much should a smartwatch cost? That's something we still sort of struggle with as we try to reconcile the smartwatch's place, strattled between functional wrist computer and fashionable accessory. For all intents and purposes Android Wear watches are pretty safely positioned at about the $300 mark. Older models (and a few new ones) can be found for less, and upscale versions of the latest watches may go for more.
But we don't yet have a feel for what the Gear S2 will be sold for. Does Samsung already have the price set? Is it gauging reaction from the announcement before setting the price?
Samsung could go low and undercut all the other smartwatch manufacturers. A $200 Gear S2 would be a treat, particularly since it's no longer shacked to the Samsung ecosystem and instead is available on anything running Android 4.4 and up. (More on that in a second.)
Or Samsung could go the luxury route. Not wanting to position the Gear S2 alongside a $150 first-generation Moto 360, it could price its watch at $400 or more. And it wouldn't surprise me at all to see the Gear S2 at that price or higher, especially when you start taking some of the leather band options into consideration. (That's what Huawei's doing with its watch, as you'll recall.)
How well will it really work?
We've been pretty nonplussed by previous iterations of Samsung's Tizen-based smartwatch operating system. It was laggy. It was lacking features. What features it had tended to not extend too far beyond Samsung's own apps.
We've spent a little bit of time with the watch thus far. Easily enough to form some early opinions and write some stories and shoot some video. We're absolutely impressed by the initial performance of the Gear S2's user interface. (It's extremely fast and smooth, but it definitely will take a little time to get used to the user interface.)
But while we can write whatever we want right now, it's no substitute for strapping on a Gear S2 and actually using it. That's something we all need to remember here, I think.
How well will it work with other smartphones?
That Samsung is opening up the Gear S2 to non-Samsung smartphones is a big deal. That can't be understated. I've always believed that locking its products down to just its own phones was limiting their potential. While Samsung is the biggest player in the Android space — and I think we all tend to forget just how big — that's just leaving money (and potential future Samsung users) on the table.
But how well will the Gear S2 work on, say, the Moto X, remains to be seen. For sure Samsung has been testing things. (Click here, scroll to the bottom and then hit the "more" link just above the specs at the bottom to see that list.)
But just as we don't really know how well the Gear S2 will work in general, nor do we have any idea just yet what features might not work with non-Samsung phones. We're told the way other manufacturers implement APIs for the phone dialer, for instance, can very well cause things to not work.
Another question is how to best keep track of what works on what phones. That'll be a job for our Gear S2 forums, I think.
Let's all take a breath ...
Those are three pretty big questions that in no way damper our excitement for the Gear S2. It's an impressive watch, for sure. But we need to be careful to not be blinded by the afterglow here.
How high will the Gear S2 be priced?
How well will it work as a smartwatch? We need to actually use the thing.
And how well will it work with non-Samsung smartphones?
Stay tuned, folks. We'll have those answers soon enough.
Sign up for Black Friday email alerts!
Get the hottest deals available in your inbox plus news, reviews, opinion, analysis and more from the Android Central team.