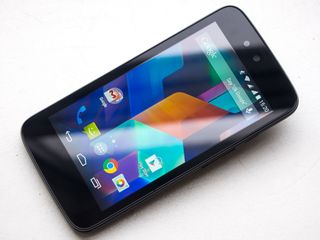 Pure Android in a Google-backed $100 smartphone
This year's Google IO developer conference wasn't just about the upcoming Android L release and the design changes coming with that version. One of the keynote's most important announcements was packed into a two-minute segment at the start of the event. Android One, as Android chief Sundar Pichai explained, was designed to level the playing field for smartphones in developing markets, making it easier for smaller phone makers in these countries to ship relatively high-quality stuff at relatively low price points.
Three months later we're seeing the first fruits from this endeavor, as Android One arrives in India. We've got our hands on the Micromax Canvas A1, one of the first Android One phones to go on sale. And what we've found is a surprisingly speedy vanilla Android handset with a few tweaks for the Indian market.
What is Android One?
From a Western perspective, it's easy to draw parallels between Android One and the Nexus or Google Play edition programs (or even the rumored Android Silver endeavor). In reality, the purpose and execution of Android One is very different. Hardware components are selected by Google, which also takes the lead on software for these devices. From there, local OEMs can add relevant apps and tweak the external hardware to add their own flavor. (The current Android One lineup includes similar-looking devices from Spice and Karbonn, for instance.)
Essentially, the goal is for Android One to facilitate the spread of Google-controlled Android among the next billion (or two billion, or more) smartphone buyers by offering a compelling entry-level product, aided by local OEMs. In turn, the fact that manufacturers won't need to worry about software or sourcing hardware components means they can turn around products more quickly. From Google's perspective, Android One lets the maintain more control than is possible in the wild west that is the general Android ecosystem, and ensure that Google services and Google's design language are front and center.
For the purposes of this article we're looking at the Micromax Canvas A1. The two other Android One handsets available in India right now, the Spice Dream Uno and Karbonn Sparkle V, feature the same internal hardware in similar (though somewhat tweaked) chassis.
The device we have sells for Rs. 6499 in India — around $100 U.S. without a contract.
Android One — The hardware
It's clear Google's had a hand in the design of the first-generation Android One hardware. Even aside from visual cues like the Nexus 5-style circular earpiece and rear speaker, the Canvas A1 is, like recent Nexus devices, basically a vessel for Android. You'll find few distractions around the screen, and the battery door is covered with soft-touch plastic with minimal branding.
The in-hand feel is comfortable — more rounded than the N5, and despite the presence of removable battery door the device feels sturdy and well-built. There's a standard collection of ports and buttons — power and volume on the right, microUSB down below, headphone jack up top. Around the back, a large faux-metal camera bump protrudes through the back panel. And behind that back panel you'll find a microSD slot — highly recommended due to the limited internal storage — alongside two microSIM slots and a 1700mAh removable battery.
On the inside, Android One delivers as much hardware muscle as more expensive phones like the Moto G, though with fewer bells and whistles. There's a quad-core Metiatek chip running the show, with four cores clocked at 1.3GHz, 1GB of RAM and an ARM Mali 400MP GPU.
It's not going to run Crysis anytime soon, but still, it's kind of ridiculous how fast this device feels considering the price tag. The Canvas A1 is as responsive as phones four or five times its price. And this is a £65 phone. Seriously. Apple sells cables that cost more than this thing.
But when you're selling a phone so cheaply, something's got to give, and you don't need to look far to see where money's being saved. There's just 2.27GB of available internal flash, of which 1.6GB was left after installing a few basic apps. (Though as we'll discuss later, apps can be moved to the SD card to free up space.) And the display is also a pretty basic 4.5-inch WVGA panel (480x854) behind a plastic screen that gets gunked up with finger grease pretty easily. That said, it offers better viewing angles than the HTC Desire 510, a more expensive phone — though one with differing priorities. And despite the low pixel density and subdued colors, it's not horrible-looking. Not surprising considering it's an IPS panel, not the bog-standard LCD you might expect.
Similarly, the camera setup is unspectacular — a basic 5-megapixel rear shooter with LED flash — though you do get panorama, photosphere, lens blur, HDR and other effects to play with. Around the front there's an even more basic 2.4-megapixel shooter. Don't expect too much out of either, as even in well-lit conditions we encountered plenty of noise from both front and rear cameras.
Micromax Canvas A1 — Android One specs
Swipe to scroll horizontally
Category
Features
CPU
1.3GHz quad-core
RAM
1GB
Storage
4GB (2.27GB available) + microSD
Display
4.5-inch FWVGA (854x480) IPS LCD
Frequencies
GSM 850/900/1800/1900MHz
WCDMA 850/2100MHz (up to 21Mbps/5.76Mbps)
Battery
1700mAh removable
Other
GPS, Gyroscope, Proximity sensor, Light sensor, Magnetic sensor
Android One software and features
For the most part you're looking at "stock" Google Android, just as you'd get on a Nexus or Google Play edition phone. The software is built and maintained by Google, and as such you're good for "up to two years" of updates to subsequent versions of the OS.
So what's different? Well, Micromax has loaded a handful of apps on top of the standard Google suite —
Amazon: The same Amazon shopping app you'd get on the Play Store in any country.
AskMe.com: An Indian classified ads app.
FM Radio: A no-brainer for emerging markets — gives you unlimited music playback even when mobile data is unavailable or expensive.
Hike: An Indian IM app.
M!Live: A web shortcut to Micromax's web-based app portal.
Some additional features have been added to fit with Android One's target market, however. As it's a dual-SIM phone, you'll find SIM configuration settings under Settings > SIM cards, letting you choose your default SIM for calls, data and SMS.
You'll also need a microSD card to take screenshots or photos; due to the limited internal storage space the phone will flat-out refuse to take these if you don't have an SD card installed. On top of that, you'll want to send heavier apps over to the external storage wherever possible. Google has reimplemented the ability to move apps to the SD card in the Android One firmware, a smart move given the limited internal storage.
Aside from that, it's more or less identical to what you'd find on a Nexus 5. The Google Now launcher brings predictive search to your home screen, while Chrome serves as your default browser, and the entire suite of Google Play applications are present and correct.
Some other bits worth mentioning —
You can unlock the bootloader in the usual way, with the fastboot oem unlock command. The bootloader UI is a little more basic than we're used to dealing with, though, with a mostly text-based layout.
Out of the box, Android One runs Android 4.4.4 KitKat, build KPW53, and a Google-built Linux 3.4.67 kernel dated Aug. 20.
The experimental ART runtime is available in the usual place under Developer Options, if you're feeling adventurous.
The codename of the device we're using is "sprout." Go figure.
The bottom line
The first-generation Android One hardware isn't going to turn the heads of those used to premium smartphones, nor is it designed to do so. Instead it's a cookie-cutter template intended to spawn dozens of $100 smartphones that are actually decent, while giving Google greater control over this new family of devices for emerging markets. Just like Android Wear, when you sign on with Android One you're playing by Google's rules — and that makes sense given the assistance Google's offering, and the likely razor-thin margins involved.
What's more, as the high end of the smartphone market becomes increasingly saturated, Android One allows Google's OS to expand its reach into markets with plenty of room to grow.
Android One generation one is a promising start, but things are only going to get cheaper (and more competitive) from here onwards. This year's $100 smartphone is next year's $50 device; future Android One templates could incorporate features reserved for premium handsets just a few years ago.
It's an important part of Android's future, and an area we'll be watching with increasing interest.
Image 1 of 13
Get the Android Central Newsletter
Instant access to breaking news, the hottest reviews, great deals and helpful tips.
Alex was with Android Central for over a decade, producing written and video content for the site, and served as global Executive Editor from 2016 to 2022.