Top 9 things to know about the NVIDIA Shield Android TV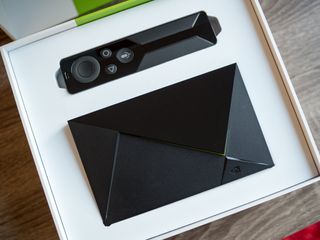 Before NVIDIA got into the Android TV game back in 2015 the market was lacking a true top-of-the-line offering. Now in 2017, the second generation box is still leading the pack as the go-to set top box if you want the absolute best the Android TV platform has to offer. With powerful internals, great peripherals and big time gaming chops, it can be the choice for so many people who are willing to spend the $199 for one.
We have nine things you should know about the Shield Android TV, whether you're still thinking about picking one up or already have it at home.
It's made for 4K and HDR video
Just about every set top box has a model that can handle 4K, but you don't always have 4K resolution and HDR like the Shield Android TV offers. If you have a 4K HDR TV then this will be one of the boxes on your short list — the specs inside can handle silky smooth video even with the latest standards, but just as importantly it also offers 4K HDR content from Netflix and Amazon Video.
Sure you'll still watch a majority of things in 1080p or in 4K without HDR, but knowing that the Shield Android TV is ready to go for anything new that comes is great. And considering how well NVIDIA has supported its original Shield Android TV even after its predecessor arrived, you shouldn't have any issue using this for a long while.
You can use any USB or Bluetooth peripheral
When you buy a Shield Android TV you're not just stuck with what's included in the box — dual USB 3.0 ports on the back and Bluetooth inside let you expand it in many ways. When it comes to adding extra peripherals to the box, if it has a USB-A plug then you can pretty much count on it working. Whether that's a keyboard and a mouse, a USB flash or hard drive, gaming joystick or web cam — plug it in and it'll play nice.
That also extends to Bluetooth, where you can pair a set of headphones or your own game controller even if it isn't from NVIDIA. Of course the app or game you intend to use with it will need to support it, but knowing that you can extend your system with other standard peripherals is great.
Old Shield Wireless Controllers work just fine
The newly redesigned Shield Controller is a big step forward from the original, but it's important to know that if you already have older version of the controller they'll work just fine as well. There are differences in the button layouts and overall feel, but everything will interact with the system (and more importantly, games) just how you expect.
If you connect your old Shield Wireless Controller it'll likely update your controller's firmware (which will happen automatically) so it can interact fully with the Shield Android TV, but after that you'll be loading up some great multiplayer gaming.
The new Shield Remote isn't rechargeable
NVIDIA redesigned its Shield Remote and Shield Controller, making overall changes for the better on both peripherals. The new Shield Remote is included with the box, whereas it used to be a $50 add-on, but it also made a big change to how it's powered. Rather than being recharged over Micro-USB like the controller, the remote is powered by two coin cell batteries that offer one year of battery life.
Assuming you keep the Shield Android TV for over a year, or use the remote a ton, you can swap out the batteries — but with typical use NVIDIA says you won't have to worry about that more than once every 12 months. That's undeniably a better situation than having to plug in your remote every week or two, and it means you aren't going to constantly pick up your remote only to find out it's died sitting on the table.
There are now notable differences in the Shield Pro
With the newly redesigned Shield Android TV, NVIDIA has kept around the higher-end "Pro" model for those who need a little more from their set top box and are willing to shell out an extra $100 for it. The Shield Pro has the same larger form factor as the first-gen box (meaning it also has nicer external hardware, for what it's worth), and that means it has also retained a few features: a 500GB hard drive, an SD card slot and an IR receiver for use with universal remotes.
For those who plan to use their Shield Android TV for lots of local media storage or have a dependency on an IR-based universal remote, that Shield Pro may seem like a great deal for an extra $100. Chances are most people will be better off with the standard $199 base model, though — weigh the options before making a buying choice.
Adoptable storage may be in your future
If all you're looking to get out of the higher-end Shield Pro is more storage, you may be better off saving your $100 to just buy an external drive for the standard Shield Android TV. Even though it no longer has an SD card slot, the Shield can still accept USB drives to vastly expand its 16GB of internal storage.
That means you can plug in an external hard drive if you want lots of storage, but most people will probably manage with just plugging in a USB flash drive. Any flash drive that's USB 3.0 will work, but we have a handful that we recommend for the best experience. For less than $50 you could add 128GB to your Shield Android TV — that's a great feature.
Android TV has come a long way, but still needs some help
Android TV has gained lots of polish, small features and dramatically more apps since being introduced at Google I/O 2014, but that doesn't mean it's perfect. The interface is pretty slick, intuitive and even a bit customizable, but the app experience still isn't great across the board.
Thankfully you'll now find most of the big names like Netflix, Amazon Video, HBO GO, Hulu, ESPN, Fox Sports Go, Sling TV, Plex and Kodi. But the apps aren't all of the high quality you may expect from a set top box, and they still all live in their own silos to be opened one at a time and used independently with their own interfaces and quirks. There's still a bit of a learning curve, for sure.
The ability to use Google Cast definitely helps fill in any gaps you may have, though, with the Cast experience from mobile apps on your phone or tablet sometimes being smoother and simpler than using a native Android TV app. We recommend to always give the local Android TV apps a try first, but just remember that Casting from your phone may be an option as well.
This is THE set top box for gaming
NVIDIA does its best to close the gaming gap on Android TV with three different plans of attack. The first is a robust (and growing) set of NVIDIA-exclusive native Android titles, typically ports of older well-known games that used to require a big and bulky console to play. They're designed to work with the Shield Controller, and run great on the box's hardware.
The next is GeForce Now, which is an innovative system that lets you stream big-name titles from an NVIDIA server directly to your Shield Android TV. Assuming you have enough bandwidth (not always a given), you can play games in 1080p 60 fps with great responsiveness. It costs just $7.99 per month and includes over 60 titles, and there are additional brand new games for sale as well.
The final pillar of the gaming story is GameStream, which requires an NVIDIA-powered gaming PC on your local network. With some configuration, you can stream hundreds of the latest games from your home PC to the Shield Android TV.
NVIDIA has a complete list of the games available across all three platforms right here.
Once you have GeForce Now and GameStream configured it's a near-seamless experience no matter where your games are coming from, and they're all listed together in your gaming library. The bottom line here is that this is the set top box to get if you're going to be gaming — the others just don't compare.
You can tweak the green LEDs
This is perhaps the smallest of the tips here, but it needs said because you probably wouldn't go looking for it yourself. You may notice when you wake up your Shield Android TV that the slice of angular green plastic on the top of the box lights up — and it turns out you can change the intensity of that light as well!
Head into your Settings, System, LED Brightness and set it between high, medium, low and off. The new Shield Android TV still has some green to it even when you have the LEDs set to "off" because the plastic itself is tinted, but when you turn the lights off it isn't distracting in the way that the "high" setting can be in a dark room.
Sign up for Black Friday email alerts!
Get the hottest deals available in your inbox plus news, reviews, opinion, analysis and more from the Android Central team.
Andrew was an Executive Editor, U.S. at Android Central between 2012 and 2020.