These U.S. carriers have updated the LG G6 to Android Oreo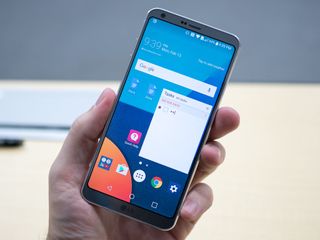 The LG G6 was one of 2017's most underappreciated phones, but despite its lacking popularity, it's still important that LG updates the phone on a timely manner for those that did throw their cash down for it.
A lot of carriers in the U.S. have recently updated the LG G6 to Android 8.0 Oreo, and to help you keep track of which companies have committed to the update, here's the list as it currently stands.
AT&T
According to numerous reports over on Reddit, the LG G6 on AT&T is being updated to Oreo. AT&T's website isn't updated to reflect these changes at the time of publication, but that should be fixed soon.
The update increases the G6's security patch to April 2018 and has all of the Oreo features you'd expect — such as picture-in-picture, notification dots next to app icons, Google's handy Autofill API, and more.
Sprint
If you purchased the LG G6 on Sprint, you're also in luck!
Android 8.0 Oreo started rolling out to the Sprint G6 in late May, and it weighs in at a hefty 1808.5MB.
Interestingly enough, the G6 on Sprint gets a more recent security patch with an update to the May 2018 one.
Verizon
Verizon was actually the first carrier in the United States to start updating the G6 to Oreo.
Verizon's update measures in at 1893.0MB, and like the Sprint variant, comes with the older April 2018 security patch.
T-Mobile
Lastly, T-Mobile started issuing its Oreo update to the LG G6 on June 29.
The build number is changed to H87220a and all of the regular Oreo goodies are included.
Unlocked LG G6 finally gets Android 8.0 Oreo update
Updated June 29, 2018: Added T-Mobile to the list!
Joe Maring was a Senior Editor for Android Central between 2017 and 2021. You can reach him on Twitter at @JoeMaring1.
I'm on Verizon with an unlocked G6 and my update came with the May patch.

I am on a small local carrier and mine came with the May patch. I will see how this goes

The fastest way to get Oreo if you have a G6 on T-Mobile is to trade it for a G7. Works like a charm.

Trade in value for the G6 was like $75 last time I checked.
I'd rather fork out for a V30

Just got it on AT&T. Very laggy.

Agree with Noah. Got it on Verizon and it's very slow. I upgraded to the G7 instead.

I just got the G7 on Saturday but at least if I do part with my G6 it will have Oreo and being unlocked I can probably get a good price for it.

Good to see LG updating the device and proving all LG naysayers wrong. 🍸🍸

Still waiting on updates for G6+ and v30+ here in Australia. Very slow from LG . Probably last phones ,I will buy from them...

Still waiting on US Cellular. Someone over chat said just a few days ago that Oreo for the G6 hadn't been released at all yet. What a joke! Honestly I liked my G5 better than my G6 so hopefully Oreo runs well on that phone so I can switch back...

Got it last night on AT&T - mine took 3 hours to download, my daughter's took 20 minutes, same wifi connection... hers was seamless, mine completely wiped out my home screens and I had to rebuild them all. Widgets are no longer in the apps page, you have to long press on the icon of the app and then choose 'widgets' to find your widgets. Other than that I have no experience yet as I'm just turning on my phone for the day.

Hahaha, hahahaha, this time next AC will be reporting "LG G6 gets Android P update" while I will have been rocking Android P months ago on my Pixel 2 XL now that I have it.

And you get it the same time a 150.00 Nokia gets it so what is the great value in your phone. Should of saved all that money so you could clean your face up!!!

Not fer nothin' but my S7 Edge just got Oreo today; completely thought it was a security update. Very surprised.

I am on AT&T LG G6 stock and still no update. I am on the east coast. So this is not true throughout the AT&T world !

LG G6+ from Amazon Prime. Still waiting......

G6 in India also awaiting Oreo update. Their update cycle sucks,never gonna buy an LG again!

Buying phones from carriers... Lol

Just updated my LG G6 on T-Mobile and I've noticed a bug when opening the "settings". Keeps crashing. Restarted phone a few time, didn't help. Anyone else having this issue?

I seriously advise against installing Oreo on your g6. I feel like it ruined my phone. I'm so dismayed. My camera is screwed. Why do developers think we want to learn to use our phones(get this fing Tropicana aD OFF MY SCREEN) all over again?! It's horrible. I'm so pissed.

July 8th still no Oreo update on my AT&T G6.... Where is it based on this article it was released.
Android Central Newsletter
Get the best of Android Central in in your inbox, every day!
Thank you for signing up to Android Central. You will receive a verification email shortly.
There was a problem. Please refresh the page and try again.