These Connected Doorbells and Locks Work with SmartThings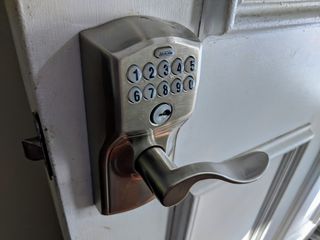 With the best SmartThings doorbells and SmartThings smart locks added to your smart home, your home security will become that much stronger. With them installed, you can automatically lock doors at night, get an instant live view of your porch when motion is detected, and receive an alert if someone unlocks your door, among other useful features. We've rounded up the best doorbells and locks with SmartThings integration.
Protect your home with SmartThings
When choosing the best SmartThings doorbell, what you really mean is the best Ring doorbell, since only Ring gives you that front porch feed and pairs it with Samsung's tech. And on that front, when we compared the Ring Video Doorbell 3 vs. Ring Video Doorbell Pro, the Video Doorbell Plus won the matchup despite being an older model. While you may not want to bother with wiring, it does mean you'll never have to change the battery; the smaller size looks more attractive, and the four seconds of pre-roll footage before every doorbell ring gives you useful context. However, renters may prefer the Video Doorbell 3 to avoid losing their security deposit.
As for picking the best SmartThings lock, you have far more options, but once again, we had to pit our top picks against one another: the August Wi-Fi Smart Lock vs. August Smart Lock Pro. Both are easy to install and have the same SmartThings functionality, but the August Smart Lock Pro's (opens in new tab) Z-Wave tech means you can still access it if your Wi-Fi goes down, and its longer battery justifies its larger size. If, however, you want to ditch the traditional key lock entirely, try the Yale Assure Lock SL (opens in new tab) and try keyless entry.
With your new SmartThings in hand, your smart home is that much more secure. But if you want to add even more protection and smarts, check out the best motion sensors for Samsung SmartThings, or SmartThings-enabled Smart Bulbs to turn on in response to video doorbell alerts.
Android Central Newsletter
Get instant access to breaking news, the hottest reviews, great deals and helpful tips
Editorial Director - High Yield
After getting his start writing about BlackBerry in 2008, Adam is the Editorial Director of High-Yield content at Future. Leading an outstanding team, he oversees many of the articles the publisher produces about subscriptions and services – VPN, TV streaming and antivirus software. From buying guides and how to watch content, to deal news and in-depth reviews. Adam's work can be seen on numerous Future brands including TechRadar, Tom's Guide, T3, TTR, Android Central, iMore and Real Homes.
Android Central Newsletter
Get instant access to breaking news, the hottest reviews, great deals and helpful tips
Thank you for signing up to Android Central. You will receive a verification email shortly.
There was a problem. Please refresh the page and try again.