These are the phones that support Daydream VR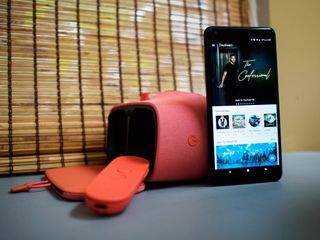 Google's big push into smartphone-based virtual reality has only begun to take form. Where Cardboard is an amazing way to make it so anyone and everyone can enjoy short VR experiences, Daydream is aiming much higher. You can kick back and enjoy an episode of Game of Thrones, stand up and draw some amazing pieces of art with a big bubble around you as the canvas, and of course, play an enormous number of immersive games. Daydream is a big deal to anyone who can enjoy it, and in order to be on that list your phone must have Google's "Daydream ready" stamp of approval.
Which phones have earned Google's blessing? Glad you asked! Here's the list of every Daydream ready phone, which we will be updating as frequently as possible.
Samsung Galaxy S9/S9+ — Although we have not seen any of the S9 or S9+ preloaded with the Daydream App, we do know that it is Officially Daydream Ready. From our preview you can see that even though the S9 is really an incremental upgrade from the S8 the extra features should make a big difference. The new S9 has a 15% brightness bump and the new speaker layout, increasing the volume by 1.4 times, should help make it one of the better Daydream handsets out there.
Google Pixel 2 and Pixel 2 XL — Both the 5-inch and 6-inch versions of Google's second Pixel phones are Daydream ready, and come with Daydream pre-installed. These phones are each packing an impressive Snapdragon 835 processor with 4GB of RAM, but the smaller Pixel is 1080p while the larger Pixel 2 offers a AMOLED display while the Pixel 2 XL rocks a P-OLED. This means both will deliver an awesome VR experience with highly accurate head tracking that is built to work well with the Daydream View headset.
Samsung Galaxy S8 and S8+ — Both the original Galaxy S8 and the larger S8+ are Daydream ready, and the Daydream app can be installed from the Google Play Store. These phones have a Snapdragon 835 processor with a Super AMOLED display and 4GB of RAM. While these phones seem a bit large in the headset due to the Infinity Display, they deliver excellent experiences with Daydream.
ASUS ZenFone AR — The new Daydream- and Tango-ready phone from ASUS is the first smartphone to have 8GB of RAM packed inside. It also has a Snapdragon 821 processor and a ridiculous 5.7-inch AMOLED display with a 1440x2560 resolution. Graphics are handled by a Qualcomm Adreno 530 GPU, which, when combined with the high-res screen, offer an amazing mobile VR experience.
Huawei Mate 9 Pro + Porsche Design Mate 9 — Huawei announced during CES that the more premium of its two Mate 9 flagships, the Pro (and $1500 kin, Porsche Design Mate 9) would support Daydream in a future update. With Huawei's own HiSilicon Kirin 960 processor and 6GB of RAM, there is plenty inside to power the 2560x1440 pixel display.
ZTE Axon 7 — The ZTE Axon 7 was technically the first phone to claim Daydream support, but it took until early February 2017 for the phone to actually get updated to Nougat, and receive Daydream compatibility in the process. Like the Moto Z, the Axon 7 runs the slightly older and slower Snapdragon 820, but that should be plenty of power for most VR experiences.
All Daydream ready phones
Google Pixel and Pixel XL
Google Pixel 2 and Pixel 2 XL
Samsung Galaxy S9 and Galaxy S9+
Samsung Galaxy S8 and Galaxy S8+
Zenfone AR
LG V30
LG V30 ThinQ
Samsung Galaxy Note 8
Moto Z2 Force
Axon 7
Moto Z
Moto Z Force
Mate 9 Pro
Porsche Design Mate 9
Questions?
Google's Daydream View has already been delivering awesome experiences all year, and they are only going to get better. Have you checked out Daydream yet? Is your phone Daydream ready? Let us know about it in the comments below!
Get the Android Central Newsletter
Instant access to breaking news, the hottest reviews, great deals and helpful tips.
Since the days of the HTC Hero James has had two or three Android phones stuffed into pockets. James is always on hand to offer advice on phones, apps and most recently, PlayStation, especially VR, It's now something of an obsession. Find him @keridel wherever Media Socials itself.