These are the phones that support Daydream VR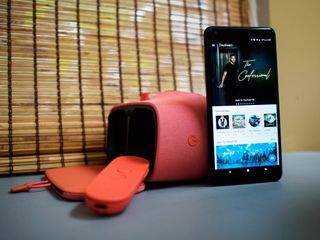 Google's big push into smartphone-based virtual reality has only begun to take form. Where Cardboard is an amazing way to make it so anyone and everyone can enjoy short VR experiences, Daydream is aiming much higher. You can kick back and enjoy an episode of Game of Thrones, stand up and draw some amazing pieces of art with a big bubble around you as the canvas, and of course, play an enormous number of immersive games. Daydream is a big deal to anyone who can enjoy it, and in order to be on that list your phone must have Google's "Daydream ready" stamp of approval.
Which phones have earned Google's blessing? Glad you asked! Here's the list of every Daydream ready phone, which we will be updating as frequently as possible.
Samsung Galaxy S9/S9+ — Although we have not seen any of the S9 or S9+ preloaded with the Daydream App, we do know that it is Officially Daydream Ready. From our preview you can see that even though the S9 is really an incremental upgrade from the S8 the extra features should make a big difference. The new S9 has a 15% brightness bump and the new speaker layout, increasing the volume by 1.4 times, should help make it one of the better Daydream handsets out there.
Google Pixel 2 and Pixel 2 XL — Both the 5-inch and 6-inch versions of Google's second Pixel phones are Daydream ready, and come with Daydream pre-installed. These phones are each packing an impressive Snapdragon 835 processor with 4GB of RAM, but the smaller Pixel is 1080p while the larger Pixel 2 offers a AMOLED display while the Pixel 2 XL rocks a P-OLED. This means both will deliver an awesome VR experience with highly accurate head tracking that is built to work well with the Daydream View headset.
Samsung Galaxy S8 and S8+ — Both the original Galaxy S8 and the larger S8+ are Daydream ready, and the Daydream app can be installed from the Google Play Store. These phones have a Snapdragon 835 processor with a Super AMOLED display and 4GB of RAM. While these phones seem a bit large in the headset due to the Infinity Display, they deliver excellent experiences with Daydream.
ASUS ZenFone AR — The new Daydream- and Tango-ready phone from ASUS is the first smartphone to have 8GB of RAM packed inside. It also has a Snapdragon 821 processor and a ridiculous 5.7-inch AMOLED display with a 1440x2560 resolution. Graphics are handled by a Qualcomm Adreno 530 GPU, which, when combined with the high-res screen, offer an amazing mobile VR experience.
Huawei Mate 9 Pro + Porsche Design Mate 9 — Huawei announced during CES that the more premium of its two Mate 9 flagships, the Pro (and $1500 kin, Porsche Design Mate 9) would support Daydream in a future update. With Huawei's own HiSilicon Kirin 960 processor and 6GB of RAM, there is plenty inside to power the 2560x1440 pixel display.
ZTE Axon 7 — The ZTE Axon 7 was technically the first phone to claim Daydream support, but it took until early February 2017 for the phone to actually get updated to Nougat, and receive Daydream compatibility in the process. Like the Moto Z, the Axon 7 runs the slightly older and slower Snapdragon 820, but that should be plenty of power for most VR experiences.
All Daydream ready phones
Google Pixel and Pixel XL
Google Pixel 2 and Pixel 2 XL
Samsung Galaxy S9 and Galaxy S9+
Samsung Galaxy S8 and Galaxy S8+
Zenfone AR
LG V30
LG V30 ThinQ
Samsung Galaxy Note 8
Moto Z2 Force
Axon 7
Moto Z
Moto Z Force
Mate 9 Pro
Porsche Design Mate 9
Questions?
Google's Daydream View has already been delivering awesome experiences all year, and they are only going to get better. Have you checked out Daydream yet? Is your phone Daydream ready? Let us know about it in the comments below!
Since the days of the HTC Hero James has had two or three Android phones stuffed into pockets. James is always on hand to offer advice on phones, apps and most recently, PlayStation, especially VR, It's now something of an obsession. Find him @keridel wherever Media Socials itself.
The 6GB version of the Axon 7 will not be leaving China! Posted via the Android Central App

It couldn't get a green card?

The ram isn't what makes it daydream ready as far as I know.

Absolutely right, more like graphic card and processing unit

What? There's something in China that will actually stay in China?? I don't believe it....

The Pixels don't have 6GB either.

I own a 6gb version axon 7 and using it in India... Very happy with Axon 7 with nougat update

Finally! An Android news outlet mentioned the ZTE Axon 7! Posted via the Android Central App

I know right! Too big for me personally but I don't get why people aren't all over it, it seems great. What beats it at $450? Posted via the Android Central App

Because it's not available almost anywhere. Or at least in the us. That's why many sites aren't talking about it. Posted via the Android Central App

I think there's an embargo on it. Not even ZTE is talking about it. They're tweeting about the NBA Finals and their Axon twitter page is posting random ad pics. Posted via the Android Central App

B & H will sell you one online - but it's just about the only phone they sell that you can't see in their store. Not sure why - the salesman sad ZTE wouldn't pay a diaplay fee or some such thing...

I've seen working Axon 7 demo units in both silver (gray) and gold at a local Best Buy. It's much more available than people know. But ZTE has done absolutely nothing in terms of marketing. I almost bought one but the fear of slow updates, bad software choices, and awkward non-lit capacitive buttons stopped me from doing so. Also, I don't understand why its lowlight photos are so poor. The camera hardware seems stellar.

It's readily available in Canada.
Strange isn't it?

$400 not $450 so it's even cheaper. Why people aren't all over it beats me. I love it and use as my daily driver. It's been great so far.

I just purchased 2 ZTE Axon 7s to replace a Nexus 4 and 5. On Jet they were about 375 with no tax and 30 off first 3 order promo going on. I hope to have them by the end of next week.

Is the G4 good enough? Posted via my LG G4

You're kidding right? The G4 already runs hot under normal usage. I know my next phone purchase will be Daydream ready.

I don't see why it's so ridiculous to think the G4 could handle this. I use mine with Riftcat in a cheap $20 headset and I have no issues playing SteamVR games. Sure, it heats up a bit, but not to the point where I'm worried it's going to explode.

Looks at article. Looks at question. Looks at article. Looks at question. Posted via the Android Central App

No 2015 flagships will be included. Posted via the Android Central App

S6 runs dead trigger 2 just fine. I'm rooting as soon as Samsung Releases N For the S6

OMG... THERMAL PERFORMANCE!!!! Will my pants catch Fire?

No, but your head might........

I'm personally trying to care about VR Posted from my cracked Nexus 6/Nexus 7 2013/Surface Pro 3

Me too. I can care less about VR. Posted via the Android Central App

Then you should care less if you aren't interested. Why would you reserve your caring? Posted via the Android Central App

Someone doesn't know how to use expressions...

Yep, a very short list indeed. Should see it grow significantly by the end of the year.

I would think the S7, HTC 10, and G5, with the SD 820, 4 GB RAM, QHD displays, and efficient performance would be Daydream ready when they get updated to N.

Add to this list the V20 and One plus 3 Please take notice this is a 3 month old article rehashed as click bait.

I'm glad to hear this. Don't do it verizon style half-fast, do it properly. The current phones aren't up to snuff, oh well. The new crop of phones will be and i predict the experience will be great.
What was in the 6p again the 810? That SoC is known to be a toaster I personally wouldn't want that near my face. Probly blow up like those e-cigars and youre left looking like the one bad guy from madmax Posted via the Android Central App

Yeah I have a 6P and just using it with Cardboard it gets super toasty. I have never used it for VR for more than a few minutes at a time because of that. I couldn't imagine watching a movie or something that way. Honestly that's probably my only real gripe with the 6P, just that it gets uncomfortably hot when it is really kicking the processor hard. I would love to pick up a pixel but it's hard to justify the price tag when my only complaint with my 6P is it gets a little warm... Maybe once the price drops a bit.

That's pretty cool to know that thermal performance is a priority for them now. That's been a problem with a lot of phones for a while at this stage. If they're going to start regulating that, too, I'll be very happy.

Need a hyper 212 evo lol Posted from my cracked Nexus 6/Nexus 7 2013/Surface Pro 3

That's what I got . Watercooling who? That heatsink got my pc like a fridge love it Posted via the Android Central App

Same Posted from my cracked Nexus 6/Nexus 7 2013/Surface Pro 3

Same here. Running the 212 evo fanless, and my computer is silent and the temps are fine.

Too bad the 212 EVO is massive though.

Glad I did not upgrade my Nexus 6 yet!

Also same Posted from my cracked Nexus 6/Nexus 7 2013/Surface Pro 3

Wait, since when did you crack the N6? R.I.P GPe program

An amazing list. #TeamFrosty Nexus 6P

Any news on the ZTE Axon 7 release date? I'll give them 2 more weeks to make it available for purchase....

Wait, what? Axon 7 has already been out for quite some time. I'm going to assume you aren't from the US.

Call me dumb. I know everyone here will. But isn't what the screen saver like function also called daydream. Talk about confusing. Posted via Android Central App

You're not dumb, it totally is. I think they renamed to simply Screensaver or something like that Posted via the Android Central App

Google seems to run out of creative names alot..

If the 6P is not ready for Daydream, why do you guys have an ad on your site (that looks suspiciously like an article, but that's the norm these days) that explicitly says the 6P is Daydream certified. I get that the ad does not reflect the views of Android Central but that seems more than a bit misleading. People trust Android Central, stuff like that erodes that trust. Posted via the Android Central App

I came here to post this very comment. The sponsored post now seems quite disingenuous.

I, too, was under the impression that the 6P was Daydream ready according to previous articles and ads I read here. This is confusing and disappointing.

i must wait for next month or couple for purchasing which smartphone is really best for day dream... be patient is better....!!!

Exactly. That's what I've been holding off for

Nexus 6P is 3GB and Snap 820. Anyway device that meets that requirement needs to be daydream approved. Posted via the Android Central App

Snap 810 for Nexus 6p. First gen of 810 had heat issue. Nexus 6p doesn't look like it does but Google is playing safe by not mentioning this phone as Daydream ready. They don't want to have troubles with a phone that could burst into flames in your face! (I'm exagerating I know).

For what it's worth the 6P may not be as bad as other 810 based phones but it can still get uncomfortably warm when you push it hard. I have especially noticed this when using it with Google Cardboard, so I can imagine how it would behave when wrapped in a nice cocoon of fabric that is the new daydream viewer.

All Snapdragon 810 SOC's released to phone manufacturers were version 2. The 810 in the 6P heated less because they pushed it less than others. HTC pushed it hard on the M9 and was agressive with heat management to compensate, and this raised flags when being benchmarked. In normal use, it was not an issue (the Galaxy S6 got hotter), but the FUD factory had already started. Take a look at the test results: The HTC One M9 is faster than the Nexus 6P.

I hear the Galaxy Note 7 didn't get Daydream rated because of its thermal performance as well. That may not be the same thing though.

Wow! That would be bad. Imagine a battery meltdown inches from your eyes.

I'm pretty sure the HTC HD2 is daydream ready.

I can't help but feel a little bit betrayed by Google.... I have a 6p, and we'll I feel left out in the cold.... No daydream, no assistant, no pixel Launcher.. No nothing...... Darn it!

That is quite a large load of being crapped on.

Same here. It kinda pisses me off knowing how much I touted this phone as being one of the best but all of a sudden Google is treating it like an unwanted stepchild.

6P owner here who tried a Pixel and returned it. You're not missing out on anything that matters. Daydream is in it's early stages and there are better alternatives for VR if you are really into that sort of thing. I can run cardboard and daydream apps on my 6P and it's a cool tech demo but at this point you aren't missing out on much. The pixel launcher is nothing special...you can sideload it and see for yourself. Action and Nova are still better even on the Pixel. Assistant (AI) is the future of google but it's not consistent enough at this point to use. It will be a few years before it is really good and at that point in time it will be on more phones (it is in Google's best interest to have it on as many devices as possible). Not to mention that you can do pretty much everything assistant does (and more) with google now voice actions. Google is still going to support the 6P and as long as I'm getting the security and system updates that I was promise then I'm a happy customer. My 6P on 7.1.1 is running better than when I bought it. Can we all just stop with the "Google betrayed us" whining...

You can also access Assistant from within Allo.

Finally I took an interest in VR but find my 6P may not be compliant...lol lame.

This yrs crop of phones and those moving foward it seems

Why isn't the Zenfone 3 deluxe on this list?

Man that's a lot of devices!

On one hand I want my note 7 to be daydream ready but on the other hand, I dont want it to literally blow up in my face.

That's pretty funny. haha

what is actual requirements for daydream? I mean S6's CPU and other internal stuff are up to par with nexus 6p. Does anybody know?

We are also talking about this on Android Central's sister site, vrheads.com! Please come over and chat there as well, as we have some guys coming from the VR side of things looking at this new tech!

The LG V20 is not daydream ready?

It can't keep up with latency requirements due to the LCD screen rather than AMOLED.

I'm not really interested in VR so this doesn't bother at all. I still love my 6P. =)

No love for the nexus program at all

Heh. "Thermal performance." Just when you thought you'd heard the last of the Snapdragon 810's heat issues.

Yeah 6P "thermal performance"..
Think that sums up the whole snappy 810 ux which is best left in the past..

I'm confused, the article posted has yesterday's date (Oct 5,2016), but some of the comments are from 3 months ago?! What's up with that?

It's a recycled article. AC does that from time to time.

I'm confused, the article posted has today's date (Nov 29, 2016), but some of the comments are from 3 months ago?! What's up with that?

Meaning the pixel won't get as hot as the 6p. As great as the 6p is...it can't even handle 360 video without stuttering.

That's a bummer the 6P isn't compatible and probably never will be officially but this is a good sign about how well/cool the 821 must run. I haven't used anything faster than the 808 in my Nexus 5X which feels about the same as the 800 in the Nexus 5 felt. I am excited to try out something high end this year to see if there really is a noticeable difference in performance.

I used the 5" Pixel in the Daydream headset for about 45 minutes the other day. That sure was a hefty battery drain, but the phone didn't heat up noticeably at all.

It's been suggested the Samsung s7 might not be compatible because its sensors are too slow, GearVR uses its own. If this is the case wouldn't it be feasible to make a tiny usb addon that adds new faster daydreamVR quality gyros? Since the daydreamVR leaves the usb port free.

Possible? Maybe. But would that sell in numbers large enough to justify anyone actually making it? Pretty doubtful.

Just two mobile?
guys do you know more for daydream?

Asus Zenfone 3 Deluxe with sd821 and other future smartphone with sd821 with oled scren.

Have confirmed and check it?
I have to share with my blog viewers at VRWatchman

how about leeco lepro 3 snap dragon 821 and 4gb ram...

doubtfull, hence its an 1080p panel..
likely more the LeEco le2max with an solid 2k screen, and GPU that set the highest score in android GPU benchmark comming in at over 43.000 on Basemark X and 36.6k in high sett and is miles ahead fx the Pixel XL at 37k and 33k when it comes to GPU power.
http://forum.xda-developers.com/showpost.php?p=69417492&postcount=26

Its seems it just highly recommended from Goggle that the phone got 2k (1440p) screen. (make sense and would also undermine there own line) Google emphasied minimum specs.
MUST have at least 2 physical cores.
MUST support sustained performance mode.
MUST support Vulkan Hardware Level 0 and SHOULD support Vulkan Hardware Level 1.
MUST support H.264 decoding at least 3840 x 2160 @ 30fps-40Mbps.
MUST support HEVC and VP9, MUST be capable to decode at least 1920 x 1080 @ 30 fps-10Mbps and SHOULD be capable to decode 3840 x 2160 @ 30fps-20Mbps (equivalent to 4 instances of 1920 x 1080 @ 30fps-5Mbps).
STRONGLY RECOMMENDED to support android.hardware.sensor.hifi_sensors feature and MUST meet the gyroscope, accelerometer, and magnetometer related requirements for android.hardware.hifi_sensors
MUST have an embedded screen, and its resolution MUST be at least be Full HD (1080p) and STRONGLY RECOMMENDED to be Quad HD (1440p) or higher
MUST measure between 4.7″ and 6″ diagonal
MUST update at least 60 Hz while in VR Mode
The display latency on Gray-to-Gray, White-to-Black, and Black-to-White switching time MUST be ≤ 3 ms
The display MUST support a low-persistence mode with ≤5 ms persistence
Device implementations MUST support Bluetooth 4.2 and Bluetooth LE Data Length Extension. ---------- according to GSM arena the LeEco pro 3 only carries two of the 3 bluetooth specs, and "BTv4.2, with A2DP, LE".. but I think its an mistake since the LEco le2max is listed with "BTv4.2 with A2DP, LE, aptX" but then again it seems to be version 4.2 with LE that is specified from Google as BT minimum,.

low-persistence display seems to be a must..that tumples the field quite a bit.. :-(

Yeah, I'd avoid anything with a 1080p display for VR. I've used my 5" Pixel with the free Daydream headset, and while it performs super well, the display is so pixelated that it's really not very enjoyable to use. If Google's serious about pushing VR as a selling point for both both models of Pixel, they're going to need to cram a 2K display into the smaller model next year.

I don't want to be a wet blanket but I feel like Google SCREWED it's loyal Nexus users! We've opted in on ALL beta trials and they learned all their do s and donts from us Nexus users and wham! No more Nexus line and it seems our Nexus isn't good for ANYTHING NEW FROM GOOGLE ANYMORE

why did google ditch nexus!!!!!!!!!!!!!?????????????????

They promised you nothing, get over it. Good lord Nexus fanboys are children.

By all accounts, the 2015 Nexus phones are just not physically capable of running Daydream properly. The 6P overheats within minutes, which is not at all unexpected, considering the SD810's track record with regard to thermal performance. And considering that the 5" Pixel's 1080p screen doesn't offer a particularly great viewing experience with Daydream, I really doubt that you'd want to use the 5X, which has the same resolution in a slightly larger screen (and that's ignoring the fact that the SD808 was kind of a ****, too).

They sold you a phone, not a promise. Get over it.

Could not agree more. I have always been a google fan, until I got a Nexus 5x... I pre-ordered mine at $400 as I trusted google, then I watched as they immediately realized it was over priced to all but it's die hard fans and continually lowered the price till it is 50% less in less than a year (yes I am already on projectfi) ! Oh and it so so damn slow and frustrating to use... I wanted a "Google Only Experience" so I switched from Samsung but this phone is crap!

What phone was better and cheaper than the Nexus 5X when it was released?

I had the developer GearVR with my Galaxy Note 4.
With most programs, the Note 4 would warn that the phone was getting too hot after 3-5 minutes and shut down about 2 minutes later.
I also thought the resolution needed improvement. Not sure if this was the software or the phone.
I liked it as a novelty, but could not find a game or program I really liked.
However, I see the potential and I believe it will become an essential phone feature in time.
I'm disappointed my 6P has thermal concerns, which I plan to keep another year or so.
But I look forward to buying a phone with VR in the future that doesn't have thermal issues.

I will say my Pixel XL gets really hot and did crash when Daydream playing ArcSlinger for about 15 min. No case on it either.

VR is much better experienced on another platform. A great intro for people but don't buy a Pixel just for daydream, that would be a bad decision. Samsung VR blows this crap out of the water, unfortunately its proprietary so have to stick with a new Galaxy. That would seem bad, except how is Goooooogle doing anything different by only having 2 devices even compatible. Laughable what Google has become in the smart phone industry.

It's a pleasant surprise that my Moto Z will run Daydream. I bought the phone for the mods and now I'll keep it for the VR.

Axon7 is supposed to do daydreamvr once they get nougat.

Axon 7 WILL have DayDream with N update, by the way runs better than i expected.

Im reading articles about daydream allready for a few months, but where i can buy it? i live in Belgium, yes western europe. Not in the amazonas jungle ;) and no stock on google store. Pixel phones neither.
Sometimes i think they just make a few pieces to talk about them.