Best Steering Wheels for PlayStation VR in 2022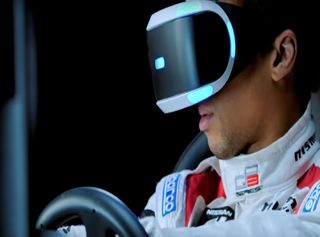 The best part about VR is fully immersing yourself in a new experience, so you can feel like you're really in the game world. Anybody who's spent time with a driving wheel knows that it enhances the experience of driving games, and that feeling is only amplified once you're hooked into your PlayStation VR. How do you pick the best steering wheel though? That's where we come in.
It's time to upgrade your driving
Most people are hooked after they try the PlayStation VR (PSVR) for the first time. Then, once you're hooked, you'll always be looking for the best equipment to enhance your experience by providing the best immersion. That's where steering wheels come in.
Using a steering wheel while playing a driving simulator inside of a virtual reality headset is game-changing. Not only are you fully immersed in your environment because of the headset, but the driving wheel allows you to feel like you're actually driving the car. The Thrustmaster T300RS GT is the best option for the three-pedal system, 1080 degrees of rotation, and force feedback for added immersion. You can even use it with your PlayStation 3, PlayStation 4, and your computer.
Looking for a final piece to the puzzle? That's where the driving stand comes in. While some driving stands like the GTultimate v2 have a built-in chair for your comfort, you can always find a cheaper option like the Cingo Wheel Stand that only holds your equipment. Either one of those options are perfect because they create an environment that feels like a real car without you having to hold a wheel in your lap or accidentally kick the pedals across the room!
The best driving stands
Here are our top picks for driving stands to match your steering wheel!
GTultimate v2 ($800 at Amazon)
GTultimate v2 has a gaming chair built onto the driving stand for your comfort. The best part? When you're not using the stand for your driving games you still have a comfortable gaming chair for your entertainment room!
Cingo Racing Wheel Stand ($110 at Amazon)
Cingo is the basic set up you need to have a stand for your driving wheel. It comes with stands to fit a steering wheel, pedals, or a HOTAS controller!
Mophorn Racing Wheel Stand ($125 at Amazon)
The Morphorn racing wheel stand is fit for your Logitech G25, G27, G29, or G920 as well as a Thrustmaster steering wheel. It's doesn't offer a spot for your HOTAS, but it comfortably fits a wheel and pedal system to feel like a real car!
Get the Android Central Newsletter
Instant access to breaking news, the hottest reviews, great deals and helpful tips.
Essa Kidwell is an expert in all things VR and mobile devices who can always be found with an Oculus Go, a Pixel 2, and an iPhone 7+. They've been taking things apart just to put them back together for quite some time. If you've got a troubleshooting issue with any of your tech, they're the one you want to go to! Find them on Twitter @OriginalSluggo or Instagram @CosmeticChronus.