These are the Android devices that support Qualcomm's Quick Charge 2.0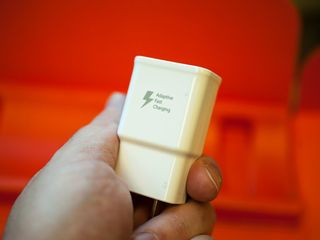 But already we've got a number of Android smartphones and even a couple tablets that support the new technology. This is going to be a big deal in 2015, especially as there are so many phones that don't have removable batteries. And it's an even bigger deal in the car, as a 20-minute drive can mean you get a lot more juice in the same amount of time.
And the list of phones that support Qualcomm's Quick Charge standard are growing. A number of devices released in 2014 already support it, and we'll see even more as new devices are released in 2015.
More: Qualcomm Quick Charge 2.0 explained!
We'll keep this list updated as more are announced. But here, now, are the phones and tablets that are supported by Qualcomm Quick Charge 2.0:
HTC Desire EYE
HTC One M8
HTC One Remix (Verizon Mini 2)
Moto X 2014
Motorola Droid Turbo
Nexus 6
Samsung Galaxy Note Edge
Samsung Galaxy Note 4
Sony Xperia Z2 Tablet
Sony Xperia Z3
Sony Xperia Z3 Compact
Sony Xperia Z3 Tablet Compact
International devices
Fujitsu Arrows NX
HTC Butterfly 2
Kyocera URBANO L03
Moto Maxx
Panasonic CM-1
Samsung GALAXY S4 (Japan)
Sharp AQUOS Pad
Sharp Aquos Tab
Sharp AQUOS Zeta
Sony Xperia Z2 (Japan)
Xiaomi Mi3
Xiaomi Mi4
YOTAPHONE 2
Xiaomi Mi Note
Source: Qualcomm
Note: Based on our time with a Korean LG G Flex 2, that device appears to charge quickly with other QC chargers, in addition to LG's branded "Fast Charger." But to date no LG phones are on Qualcomm's official listings.
Also: Learn about smartphone battery tech in our Futurology series
Get the Android Central Newsletter
Instant access to breaking news, the hottest reviews, great deals and helpful tips.