These are the Android devices that support Qualcomm's Quick Charge 2.0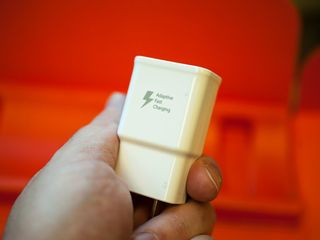 But already we've got a number of Android smartphones and even a couple tablets that support the new technology. This is going to be a big deal in 2015, especially as there are so many phones that don't have removable batteries. And it's an even bigger deal in the car, as a 20-minute drive can mean you get a lot more juice in the same amount of time.
And the list of phones that support Qualcomm's Quick Charge standard are growing. A number of devices released in 2014 already support it, and we'll see even more as new devices are released in 2015.
More: Qualcomm Quick Charge 2.0 explained!
We'll keep this list updated as more are announced. But here, now, are the phones and tablets that are supported by Qualcomm Quick Charge 2.0:
HTC Desire EYE
HTC One M8
HTC One Remix (Verizon Mini 2)
Moto X 2014
Motorola Droid Turbo
Nexus 6
Samsung Galaxy Note Edge
Samsung Galaxy Note 4
Sony Xperia Z2 Tablet
Sony Xperia Z3
Sony Xperia Z3 Compact
Sony Xperia Z3 Tablet Compact
International devices
Fujitsu Arrows NX
HTC Butterfly 2
Kyocera URBANO L03
Moto Maxx
Panasonic CM-1
Samsung GALAXY S4 (Japan)
Sharp AQUOS Pad
Sharp Aquos Tab
Sharp AQUOS Zeta
Sony Xperia Z2 (Japan)
Xiaomi Mi3
Xiaomi Mi4
YOTAPHONE 2
Xiaomi Mi Note
Source: Qualcomm
Note: Based on our time with a Korean LG G Flex 2, that device appears to charge quickly with other QC chargers, in addition to LG's branded "Fast Charger." But to date no LG phones are on Qualcomm's official listings.
Also: Learn about smartphone battery tech in our Futurology series
nexus 6 FTW Shamu to you too *splash*

So... do only the US versions of the Nexus 6, Note 4, One M8, Xperias, Moto X (etc.) have quick charging? Posted via who-gives-a-s***

Sane here man, charges brilliantly! Btw on a side note, my dad just got the S5 and I have no idea what's with its weird charger. Can anyone help me?

Charging port/cable input

Its a USB 3.0 cable and whilst using with Samsungs 2.0 Charger in the box will provide Fast Charging, based off of the 1.0 spec.

I'm pretty sure my old G2 was.? Posted via the Android Central App

G2 has 1.0 I believe not 2.0 Posted via the Android Central App

My wife's G3 has it. We interchange the use of my Nexus 6 charger and her G3 charger all the time.

Nope Sent from my glorious note 4.

I hate to break it to you but there's actually a voltage regulator chip inside. If it doesn't send back the charge specific data from a 2.0 it will simply keep a 1.6 amp charge. It will work on my Bluetooth headphones without making the battery go pop.. It will also charge my battery back up pack.. It also charged my galaxy s 4 .so most likely the g2 doesn't have it :( but the g3 should :)

Metle-geek is correct. Read my post a little later on this page. It explains how QC2.0 works. Because of the design, QC2.0 chargers are fully backwards compatible with non-QC2.0 devices.

http://www.techspot.com/review/847-lg-g3/page6.html According to this article it does, and my charging performance experienced at home supports their claim of quick charge, so what gives?

The G3 not having this is one of the only disappointments I've had with this phone so far, but it's a minor grievance as I've found the battery life to be pretty darn good and having a spare battery is the fastest quick charge of the them all. 0% - 100% in 60 seconds.

Is the G Flex 2 gonna have it?

Pretty short list. Posted via the Android Central App

I know. But this will be a factor in my next phone purchase. Posted via Android Central App via my Sprint Tab 3 LTE.

There are way more devices that support QC2.0 than are on that list. Those are just the ones that "officially" support it. For example, I have a QC2.0 charger with an LED indicator that turns green if the device allows it to enter Quick Charge mode, and stays Blue if it's only charging at the 5V 2A rate. My nVidia Shield tablet will turn that indicator green, so it definitely supports it, but even nVidia's doesn't claim QC2.0 support.

Mist likely that's BC the voltage regulator senses its a larger battery BC its taking a higher charge than say a Bluetooth device..

No. The way QC2.0 works is that the charger starts in 5V mode, but communicates to the device that it's capabile of 9V and/or 12V modes. The DEVICE then makes the decision to allow the charge at those voltages. The charger I have, has an LED that turns green when 9V or 12V mode is activated. This cannot happen with a device that does not support QC2.0. I can prove this by using a charge cable (QC2.0 requires the data pins to be intact, since that's how it communicates with the device.) If I use a charge cable, the device does not activate the 9V or 12V modes, regardless of how large the battery is (and the LED stays blue). Incidentally, QC2.0 differs a bit in that it can still charge an android device at 2A with a charge-only cable (the device will show "Charging A/C"), whereas the old standard would only charge at 500mA (the device would show "Charging USB") with the exact same cable.

OK I get ya I was sure that there was a data packet exchange on the hardware level but you filled in the gaps but yes I can charge multiple things on it I'm just thankful they had the insight to include different charge stages so differt devices don't overheat and go boom :(

Nexus 6 here. It's one of the features you don't think about but are glad you have when needed!

Wondering why the S5 doesn't work.

I thought that all Snapdragon 800 or up devices are supported

Does the nexus 5 compatible?

No, it doesn't use that standard. Using my N6 charger on my N5 made no difference in charging spead

HTC One Remix is a One Mini 2 variant. Posted via the T-Mobile HTC One Mini

Yeah, came here to point that out. To repeat, the Remix is NOT the Verizon M8. Please fix. Posted via the Android Central App

D'oh. Thanks. Being the only one here who's touched them both, I knew that. :p

LG G3? Posted via the Android Central App

This may just be me but article link takes me out of app to Web browser to read related write up rather than keeping me in app like I have it set to. Heads up? Or advice to resolve, either way, good article. Posted via the Android Central App

Was the quick charge standard link Posted via the Android Central App

Any phone that comes out this year without it is a failphone Posted by my soon to be retired Note 3

You got that right Sent from my glorious note 4.

I love it on my n4. This is the first phone I've had that I'm not worried about battery life. Sent from my glorious note 4.

Isn't the note 4 supports it as well (SM-N910F)? Posted via the Android Central App

Yeah, I don't know what this website has against LG but it's the second article like this. The G3 has quick charge.

I see where the confusion is, though. LG has it's own rapid charger that comes with each LG device, but it isn't the described Qualcomm "Quick Charge" standard. Honestly, my LG G3 isn't an inferior phone because it doesn't have it. This is just another tech version of keeping up with the Jones's.

it doesn't have qualcomm's quickcharge 2.0 which is the basis of this list

Both the G2 and G3 are Snapdragon 800s and higher, so the chipset definitely supports it. I believe LG officially supports it in other countries with the same devices, but not in the US. My VS980 G2 charges with my 12V .75 amp Qi charger...so I don't see why the chipset wouldn't allow more current at 12v whilst plugged in.

I don't honestly get much use from it since I use Qi charging and the Quick Charge doesn't work for wireless charging, unfortunately.

How much of a charge (or mah) do you get from your qi charger? Isn't it close to a trickle charge /less than 1 mah? Posted via Android Central App

I have no idea how to tell how much charge I get, but it's no less than a regular charger since it charges in pretty much the same amount of time as plugging it in to a regular USB charger. It just can't do the Quick Charge thing.

Are you saying you can stream pandora, use gps/voice navigation, have the screen on, and have the battery percent be going up via qi charging? I haven't found a qi charger yet that can do that.

Sure, I've got a car dock Qi charger that works just fine using GPS and streaming music.

The charge you get from a qi charger greatly changes, depending on the charger. The typical charge ranges from about 700mA to about 1.5A. Thus, the right charger is comparable to the typical OEM wall charger (which usually run in the 1.2 to 1.5A range). Personally, i use qi charging for my nightly charge, but I will never own another phone that doesn't support Quick Charging, since there are times that it comes in handy.

Oh sure, I've got a Note 4 and if I ever have need for the quick charge, it'll be awesome to have.

The fact that the Sony Xperia Z3 Compact is listed in the U.S.-specific devices section means that the same phone released outside the US doesn't support quick charge?

There is different variations of the Sony phones. If it's in us I would assume it's on international as well since us carriers are typically harder on restrictions. And international z2 has it as well. Posted via the Android Central App

However, I am not a professional and what I mean is that it would make sense if it was that way. Realistically it's probably more of an interactive update type of feature based on what chipset a manufacturer choses during the design and build process. Posted via the Android Central App

relax, i won't hold you responsible if my phone blows up :)

They all support quick charge, but it's under US since the Xperias are actually sold in the US now.

Why is this site spamming me about the Quick Charge 2.0....? Posted via the Android Central App

A few articles written by different people is spam? Couldn't be a coordinated effort to educate viewers reading on a regular basis? Posted via the Android Central App

More likely that Qualcomm have just had a marketing blitz and this is the trickle down from that. Posted via the Android Central App

LOL You've got to pay for the doughnuts before you make the doughnuts.

I don't think I've heard anything about Sharp android devices. Are they any good? Are they expensive like the high end Samsung tablets (s-series and note)? Maybe I'll look them up Posted via Android Central App

I think some of you are confusing Quick Charge 1 with Quick Charge 2. Almost all phones with a Qualcomm processor support Quick Charge 1.0 and will usually come with a charger at 1.5 - 2 amps. But that doesn't mean it's Quick Charge 2.0 capable, it's a whole other ball game. QC 2.0 will charge your phone over 50% in about 15 min. Sorry but if your device isn't on the list it doesn't support it. So for example, my G3 supports Quick Charge 1.0 but not 2.0 no matter how much I'd like it to. Posted via the Android Central App

Read my post above. There are chargers that can display when they're in QC2.0 mode (9V or 12V). There are devices that aren't on the list that do, in fact support it. However, since all QC2.0 chargers also charge at up to 2A in 5V mode, it's hard to tell without that indicator. You also can't always tell by charging speed. A device may allow the 9V mode, but only at a lower current.. So, if it only allows 9V at 1.2A, it's charging at 10.8W, whereas a 5V 2A charger is charging at 10W. You'd hardly know the difference. Just because a device supports it, doesn't mean you'll benefit from it.

I thought the 2014 Amazon Fire HDX 8.9 had it. It certainly came with a thick wall wart....(bought it during the one day sale) Posted via the Android Central App

I had no idea my Z2 tablet supported it. Will try it today with my nexus 6 charger to see how it does because with the oem sony charger, it takes forever Posted via the Android Central App

I was under the impression that anything with a Snapdragon 805 or newer was compatible.

I'm under the impression use of Qualcomm Rapid Charge 2.0 also has to be licensed.

The OnePlus One does to, I have used my fast charger on it and it charges to full in and hour, and doesn't make the unit hot or anything

That is contrary to what Qualcomm and Android Central is reporting. Nevertheless, I'm hopeful your personal experience suggests otherwise.

I thought the Nexus 7 FHD also supports quickcharge.

What about the Samsung Galaxy S5?

I thought even the HTC one E8 had quick charge. Can anyone clarify?

According to HTC's specifications the HTC E8 is Qualcomm Rapid Charge 2.0 capable. Apparently there is incomplete or confusing information. It would be in Qualcomm's best interest to get it all correct now that they lost Samsung's S6 to Samsung's Exynos SoC which obviously won't have Qualcomm's Rapid Charge 2.0 capable technology.

Does this mean Oppo's SD805 toting Find 7/7a's rapid charger uses a different standard? Is that what VOOC is?

I think the LG G2 was first out of the gate with QC 2.0 but this was before Qualcomm started branding it as Quick Charge 2.0.

So does the LG G2 have quick charge at all? if so have you tested any? maybe a link to a charger?? :3

Moto G 2nd Gen (400 chip) does support the Quick Charge 2.0 according to Qualcomm... https://www.qualcomm.com/products/snapdragon/processors/400

Does the magnetic charging port on my Sony Xperia Z3 Compact support QC 2.0?

For the record the Z2 (D6503) does *NOT* support QC 2.0 (I tried it with a certified charger, and the built in indicator light did not turn green).

Charge ypour smartphones 75% more faster with Qualcomm Quick Charge 2.0 than ordinary devices.Seee configuration and reviews of product here http://www.amazon.com/CHOETECH-Adaptive-Charging-Technology-GalaxyS5/dp/...

The S6 has this feature and it's not on your list? Posted via the Android Central App
Android Central Newsletter
Get the best of Android Central in in your inbox, every day!
Thank you for signing up to Android Central. You will receive a verification email shortly.
There was a problem. Please refresh the page and try again.