These affordable kitchen appliances make cooking at home easier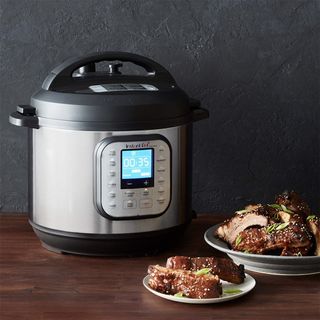 (Image credit: Amazon)
Coronavirus has got you planning an extended stay at home for the next couple of weeks, and all the bars and restaurants around you are either completely shutting down or shutting down early to help slow the spread of the disease, too. Now what are you going to do? Cook? At home? Are you ready for the daunting challenge of making your own food?
Well, if not, there are some easy steps you can take and some easy equipment you can get to make preparing meals super easy for you and your family. Some of these appliances can even help you when you're craving those tasty foods you usually get by going out.
Working from home means cooking from home. You need a little help to keep meals interesting. And possibly not disasters based on your skill. Here's a few appliances to help you make every meal a success.
Instant Pot pressure cooker
Life is already getting a little tricky what with working from home for the first time, daycares closing, and so many sporting events getting postponed all thanks to COVID-19. Don't make it any harder than it has to be. Grab an Instant Pot for your kitchen. These are multi-functional pressure cookers that can do a whole lot of stuff pretty much on its own. All you need to do is supply the ingredients depending on whether you want to make a pot roast or yogurt.
You don't need to break the bank with Instant Pot either. One of the newest models, the Instant Pot Duo Nova is just $99.99 and has a six-quart pot. That's large enough to cook dinner for the family and probably have some left over for lunch. I use an Instant Pot at home and it has become our default rice cooker because it makes something that's already easy even easier.
Get cookin'
Instant Pot Duo Nova 7-in-1 pressure cooker

Make life at home a little simpler with a pressure cooker that does all the work for you. It can actually take the place of up to seven other kitchen appliances with its multi-functionality.
$99.99
Anova Nano sous vide precision cooker
If you haven't used a sous vide cooker before, it might seem a little intimidating. It's definitely something different. You are creating a water bath for your food to cook in, and that requires a nice big pot, some plastic bags to keep the water away from your food, and possibility even a vacuum sealer to just completely remove all the air from the bags. Most importantly, though, you need a sous vide precision cooker like the Anova Nano. Once you've figured out exactly what to do with it, you'll be happy you took the time. Your food will be cooked perfectly every time, especially if you work with something like steak or chicken. Lock in flavor. Lock in moisture. Get it right, every time.
The Nano also makes it easy because it's super easy to operate. You can use the app on your phone to pick the right settings. Since the machine only touches water and never your food, it is easy to clean and maintain over time as well. The small size makes it easy to store when you're done. I'd say there is a learning curve to getting started, but once you're invested it's not bad at all and you'll want to keep using it again and again.
Tasty
Anova Nano sous vide cooker

Give your food the water bath it deserves. Circulate the water at the perfect temperature for an even cook all over that makes your food come out tasting just right.
$96.98
NuWave Brio 3-quart air fryer
Now that you aren't eating out as much, since a lot of restaurants are shut down or shutting down early, you might get a craving for some of the foods you're missing out on. Grabbing an air fryer is a great way to cook some tasty food at home, and since you aren't using oil it can even be healthier for you. The NuWave Brio can help you make fries, nuggets, steak, or even fish right from the comfort of your own kitchen.
Comfort Food
NuWave Brio 3-quart air fryer

Air fryers use a unique cooking chamber that super-heats the air and circulates it around your food. The food gets cooked at the same temperature from all sides and comes out crispy and delicious.
$59.99
Cleanblend 64-ounce blender
Blenders make it really easy for you to get some fruits and veggies in your life. A delicious smoothie while you're working from home can really give you some energy to last through the day. Plus, you can share with the rest of the family so everyone can enjoy. Of course you can make more than just smoothies, too. Make soups, milkshakes, or even margaritas when the work is done for the day. The Cleanblend blender comes with a five-year warranty, too.
Smoothies anyone?
Cleanblend 64-ounce blender

Kitchen appliances should be all about making your life easier. And what makes life easier than throwing a bunch of ingredients in a giant jar and grinding it all up? It's easy to use, easy to clean, and easy to eat.
$178.97
Instant Pot cookbook
I'm not much of a cook. I don't really know what I'm doing in the kitchen, but I have found that appliances like sous vide cookers and pressure cookers are really easy to use with a few guiding steps. All you need is a cookbook with some interesting recipes to get you started. This cookbook for the Instant Pot is a best seller and has 800 recipes to choose from, with all the ingredients and steps you need to follow. It's also available for free through Kindle Unlimited. With all this extra time working from home, you might consider a free trial to Kindle Unlimited just to get you through it. That way you can pick up some other cookbooks along the way.
Step by Step
The Ultimate Instant Pot cookbook

Whether you're new to the Instant Pot world or you've been doing it for a long time, a good cookbook can serve as an inspiration. Learn some super easy new recipes and expand your cooking repertoire.
$9.99
J.D. Levite has been in the deals game since 2012. He has posted daily deals at Gizmodo, The Wirecutter, The Sweethome, and now for Thrifter. He was there for the first Prime Day and has braved the full force of Black Friday. If you cut him, he bleeds savings. But don't try it for real. That's a metaphor.
Android Central Newsletter
Get the best of Android Central in in your inbox, every day!
Thank you for signing up to Android Central. You will receive a verification email shortly.
There was a problem. Please refresh the page and try again.