Tesco unveils the £119 Hudl tablet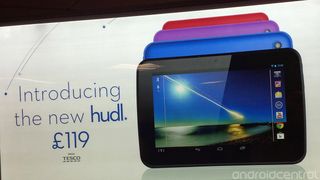 We're live in London, where UK supermarket chain Tesco is taking the wraps off its new budget tablet running Android, the 7-inch Hudl (pronounced "huddle.") The Hudl will sell for a fraction of the price of Google's Nexus 7, though with somewhat cut-down specs. The tablet features an 1440x900-resolution screen, a 1.5GHz quad-core CPU, dual-band Wifi and 16GB of storage, expandable up to 48GB via microSD. There's also a microHDMI port for TV connectivity.
On the software side, the Hudl is running Android 4.2.2 Jelly Bean with the full suite of Google apps, as well as access to entertainment through Tesco's BlinkBox and Clubcard TV platforms. From what we're seeing, the software appears to be mostly stock Android, save for some customizations to hook it into the retail giant's digital services. The most noticeable addition is a dedicated "T" launcher button alongside back, home and task-switching.
The Hudl will come in black, blue, purple and red color options and sell for £119 through Tesco's online and brick-and-mortar stores starting next Monday, Sept. 30. Tesco Clubcard holders will be able to get the tablet through Tesco's "Clubcard Boost" program, which doubles the value of vouchers — meaning it could cost as little as £60 for holders of the loyalty card.
We've got today's press release, full specs and some official images after the break.
Tesco launches 7in Hudl tablet
Tesco today launches Hudl, a new 7 inch HD tablet that aims to open up a world of entertainment and connectivity to all. It has been designed by Tesco for its 20 million customers and more, focusing on accessibility and convenience.
With super-fast 1.5GHz quad-core processor and dual-band Wi-Fi, users will find Hudl a great companion for their needs, from films, music and TV through to staying in touch, learning new things, shopping and playing games. The scratch-resistant HD display screen is beautifully clear and with 243 pixels per inch, it's perfect for enjoying HD movies in 16:9 widescreen. It has up to 9 hour video battery life and 16GB of memory which can be extended to 48GB.
Hudl combines the best of Tesco with the Android Jellybean 4.2.2 operating system meaning that customers can access everything on Google and over a million apps.
Tesco designed and built the tablet from scratch, tailoring it around customer needs and ease of use. Hudl users can enjoy instant access to Tesco's full range of digital services, all in one place, through a convenient, dedicated launcher button. These include blinkbox movies and TV, music and Clubcard TV (which offers free films and TV programmes exclusively for Clubcard holders), banking and of course shopping for groceries, clothing, homeware and more.
Hudl comes in four colours and will be available to buy in store and online (on Tesco.com and Tesco Direct sites) from 30 September and will retail at £119. Hudl is about making Tesco customers' lives easier, so Tesco Clubcard holders will be able to buy it at an even better price. Hudl will be available on Clubcard Boost* where customers can double the value of their vouchers, meaning many will be able to buy it for less than £100.
According to OFCOM, three quarters of UK households do not have a tablet. Tesco's research found that many feel that the technology is too expensive or intimidating. So Tesco has entered the market to change that.
Tesco Chief Executive, Philip Clarke, comments, "Hudl is a colourful, accessible tablet for the whole family to enjoy. The first stage in our tablet offering, it's convenient, integrated and easy to use with no compromise on spec. Customers are quite rightly very discerning about the technology they buy so we knew we had to be competitive on all fronts."
"Being online is an increasingly essential part of family life and whilst tablets are on the rise, usage is still quite limited. We feel the time is right for Tesco to help widen tablet ownership and bring the fun, convenience and excitement of tablets to even more customers across the UK. The digital revolution should be for the many, not for the few."
The move is part of Tesco's multichannel strategy, ensuring that customers can shop whenever, however and wherever they want. It recognises the increasingly important role that smart phones and tablets are playing in people's lives and how they can make things easier.
In the digital age, customers are communicating, working, learning, browsing and consuming differently and Tesco, always an innovator, has been transforming its business accordingly. Tesco was first to introduce grocery home shopping and supermarket drive-thrus in the UK and built the world's first virtual store where commuters buy groceries via their mobile phones in South Korea. In its latest multichannel launch, Tesco wants to ensure as many customers as possible can access the benefits of a tablet, in a world that is increasingly online.
Hudl has been designed as a family tablet. When users switch it on for the first time, there is a screen which gives advice on how to put in place measures to protect children (please see details in notes below). There are also a range of Hudl accessories, including child-friendly headphones.
Specification detail:
· 7" 1440 x 900 HD screen
· Android Jellybean 4.2.2
· 16GB storage which can be expanded to 48GB with microSD cards.
· Quad-core 1.5GHZ processor
· 9 hours video battery life (Conditions may vary dependent on video format and content, audio volume, screen brightness and processor load)
· Micro-HDMI port
· Bluetooth 4.0, GPS
· Dual band Wi-Fi for a more stable connection
· Access to over a million apps via Google Play™
· Comes in 4 colours: black, blue, red, purple
· Wi-Fi only
· Sleek, high-quality design, with a durable, matte, soft-touch back for better grip
· Scratch resistant touch screen
· 'Getting started' app that offers tips and guidance
Alex was with Android Central for over a decade, producing written and video content for the site, and served as global Executive Editor from 2016 to 2022.
Sounds interesting. Good budget Tablets always needed with kids around.

Good point Posted via Android Central App

Good PPI there, this could be popular!

Undoubtedly it'll sell like hotcakes simply because it's tesco - they have *huge* marketing power, and sticking this as a 'hey look, cheap tablet' in their stores immediately gets it in front of the majority of the UK population. The plus side for them is it pushes blinkbox, which is the real cash cow. Posted via Android Central App

They should put a few in the Express stores, I'm surrounded by those buggers!

I have a little express store near me which has just got some in and put a big display up.

I'm sure many here would argue it's better to spend the extra money and get a Nexus 7, but for the average consumer, this tablet will be good enough for what they need, and they can get it off the shelf at a shop they go to every week, not some forbidding computer store full of jargon and unhelpful assistants. The biggest selling DVD player in the UK used to be a dirt cheap no-name one sold in Tesco. It became as cheap as the disks it played. It wasn't great, but it did the job and shifted bucket-loads of DVDs. New disks had to be checked they would work on it because it has such a large market share. It seems like this tablet puts a pretty stock Android experience in the hands of many more people which is a Good Thing. If it really takes off it would be well for developers to add it to the devices they test on.

Actually, Tescos are already selling the Nexus 7 too; this will sell because it is 40% cheaper than the Nexus 7.

No camera(s)? Posted via Android Central App

Front and back cameras - 3MP and 2MP

The ppi could make this a winner. Wonder if the Tesco 'extras' will make it slow to be updated ? Probably not an issue as anyone who acres about that kind of thing will probably drop a custom ROM onto it anyway. HDMI output, memory expansion and quad core makes this look very attractive - even just an impulse buy while you stock up on milk.
At the sticker price it looks a winner; with clubcard it looks a total steel; with clubcard earned for free via topcashback, looks criminal!

Tesco extras is probably just an app. But JB 4.2.2 is good enought now to stand on its own and never get updated. I have a N7 2013 and I'm even thinking about it just to leave in the lounge.

I'd like to know how much RAM it has, that spec is noticeable by its absence. Still, I'm surprised how crappy it isn't. Posted via Android Central App

Agreed - the spec looks very good for the price. I'll be looking out keenly for the reviews. Could sell like crazy for Christmas.

What a brilliant little tablet, I'm sure they will fly off of the shelves. The expandable memory is something that's really needed in tablets these days.

Depends how much RAM is in it. If it's 1GB it will probably run like crap, if it's 2GB then it will probably be amazing. Posted via Android Central App

Waiting for a decent review of this, it seems really nice for the money. The BBC 'review' this morning was awful. It was more about how Android tablets are all the same, and 'cheap' while the iPad is a luxury device thats better in every way. Typical sort of thing to come from the Apple shill Rory Cellan-Jones.

At first glance, it looks like a mini Nexus 10 from the front.

This was my first thought too! I actually love that look. I want one just to compliment my N10.

It's 1GB of RAM unfortunately. 2GB would've been perfect...

2GB would've been nice, but 1 should be fine. Where did you manage to find this out? Posted via Android Central App

I know it's an American company, but is anyone aware of hudl.com?

my step dad just got a nine month old Cadillac CTS-V Wagon by working part time from a macbook... here... http://ur1.ca/flhh2

Your step dad is a twat. As are you.

Looks excellent at that price! Def get one and use my club card points for double bubble! :-) Posted via Android Central App

Slight correction on pricing with Clubcard Boost. You can only double up to the nearest £10 below. So you can double up £55 to £110 and then pay the remaining £9 cash. Total £64.

Buy Android Online with 50% discount at this site http://www.androidonline.org

Now it seems that phone has got bigger! So called TAB has taken the place of mobile. We are getting back to the early time! Treasure Nile Progressive Pokies

It has been jailbroken / rooted already! http://akufu.com/tesco-hudl-rooted-modaco/

I've set up a new forum for the Hudl here: www.hudlforums.com Hopefully it will be a useful resource for Hudl users and those thinking of buying a Hudl. Take a look!
Android Central Newsletter
Get the best of Android Central in in your inbox, every day!
Thank you for signing up to Android Central. You will receive a verification email shortly.
There was a problem. Please refresh the page and try again.