TCL 10 Pro vs. Moto G Stylus: Is TCL worth the extra $150?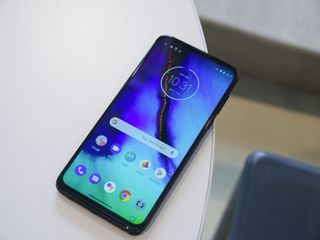 (Image credit: Joe Maring / Android Central)
TCL 10 Pro
The TCL 10 Pro more than justifies its higher price with better performance across the board. Its hardware is stunning, and the software is both clean and responsive. If you can spare the extra cash, this should absolutely be on your radar.
TCL 10 Pro
Excellent HDR display with SDR upscaling tech
Snappy performance
Great battery life
High-end glass and metal design
Considerably more expensive
Cameras are decent at best
Moto G Stylus
The Moto G Stylus makes too many compromises for its own good. The software is clean and the display is colorful, but performance lags behind, and the cameras simply don't measure up to the competition.
Moto G Stylus
Costs significantly less
Moto Actions and Moto Display are great add-ons
Excellent battery life
Large, colorful display
Very weak camera performance
Sluggish software responsiveness
Budget phones no longer need to make major compromises in factors like design, screen quality, and performance to reach their low price point. The TCL 10 Pro and Moto G Stylus are both very affordable phones with modern hardware and huge screens, along with clean builds of Android 10 — though for an extra $150, you should certainly expect a bit more from the 10 Pro. But that's also a 150 percent price hike over the Moto G Stylus; are those improvements worth it for your needs?
Cameras always take the biggest hit
Both the Moto G Stylus and the TCL 10 Pro have attractive modern designs with tall, narrow aspect ratios and their own unique characteristics. The Moto G Stylus has a plastic body with bottom-firing speakers, a headphone jack, and a fingerprint sensor cleverly hidden in the Motorola logo around back. As the name implies, it also features a stylus, which tucks into the bottom-right corner of the phone when not in use.
The 6.4-inch display has nice color reproduction, and its white balance is a considerable improvement over that of the previous generation Moto G7. There's a hole punch notch in the upper-left corner that houses the front-facing camera; there's a bit of light bleed around the cutout (the IPS LCD display tech is largely to blame here), but it's easy to overlook, and the display looks good overall.
The TCL 10 Pro feels far more luxurious, with a glass and metal design featuring a matte, frosted backing that looks terrific and hides most fingerprints. Of course, there's no stylus on the 10 Pro, but it's otherwise pretty similar with a headphone jack, bottom-firing speakers, and a USB-C charging port. There's no capacitive fingerprint sensor on the back; instead, you'll find an in-display sensor here. It isn't the most consistent we've tested, but it works fairly well considering the price.
Rather than a hole punch cutout, TCL opted for a more traditional notch stemming from the center of the display up top. That display is a slightly larger AMOLED panel, which means deeper blacks and more vivid colors. It's powered by TCL's NXTVISION display tech — the same technology found on the company's TVs — which touts SDR-to-HDR conversion, among other things.
Swipe to scroll horizontally
Category
TCL 10 Pro
Moto G Stylus
Operating System
Android 10
Android 10
Display
6.47 inches, 19.5:9 aspect ratio, 2340x1080 (398 ppi) resolution, AMOLED
6.4 inches, 19:9 aspect ratio, 2300x1080 (399 ppi) resolution, IPS LCD
Processor
Snapdragon 675
Snapdragon 665
Graphics
Adreno 612
Adreno 610
Memory
6GB
4GB
Storage
128GB
128GB
Expandable Storage
Yes
Yes
Rear Camera
64MP, ƒ/1.79 (primary)
5MP, ƒ/2.2 (macro)
16MP, ƒ/2.4 (ultra-wide)
2MP, ƒ/1.8 (super low light)
48MP, ƒ/1.7 (primary)
2MP, ƒ/2.2 (macro)
16MP, ƒ/2.2 (ultra-wide)
Front Camera
24MP, ƒ/2.0
16MP, ƒ/2.0
Security
In-display fingerprint sensor
Rear fingerprint sensor
Battery
4500mAh
4000mAh
Water Resistance
IP52
Water repellant
Dimensions
158.5 x 72.4 x 9.2 mm
158.55 x 75.8 x 9.2mm
Weight
177g
192g
Without a doubt, the Moto G Stylus's main advantage from a hardware standpoint is its namesake stylus — though as Daniel Bader mentioned in our full review, there's no advanced pressure sensitivity or wireless tech behind that stylus like you'd find on Samsung's Galaxy Note lineup. Using a stylus does offer better precision than you'd get with your finger, but this particular stylus is laggy and imprecise to the point of hardly being a real benefit.
Unfortunately for Motorola, that disparity in hardware continues over to software performance. While the Moto G line once set a standard for the level of performance we could expect from budget devices, the G Stylus simply lags behind the competition. It's sluggish and unresponsive at nearly every turn; meanwhile, the TCL 10 Pro is just as snappy as many of the recent flagships we've tested.
The good news is that both phones have excellent, cleanly laid out software. The 10 Pro's TCL UI puts a large focus on display enhancements, with the aforementioned NXTVISION HDR technology and various color profiles. There's also a customizable side key that can launch various apps and tasks. The Moto G Stylus doesn't hone in so much on its display, but its Moto Actions software gives users quick access to features like the camera and flashlight by use of physical gestures. Moto Display is also one of our favorite implementations of the popular always-on display tech.
Image 1 of 3
You probably know by now that any time you're looking to cut costs on a phone, one of the first things to suffer is the camera experience. Neither phone takes particularly great photos, but as you might expect, the TCL 10 Pro takes the win here as well. Both phones feature high-resolution primary sensors that use pixel binning to combine information from neighboring pixels together; in both cases, this means passable photos with decent dynamic range and sharpness.
The secondary cameras are where the Moto G Stylus starts to fall apart. You get a macro sensor on each phone, but at just 2MP versus the TCL 10 Pro's 5MP, the Moto G Stylus's close-up shots turn out universally soft. There's also an ultra-wide lens on both phones; quite frankly, the 10 Pro's ultra-wide shots are bad, but at least you can use the lens to take photos. On the Moto G Stylus, that ultra-wide can only be used for its Action Cam videos, in which you can shoot horizontal footage while holding the phone vertically. It's a neat feature with decent quality video, but the lack of any photo capabilities is an odd oversight.
In case it isn't clear, the TCL 10 Pro offers a better experience in nearly every way. Of course, it's also 1.5x the cost of the Moto G Stylus, but I'd argue that if you can make it work, it's well worth the extra money. The Moto G Stylus just doesn't offer the level of software or camera performance that we've come to expect these days. If you're strapped for cash and need to stick with a ~$300 budget, though, there are plenty of other great options to consider.
Best overall
Well worth the money if you can swing it
The TCL 10 Pro more than justifies its higher price with better performance across the board. Its hardware is stunning, and the software is both clean and responsive.
More affordable
A hard sell, even at its low price
The Moto G Stylus makes too many compromises for its own good. The software is clean and the display is colorful, but performance lags behind, and the cameras simply don't measure up.
Be an expert in 5 minutes
Get the latest news from Android Central, your trusted companion in the world of Android
Hayato was a product reviewer and video editor for Android Central.