T-Mobile's new prepaid plans are simpler, but take a step in the wrong direction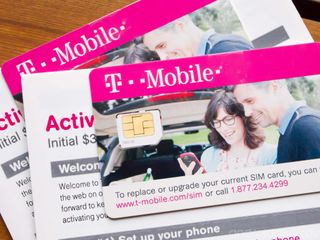 New Simply Prepaid plans feel like a strategy to upsell to postpaid, not offer the best value to customers
I've always been a fan of the way T-Mobile has done prepaid, but with today's announcement of its new Simply Prepaid plans I'm worried that the Un-carrier is going in the wrong direction. On the surface, the plans look pretty good — all you can eat talk and text with three choices (1GB, 3GB or 5GB) of data buckets, all of which undercut its previous prepaid plans by $10 at each data allotment. $40 is now the entry point for these plans, which grabs headlines, but not everything here is an improvement.
To someone walking into a T-Mobile store or checking out their website on Jan. 25 when these plans go into effect that seems like a pretty good deal, and it is, unless you've looked at the plans as they stand now. T-Mobile's Simple Starter plans come in at $40 and $45 currently, with 500MB or 2GB of data, and the higher plans at $50 (1GB), $60 (3GB) and $70 (5GB) offer unlimited Music Freedom music streaming, as well as tethering up to the data allotment and international texting. Something's not adding up here.
Sure you get the same amount of data at each level at $10 less per month, but is that worth losing unlimited music streaming, tethering and international texting for? For many people, it's not. And we haven't highlighted three of the biggest issues with these new plan changes — data speeds are hard-capped at 8Mbps, a completely unlimited plan is nowhere to be seen, and there doesn't seem to be any mention of tethering included in the plans.
Buried deeply in the bottom of its press release is where T-Mobile dropped the bomb that its prepaid plans will now be capped at 8Mbps, so no matter how "data strong" the network is in your area you'll be sitting at an acceptable, but not amazing data connection. But it matters a bit less now, as you won't be allowed to tether your phone to your computer when you need to share your connection — and even if you're able to add on tethering for an additional fee it's a huge step back.
Catch up on more prepaid phone news!
Then there's the fully unlimited plan. $80 per month with no taxes or fees for T-Mobile's current Simple Choice Prepaid unlimited plan — including 5GB of tethering — was probably one of the best deals in wireless, and at this point it doesn't look like its sticking around. That's a big downside for the heavy data users out there who didn't want to mess with postpaid. In that same crowd of people are those who use the $30 plan with 100 minutes and 5GB of high-speed data, which is another plan that I could easily see going on the chopping block when Simply Prepaid comes into play on the 25th. Let's hope they at least hold onto that one.
Right now, 10 days before these plans go into effect, we know that these Simply Prepaid plans just aren't that great of a deal — and in many ways are a downgrade from what we had before. In the name of simplicity, T-Mobile has killed off a lot of the features that made its prepaid plans so alluring in the first place. Losing full-speed data, tethering, Music Freedom and the option of a completely unlimited plan really hurts customers who do their research and see what they're actually paying for in a prepaid phone plan.
In many ways these new plans feel like a great way to up-sell folks to T-Mobile's postpaid Simple Choice plans after a month or two, not offer the best value in the prepaid arena where the carrier has traditionally dominated. It makes business sense, but it surely doesn't make "Un-carrier" sense — when your new prepaid plans are the same or worse than AT&T's, you know you've made a misstep. Fortunately for those of us who use prepaid it's no issue to switch carriers and choose a better deal somewhere else — after all, that's most of the point of going with prepaid. Lets see how many people choose to do just that, and maybe T-Mobile will change its tone.
Sign up for Black Friday email alerts!
Get the hottest deals available in your inbox plus news, reviews, opinion, analysis and more from the Android Central team.
Andrew was an Executive Editor, U.S. at Android Central between 2012 and 2020.