T-Mobile's new prepaid plans are simpler, but take a step in the wrong direction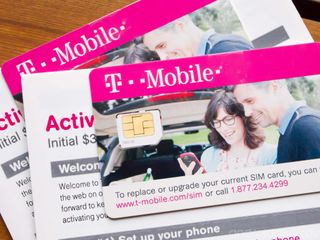 New Simply Prepaid plans feel like a strategy to upsell to postpaid, not offer the best value to customers
I've always been a fan of the way T-Mobile has done prepaid, but with today's announcement of its new Simply Prepaid plans I'm worried that the Un-carrier is going in the wrong direction. On the surface, the plans look pretty good — all you can eat talk and text with three choices (1GB, 3GB or 5GB) of data buckets, all of which undercut its previous prepaid plans by $10 at each data allotment. $40 is now the entry point for these plans, which grabs headlines, but not everything here is an improvement.
To someone walking into a T-Mobile store or checking out their website on Jan. 25 when these plans go into effect that seems like a pretty good deal, and it is, unless you've looked at the plans as they stand now. T-Mobile's Simple Starter plans come in at $40 and $45 currently, with 500MB or 2GB of data, and the higher plans at $50 (1GB), $60 (3GB) and $70 (5GB) offer unlimited Music Freedom music streaming, as well as tethering up to the data allotment and international texting. Something's not adding up here.
Sure you get the same amount of data at each level at $10 less per month, but is that worth losing unlimited music streaming, tethering and international texting for? For many people, it's not. And we haven't highlighted three of the biggest issues with these new plan changes — data speeds are hard-capped at 8Mbps, a completely unlimited plan is nowhere to be seen, and there doesn't seem to be any mention of tethering included in the plans.
Buried deeply in the bottom of its press release is where T-Mobile dropped the bomb that its prepaid plans will now be capped at 8Mbps, so no matter how "data strong" the network is in your area you'll be sitting at an acceptable, but not amazing data connection. But it matters a bit less now, as you won't be allowed to tether your phone to your computer when you need to share your connection — and even if you're able to add on tethering for an additional fee it's a huge step back.
Catch up on more prepaid phone news!
Then there's the fully unlimited plan. $80 per month with no taxes or fees for T-Mobile's current Simple Choice Prepaid (opens in new tab) unlimited plan — including 5GB of tethering — was probably one of the best deals in wireless, and at this point it doesn't look like its sticking around. That's a big downside for the heavy data users out there who didn't want to mess with postpaid. In that same crowd of people are those who use the $30 plan with 100 minutes and 5GB of high-speed data, which is another plan that I could easily see going on the chopping block when Simply Prepaid comes into play on the 25th. Let's hope they at least hold onto that one.
Right now, 10 days before these plans go into effect, we know that these Simply Prepaid plans just aren't that great of a deal — and in many ways are a downgrade from what we had before. In the name of simplicity, T-Mobile has killed off a lot of the features that made its prepaid plans so alluring in the first place. Losing full-speed data, tethering, Music Freedom and the option of a completely unlimited plan really hurts customers who do their research and see what they're actually paying for in a prepaid phone plan.
In many ways these new plans feel like a great way to up-sell folks to T-Mobile's postpaid Simple Choice plans after a month or two, not offer the best value in the prepaid arena where the carrier has traditionally dominated. It makes business sense, but it surely doesn't make "Un-carrier" sense — when your new prepaid plans are the same or worse than AT&T's (opens in new tab), you know you've made a misstep. Fortunately for those of us who use prepaid it's no issue to switch carriers and choose a better deal somewhere else — after all, that's most of the point of going with prepaid. Lets see how many people choose to do just that, and maybe T-Mobile will change its tone.
Get the Android Central Newsletter
Instant access to breaking news, the hottest reviews, great deals and helpful tips.
Andrew was an Executive Editor, U.S. at Android Central between 2012 and 2020.
Wow, I wonder if the existing prepaid plans, like the $30 one, are going to cap at 8Mbps. Since it is prepaid there isn't really any grandfathering that's going to happen. I was never a fan of the unlimited portions of the plans like the music or whatever. It goes against the whole net neutrality even though in this particular instance it sort of benefits customers. It is a way to ease customers into getting used to that sort of thing though which I think is not good.

Yeah we really don't know what's going to happen to current plans. We can at least bet that Simple Starter is gone, as are today's $50, $60 and $70 plans. The question is what happens to the $80 unlimited plan and $30 100 minute/5GB plan.

I'm sure the $80 plan will stay Posted via the Android Central App

The Post-Paid Unlimited plan is $80 dollars as well, so other than the fact that prepaid is a little easier for people with no/bad credit, what is the perk of prepaid? There are no ETF's, no contracts, and you can sign up for a month at a time if you like. bringing your own device is possible as well.

In some places TAXES. In some places like Calfornia prepaid has no taxes. VS post paid that has like 16% that's $153 bucks a year

Andrew, it is worth noting a few things: The Simple Choice Pay in Advance plans are still available, which offer a no credit check choice that still includes unlimited high speed data as an option, and is not capped at 8mbps. These prepaid plans are less expensive, so they offer less bells and whistles. $10 more buys everything else T-Mobile offers, and they don't have to run credit or anything like that. These are secondary prepaid plans for people who just want to save some money. For those who are looking for all the features, $10 more is in order. Posted via the Android Central App

I agree, these clearly seem like a cheaper tier of prepaid service you can get directly at the T-Mobile store, though I'd argue you'd be better off on metropcs as the plans are almost identical except no data speed cap and the $60 plan is completely unlimited on metro. I still don't see this as a critical misstep. I think it's a way to compete with AT&Ts cricket prepaid service which has a growing retail presence through partnerships , the old plans are not going away. I think metro just doesn't have a strong enough retail presence to equal cricket. Posted via the Android Central App

I'll be really upset if they cap my $30 plan at 8Mbps. I just did Speedtest on LTE and I'm pulling 26.49 down, 10.35 up with 2 bars. Also, Music Freedom is in the same vein as net neutrality, except that the services aren't paying T-Mobile to curry favor, and any streaming service can apply for inclusion (exclusion?) in the program.

And they were doing so well.. Smh Posted via Android Central App on The Nexus 5

If only you could listen in on corporate meetings eh? T-Mobile is a corporation whose make goal is to make a lot of money. I wonder if they have certain plans that go into effect when they reach a certain quota in customers or income. Posted via the ACA on NEXUS 6

I think most people would rather lose the music streaming, international text and tether to save $10 a month. I think these plans are more geared towards the portion of the business they are losing to boost cricket and other prepaid carriers. People looking to save money are probably not international travelers, pay for music services, or tether to a laptop since their phone is probably their primary data device. The customer that price point are not looking for those features, they just want unlimited minutes text and data. Posted via the Android Central App

People who make a lot of money still like to save a lot of money and still get what they want.

So I have a Nexus 5 with the $30 prepaid plan: 100min, 5GB, unlimited text. Will this be 'capped' at 8mps now? I very much enjoy this plan because even after I reach the 5Gb 4g limit it is still usable. The throttle isn't completely crippling, and it's hard to complain with a $32 a month bill after it's all said and done, but I could see them changing the terms of the plan at their leisure. If Android Central does a follow up, this would be one of those details I would enjoy learning about. From what I understand -via the interwebs- there are quite a few savvy shoppers out there who took advantage of this particular plan. -Good Day-

We just don't know right now. It'll be much clearer on the 25th when the new plans go live.

I made the mistake of letting my $30 a month prepaid slip for for a month, only because my T-mobile phone isn't my primary and I had other financial concerns for that period. I literally had to fight Customer Service to get it back. The supervisor kept saying "it's no longer available", this after I'd already added the $30 to my account and made a call to check the service for a few seconds. I had to add $10 more dollars , "because adding money is only in increments", to replace the $1.00 I'd lost. I've totally let the account go for now and plan to use that particular phone for it's original intention as an unlocked phone when I spend part of the year in Mexico. Tired of figuring out what U.S. mobile carriers are doing.

This annoyed me to no end this morning. Not that it directly affects me as I'm on postpaid, but they copied AT&T (Cricket) with the 8mbit cap and offered less data for more $. Not Un-carrierish at all. This also makes MetroPCS a much better choice.

This is what MetroPCS is for, they do the same thing. 8MBps is a good, fast speed for most folks. T-Mobile wants post paid, they want pre paid on Metro. Its that simple.

Is it bad that I live in the U.K. and from reading A.C. I know more about the U.S. telecoms market than the U.K. ones? If I went to America I'd know to go with T-Mobile right away but I don't know much at all about U.K. carriers.

I'd love to see some readership statistics from AC. I'm sure they are aware of the percentage of visitors that come from various countries.

Well, AC is more about android, and they just happen to cover carriers as they tie in. I can only assume that the UK carriers aren't as wishy washy as the US, therefore not as much news on them.
Other than that, I would also assume that there are other ways to learn about local carriers around you, such as the carriers Web sites.

What's really the difference between a prepaid account and a postpaid account at T-Mobile now? There's no contracts either way. I'm genuinely curious since I switched to T-Mobile recently and have the $30 prepaid 5GB plan and a $20 postpaid tablet plan. Both bill me before the usage period anyway.

Postpaid you can't quickly end your service or change your plan. You also can't choose how/when to reload (cash, prepaid card) and you pay additional taxes. As a tradeoff, they give you more for your money, like tethering, music freedom, etc.

Postpaid may require credit check for certain plans, mostly costumers on the JUMP program . 30 dollar Prepaid DOES offer international texting, but NOT international data or music freedom. Tethering works. 100 minutes. My GF has this plan and I could confirm this. Currently, 50 dollars and up prepaid "include data for Mobile HotSpot use. Plus, we've added international texting from the US to virtually anywhere*—all at no extra charge.
And now you can stream unlimited music on services like Pandora, iHeartRadio and more that doesn't count against your 4G LTE data." On January 25th prepaid and postpaid will be pretty much the same. Except prepaid will have an 8mbps max speed. Postpaid will still require credit check for some costumers e.g. JUMP costumers. Postpaid will have other advantages of such as data stash...depending on plan. Pretty much the only reason to have prepaid is less tax, ability to easily add funds or change plan, no auto monthly charge until you cancel, no credit or ID required. Just insert sim, pay, use

Edit: NVM lol after the 25th things change prepaid will be 10 dollars cheaper with 8mbps speed. Seems to max out at 5GB 4G LTE
"Plus, get loads of great services like Wi-Fi Calling, in-flight texting, and visual voicemail."
unlimited music stream and tethering is unclear

The $30 plan does offer Music Freedom. I stream daily about 4 hours a day. As of today I'm on my 20th day of the month and I have only used about 600MB of data.

This is correct. Just checked. I hope they keep this 30 dollar plan

Actually you can... With the post paid service, you are billed your initial "pro-rated" month and the second month on your first bill. This means on the $50 plan that started half way through the month you should see a bill for about $90-95 a few weeks after you sign up. This includes the $25 for the first month, $50 for the second and the taxes and fees. If you choose to bill the activation part of your bill (usually just $10) it could climb up over $100 on that $50 plan. You have the option of visiting a T-Mobile store, paying buy check, bank account or credit card on any of the plans that T-Mobile has. You also can switch plans at any time and have the cost and allotments pro-rated for the month you are in. If you are on the 2GB plan and upgrade to a 5GB plan half way through the month, you can just pay the $10 difference which is cut in half and you are given half the data increase. It's a pretty good system overall. The drawback to trying this with a prepaid plan is that you usually won't be able to upgrade without buying a full refill - so that $40 plan can't be 'upgraded' to the $50 plan unless you buy a $50 refill.

If you have a payment plan on a phone you most certainly are under contract. It might be called something different but it is a contract.

But that has nothing to do with the calling plans, also these are "simple" loans which means you can pay them off at any time. You can't do that with the other carriers calling plans under contract, you signed for the time, not for a loan.

Does anyone know if AT&T's GoPhone plans cap at 8MBps?

GoPhone does not, Cricket (Owned by AT&T) does.

My only concern is the tethering. I use it at work sometimes to transfer stuff and don't want to lose it. My OPO has a built in tethering option that you would find on a CM custom ROM (another benefit of CM OS). I wonder if it would still work if I switched to one of these plans. Don't care about the music streaming and international texting Posted via...The One

T-Mobile's pretty "good" about blocking tethering. Unless you use apps that actively mask your tethering.

With your knowledge of android do you think they'd block the native tethering feature imbedded in CM? Posted via...The One

No I mean with the new plans. They haven't been released yet. I know it works now, I use it. lol Posted via...The One

The thing that'll be blocked is using your phone as a modem to share internet with other devices. You'll still be able to share/transfer files, and you don't need a custom ROM. It's the same idea as sharing files over Bluetooth. Posted via Android Central App

Well I might try it. Let's hope you're right because I don't use it to share my data, just transferring files to different devices Posted via...The One

Also it's good they don't start yet, I just paid my bill 2 days ago on Tuesday lol Posted via...The One

FreedomPop unlimited plans $19.99 people. Rooted Galaxy S III, Stock Galaxy Note 4
Rooted LG G2
If it ain't Tech, it ain't Right!

On SPRINT... Sorry, not reliable enough around Seattle...

Haha that's why i kept my plan from 09 15 dollars unlimited text. That's all i need. Posted via the Android Central App

It says at the bottom of the chart the tethering is allowed up to the data limits. Also they have added interest call, that used to be only for post paid plans

The chart shown in this post is the current plans, not the new ones. The new plans explicitly block tethering.

And that folks is why postpaid is where it's at. Posted via the Android Central App

They say at the bottom of the chart that tethering is allowed up to the max of your data allotment. Also they are now allowing internet calling that used to only go the post paid plans

As long as this doesn't affect my simple choice unlimited everything $70 plan, I don't care what they do... Posted via My Beastly Galaxy Note 4...(T-Mobile)

Why all the fuss about pre-paid vs post-paid? T-Mo has no contracts, so I don't understand why they bother with two different types of plan. I have a "post-paid" plan, but what does that mean? I'm allowed to cancel whenever I want and I can't possibly get any overage charges because I have unlimited minutes/sms/2g-data and an allotment of 4g data. So, who cares if I pay on the first of the month or the last of the month? The only difference is that I could potentially rack up fees if I travel internationally and I get free data for certain things. Change the two types of plans to "works internationally" and "doesn't work internationally" and then everybody can just chill.

taxes and fees are a lot lower on prepaid vs. post-paid. check your bill.

More reason to cancel TMO service and go with the $60.00 unlimited everything plan on MetroPCS. LTE isn't capped, price includes fees/taxes. Everyone I've read who's switched has been more than happy. Their service has been identical to the post-paid $80.00 TMO plan; I have this one but pay the grandfathered $70. Only difference is no official tethering and TMO users get preferred access over MetoPCS users in dense/network crowded areas. Anyone else considering jumping?

Nope I like having cell phone service wherever I go. I will stick to the higher prices of AT&T and not have to worry about losing service. If T-Mobile's good in your area and you don't travel alot then its worth it. Posted Via AT&T Note 3

Said it before, they had an unsustainable business model that was meant for short term WOW factor and/or to look good in a sale. The sale fell through and the bottom is falling out. Posted by my soon to be retired Note 3

When are you retiring your Note 3 and getting the 4? I will have mine in 2 weeks :) Posted Via AT&T Note 3

I know it sounds like a cop out but I have just been too busy to get there and do it. I should do it this week since I am out of state all next week. Posted by my soon to be retired Note 3

That makes a lot of logical sense. Titanic here we come!

To be fair, you should get less when you pay less and get more when you pay more. You can either get unlimited talk/text w/1GB data for $40, or spend $10 more for the postpaid option that includes unlimited music streaming and tethering (and no 8mbps throttling). Yes, I know that the postpaid options also have hidden fees masquerading as taxes. But that's the thing, pre-paid was offering essentially the same deal as the postpaid option but for a smaller price (same rate, fewer fees), and this is T-Mobile's way of "fixing" that. Please note that I'm not trying to defend T-Mobile here. While they are differentiating here by separating their prepaid and postpaid fees, I wouldn't go near one of these plans. Cricket offers better value AND a more robust network. You can argue that Straighttalk is a better value as well. I don't see these prepaid plans as being worthwhile for just about anyone.

I am currently using the 80$ unlimited everything with 5gb of tethering. Hopefully they will let us Stay on the our current plans. If not time to start checking out the other prepaid options. I hate to say it but boost mobiles 55$ 10gb plan looks very interesting. Posted via the Android Central App

If there is a cap, when does the cap actually happen? If I have the $30 prepaid plan, does the cap happen after I exceed 5g? I guess we'll know more after 01/25. TIA,,,,JL

There might not be a 30$ 5gb plan after January 25.!!!. On my Nexus4 or 5Posted via the Android Central App

This is just simply NOT true.

I can't believe that the author didn't mention the biggest part of going prepaid over post-paid... TAXES AND FEES! If you snag your prepaid refills online, not only do you usually pay less than face value for them, you also don't pay any taxes. This makes the $40 plan about $20 a month cheaper than the $50 Simple Choice plan. So, is streaming music, tethering and 20 Mbps downloads worth $250 a year to you? Some will say yes, and others will say no. For those stuck on the fence, there's the Simple Starter $45 plan (also taxable) to split the difference.

The taxes and fees are hidden into the price lol. Posted via the Galaxy Note 4

Not likely. The amounts are flat Posted via...The One

They are built into the price. Posted by my soon to be retired Note 3

agreed. prepaid has a lot less taxes and fees. prepaid = regular state sales tax + $1 911 FEE. post-paid = regular state sales tax + $1 911 FEE + all kinds of other taxes and fees. post-paid fees and taxes are about double - depending on your state. on an individual plan difference could be $14 vs. $7 per month. $84/year.

This article may need to be updated: Per a few Websites, it looks like T-Mobile's reps are trying to clarify that these new prepaid plans are designed to supplement their current prepaid offerings, not replace anything.

Exactly... I think it's just hard for people to believe that a company is actually trying to give customers what they want for change. It's like they get so used to being bent over a barrel they can't imagine there could possibly be another way.

If they touch the $30 plan I'll be dropping T-mobile them instantly for Cricket.

If you refill your $30 prepaid plan for $300+tax, are you locked into the plan until the money runs out even if T-M eliminates the plan? Just curious.

idk about in ur area but everyone I know on Cricket can't even get 1MB of d/l speed hardly... I'm well up into the upper 20's MB/s down on T-Mobile.

Definitely the wrong direction. Posted via the Android Central App

They are not REPLACING the current prepaid plans with this one. This is to give customers more options. I am a TMobile Sales rep and we get a lot of people that just want the very basic prepaid plans so this gives them it while saving them a little money. If they want all the bells and whistles like always, they can always get the same Prepaid plans that we've had for a while. So once again, this NEW plan doesn't replace the OLD plan. it just sits along side it to give people more options!

Mike Seivert (Tmobile CMO) said on Twitter that the old plans are not going away. The new plans will be another option.

Coverage in the North Bay area sucks; the ATT Mobile Share plan I have for $45 has data rollover which this does not.. Sorry but I don't see any UN-advantages from the UN-carrier

So, no data rollover, no free music streaming,equals pass. Will stay on my ATT Straight Talk plan w unlimited calls, texts, 3gb data for $45 bucks. I get my 3 month refills from ebay for $110-$110 bucks. Ian B

Awesome Posted via the Android Central App

If you are in a good T-Mobile area and you want T-Mobile there are so many great plans which are all better than any other Carrier in the Country. I have T-Mobile and Verizon, I put Verizon on a suspension without pay because Verizon data speeds and voice calls suck compared to T-Mobile in my area. T-Mobile has a plan for everyone, don't let anyone tell you different. Try their service out in your area, won't cost you a dime, if it is what you want there are so many different plans that are so much better than all the other Carriers. I have a unlimited Verizon plan that I suspended and will probably dump, T-Mobile is that good, 3 times faster, much more reliable, never dropped calls, real unlimited data without speed throttling and throw in free tethering. UnFreakenBelievable !!!!!!! Thank You T-Mobile, Thank You John Legere.
PS, This is an addition to all their other great plans, the writer of this article didn't do his research. All the other great T-Mobile plans are all still there. These are just new options for customers to choose from.

just upgraded from the postpaid $40 to the $45 plan, seems like a better deal than the $50 prepaid plan; don't lose out on those 3 features and more data for less cash. Thx AC for the info!

"unlimited music streaming, tethering and international texting" But I don't use those.

These plans aren't even a good deal. They have the same speed cap as Cricket but with less coverage and a smaller data allotment. Why would someone choose one of these plans over Cricket?

Why would anyone choose the $70 prepaid plan with 5GB of data instead of the $70 postpaid plan with unlimited data?

After all if you do not wish to settle for the new simply prepaid plans, the current prepaid plans will still remain on post paid plans.. being there is no contract you may still take the plan month to month, and T-Mobile still remains the Un-Carrier. Now it does run credit but that's a sacrifice I was willing to make to save money. Anyway who offers unlimited talk and text w 2GB at $45? Who doesn't charge overages, who rolls over your data, who gives free music streaming, who gives the best international features included in their plans, who doesn't subsidize overpriced costs of phones, who gives VoLTE, who has wifi calling, and can do all that with no contract. What is their to lose? BTW metro does throttle and their unlimited plan is $70 and I doubt that is truly unlimited like T-Mobile. If so it's still a better bang for your buck wish everyone is after at the end of the day!

What this tells me,is T-Mobile is probably hurting for cash,or will be soon. On Sprint unlimited everything,our family of five smart phones,average $65 each,tax's & fees included. Not only that,but unlimited roaming and that means data too. We kept our original plans,and so have features that the new ones may not. But still,if Sprint has good coverage in your area,then maybe it's time to give them a try. There are lots of prepaid companies that use Sprints network,and AC had Freedom POP's and in the feed yesterday. Also,Ting has some awesome deals too. Lots of choices these days. Posted via the Android Central App

Well just heard about tmobile big changes i will be definetly checking out other cell phone carriers and be leaving tmobile real soon. does anyone know how Cricket is my family says Cricket has been good for them? I thought I would change to Cricket real soon that company offers more. GOOD BYE TMOBILE

I have the $60 UL plan and it's great because I get unlimited music streaming and I can use tethering. On this new simply prepaid that's not available so it's totally worth the extra $10. You would have to play more than that to add those services anywhere else.