Sony Xperia Z available for purchase from T-Mobile: $99 down or $579 outright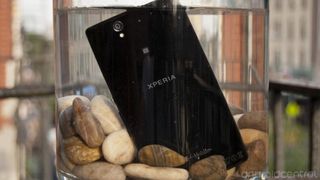 Whether it's much of a feat or not, T-Mobile has locked up the exclusive launch of the Sony Xperia Z on its network and now is the time you can finally get your pre-order in. While the device has been available from Sony Store locations since its announcement last week, chances are many people's first opportunity to buy the device will be online from T-Mobile. Pre-orders are slated to only last for today, as the device goes on sale officially starting July 17 — tomorrow — but the added bonus of pre-odering will be a free Sony Wireless Bluetooth Speaker (valued at $69.99) and overnight shipping.
The Xperia Z will set you back $99 down and $20 per month on an Equipment Installment Plan, or an outright price of $579 for the waterproof handset. Those interested in buying the device outright can always order directly from Sony's online store as well (bypassing T-Mobile) and still take advantage of the free Bluetooth speaker bundle.
Ready to pull the trigger? Hit the source links below and get your order in.
Source: T-Mobile; Sony
Android Central Newsletter
Get instant access to breaking news, the hottest reviews, great deals and helpful tips
Andrew was an Executive Editor, U.S. at Android Central between 2012 and 2020.
Happy happy happy °_° Posted via Android Central App

.... and T-Mobile's web site is down. :-(

Not working for me either. Posted via Android Central App

Yay Posted from Android Central Mobile.

I never got the option for the wireless speaker or overnight shipping....wtf?!?!?!

Me either i'm chatting with customer service right now. --Update--
Well they claim that when you order it today it just puts you in a slot and what will happen is you'll actually order it tomorrow and thats when you'll get the speaker and the free overnight shipping.

Same response I got. Hopefully it's true and not just some typed out response to shut us up. Lol. Did you pay for ups ground shipping or higher?

Bring on the Sony phones T-Mobile, hope you continue to carry their lineup. Posted via Android Central App

I think it's a great phone but Sony has to find a way to release it quicker. They announce it in Q1. It's Q3 now. Posted via Android Central App

I got mine yesterday.... Only it was a lot cheaper than $579.00 out the door..
I was able to buy mine Outright for:
$89.99 + Tax. Oh wait.. I got the Huawei Prism II...
Ah.. A phone's a Phone on the T-Mobile Network.. You go T-Mo for the plans.. Not the phones.

yeah, thats a comparable device. No wasnt funny.

Oh..yeah,
They are the same thing.. I have Jellybean, The Internet, Wi-Fi Calling, The Playstore, All the great T-Mobile Apps, Custom Launcher.. All that. But I have to admit.. Mine is not Waterproof! But I saved almost $500.00 bucks so.. I'll just have to watch it around the pool..

says the man who says "Take it back and get an iPhone". No more feeding the trolls

I hope you enjoy your new iToy as much as I enjoy my Prism II ! Because it does Everything this $579.00 model does (except submerge) and..well.. saves $490.00! But for those that want "Sony no Bologna" its here..... On America's Premier Network.. T-Mobile! Home of the $30.00 a month prepaid Plans as well as 2 phone upgrades a year on your postpaid plans!!!

What phone does T-Mobile not really have? They have all the new popular phones from HTC, Samsung, Sony, Nexus 4, LG, soon Motorola. Posted via Android Central App

You're one of those.... That somehow Thu is everyone else is stupid becaue we purchase high quality phones. Good luck with the Prism. It is a basic smartphone with a horrible toucbs screen, no real graphics capability, a sub par processor that won't be able to handle launchers and other basic android functions..... It's not just the waterproofing that puts your phone apart from the Xperia. It's really the entire package. Posted via Android Central App

Dude..... Are you Nuts? or like 14 years old? Go get laid by your teacher or something and calm down...damn LOL!

no thanks, id rather not be one of t-mobiles rape victims.

Been thinking about getting this phone, would it be worth it to switch from the nexus 4? Posted via Android Central App

That's a great question. You would gain screen size (maybe a better screen but maybe not), better battery life it seems, better camera, sd card, lte & waterproof. You lose wireless charging, faster updates & having almost no preloaded apps. Posted via Android Central App

Humm. It'll be interesting if T-mo gets the GS4 Active also. Posted via Android Central App

The bootloader is locked so the recommendation to buy the C6602 instead remains. It is now confirmed that the BL can't be unlocked so it means some stock based ROMs in the best case. To me, it is a bad idea to shell out slightly more money for the T-Mobile edition when the C6602 is available without carrier branding etc. If someone tries the "LTE" argument - I say this: wait for the Honami instead since it should offer a very nice LTE radio with decent multiband support. That eliminates the need for a carrier branded device just for that network standard.

the C6602 may have troubles with T-Mobile HSPA+ also, from what I read in the comments at newegg. So I plan to get the Branded Z, switch my insurance to JUMP, and see what's happening in mid-January!

I'm holding out for their Honami announcement... improved camera and a Snapdragon 800? Yes please!
Android Central Newsletter
Get instant access to breaking news, the hottest reviews, great deals and helpful tips
Thank you for signing up to Android Central. You will receive a verification email shortly.
There was a problem. Please refresh the page and try again.