T-Mobile reaches goal of 100% renewable energy ahead of other US carriers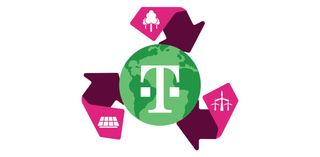 (Image credit: T-Mobile)
What you need to know
T-Mobile is the first U.S. telecom to reach 100% renewable energy, following an ambitious goal set in 2018.
T-Mobile has reached this goal through investment in wind and solar to account for all of the energy it uses.
T-Mobile has also upgraded retail stores, data centers, and cell sites with more energy-efficient equipment.
T-Mobile has made good on its 2018 commitment to reach 100% renewable energy becoming the first U.S. carrier to do so. T-Mobile announced (opens in new tab) that it had reached its RE100 goal through a strategy that included eight virtual power agreements, 19 retail agreements, one Green Direct program, and unbundled Renewable Energy Certificates. Rather than directly connecting all of its equipment to a renewable source, this has allowed T-Mobile to invest in enough wind and solar projects to account for all used energy.
T-Mobile's CEO Mike Sievert said:
T-Mobile is supporting solar and wind projects across the country bringing benefits to communities with clean energy as well as creating jobs in the area. T-Mobile also notes that the carrier supports 37 community solar projects which support greening local grids providing more than 2.1 million MWh over 25 years in Maine, Massachusetts, Minnesota, New York, and Oregon.
This is also in addition to upgrades to many of T-Mobile's locations, including retail stores, data centers, and cell sites. Retail stores have been switched to smart thermostats and Energy Stay certified LED lighting. There have also been upgrades to data centers with upgrades to the mechanical and electrical systems, and cell sites have received optimized air management to keep equipment cool.
T-Mobile notes that it's not done with plans to add more renewable energy projects to match future usages and explore onsite solar infrastructure. T-Mobile also says that it plans to share new commitments for decarbonization later in the year.
T-Mobile isn't the only company working towards a more sustainable future with phones like the Fairphone 4 lasting longer than others thanks to a long support life and easily replaced parts. It's also possible to use phones for longer such as the Google Pixel 6, with three years of updates guaranteed and Android security working to keep your data safe. Of course, this phone works with the best cell phone plans, including the newest mid-band 5G coverage being built by carriers.
Use your phone longer
(opens in new tab)
Stay up to date with three years of OS updates
The Google Pixel 6 comes with plenty of power and software updates to last for years so you can produce less waste.
When Samuel is not writing about networking or 5G at Android Central, he spends most of his time researching computer components and obsessing over what CPU goes into the ultimate Windows 98 computer. It's the Pentium 3.
but of course the idiots in charge at TMO plan to fire everyone who isn't vaccinated. Talk about a idiotic plan! It's bad enough you have to wait forever for a CSR there now, just wait until they dump more of their slim workforce. Idiots!

I quite literally do NOT care about renewable energy or a company's efforts to use it. I just don't. That has ZERO to do with why I purchase a company's products or services. I'm not impressed.

They're paying money for the privilege to say they're getting "renewable" energy. In reality they're getting whatever the power company feeds them. Renewable, green energy cannot power everything. Nuclear is the only solution that works. There can never be enough solar, wind, etc to make a huge difference.

You wouldn't say that if you truly understood the amount of energy Earth gets from the sun Daily.

So if everyone would follow T-Mobiles lead the entire country would reach the goal of 100% renewable energy while 80% of energy produced would be from fossil fuel and nuclear. But the renewable energy companies would be rich as hell. We've got some real geniuses out there.

Wind power is a huge killer of wildlife. Has anyone ever seen those big stupid things in fields? Nuclear is the answer, especially with the updated safety protocols.

I rate this as 100% misinformation. It is not possible for any company to actually fuel their data centers 100% with renewable energy, because these buildings are still grid attached, so they cannot discriminate electrons/protons of solar/wind from coal/gas. Ignore the marketing fluff, they still use a buttload of coal power, especially in the home country of Germany.

As I wrote, T-Mobile is accounting for its energy usage through investments in renewable energy. It's not misinformation, you're misreading.
Android Central Newsletter
Thank you for signing up to Android Central. You will receive a verification email shortly.
There was a problem. Please refresh the page and try again.