T-Mobile one-ups other carriers by launching first nationwide standalone 5G network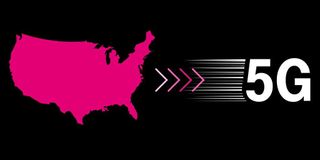 (Image credit: @NevilleRay)
What you need to know
T-Mobile today boasted of being the first in the world to launch a nationwide standalone 5G network.
The bump to a standalone architecture improves the network's coverage and performance indoors.
According to T-Mobile, the upgrade expands coverage by 30% to include 2,000 more cities across the U.S.
Following up on its promise of dragging the industry forward (opens in new tab), kicking and screaming, T-Mobile today announced (opens in new tab) a major upgrade to its nationwide 5G network by turning on its standalone architecture.
The upgrade, which T-Mobile boasts makes it the first in the world, expands the Un-carrier's 5G coverage by up to 30%, covering 2,000 more cities for a total of 7,500 cities and towns across 1.3 million square miles, reaching 250 million people across the U.S.
Standalone here implies the 5G network can operate independently of the company's 4G LTE network, which is how other carriers' implementation of 5G works — for now, at least. The carrier explained the difference in its announcement as follows:
To celebrate the occasion, T-Mobile made its way to Lisbon, North Carolina to show off the reach of its 5G network, as well as the low latency and potential applications it can enable via a drone show.
The Magenta giant ended the post by throwing some shade at its competition: "In what Verizon and AT&T likely refer to as 'the good old days,' they led in coverage and weren't shy in telling the world about it. Oh, how times have changed. It's a new era in wireless, and T-Mobile holds the 5G coverage crown."
Thanks to the boost, its network, which was already the largest, is now two times bigger than AT&T's and 10,000 bigger than Verizon's, the Un-carrier claimed.
T-Mobile reaches major merger milestone, officially retires Sprint brand
Android Central Newsletter
Get instant access to breaking news, the hottest reviews, great deals and helpful tips
But which devices will support it? I'm being told that my LG V60 does not, which is extremely disappointing

Its in the announcement: OnePlus, Qualcomm Technologies and Samsung have helped the Un-carrier ensure existing devices can access SA 5G with a software update, based on compatibility. Your V60 will connect to it eventually, but all of the devices will require a software update.

With all the merger hoopla I switched from Verizon to T-Mobile mostly to save some money and to (eventually) gain access to their 5G network. My phone is only 4G at the moment but I tested their network in SW FL. It didn't take me longer than 30 minutes of testing to realize most everything today is hype. So I switched OUT in one day. One thing that I realized is acquiring Sprint's services doesn't expand their existing service in more rural areas. Sprint was a lesser competitor in urban areas mostly like T-Mobile has been. Also, unlike Verizon and AT&T T-Mobile had no interoperability agreements with HD Voice. It's T-Mobile only (at least in my location). So I switched to AT&T and had a chance to try their so called "5Ge" service. To my surprise I was blown away. A Speedtest test had me at 90Mbps. A first on all three networks. I have switched carriers for the last 10 years to suit my location as I have moved often. The saying "you get what you pay for" still applies for T-Mobile at least in my location and today.

" It didn't take me longer than 30 minutes of testing to realize most everything today is hype" Okay but what was hyped about their LTE network? Its a known quantity at this point, same for AT&T's. (which is what you connected to on their '5GE'.)

Will this result in any speed increases? Their low-band 5G isn't the fastest.

According to T-Mobile, both speed and latency will be improved a bit by the move to 5G SA. The real speed improvements will come when T-Mobile is able to bring band n41 to more places but it's nice to see something.

Yeah I'm waiting for them to roll out the sprint spectrum in their network. They've already started in my general area, but they don't make it easy to find out if you have that in your area.
Android Central Newsletter
Get instant access to breaking news, the hottest reviews, great deals and helpful tips
Thank you for signing up to Android Central. You will receive a verification email shortly.
There was a problem. Please refresh the page and try again.