T-Mobile now gives you rollover data on Simple Choice prepaid plans with Data Stash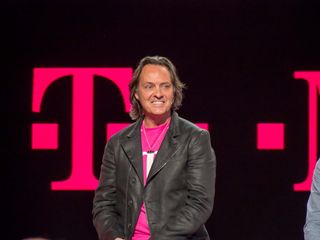 (Image credit: Android Central)
For those un-familiar with T-Mobile's Data Stash, it allows you carry over any unused LTE data to the next month. Put simply, you'll be able to store your unused allowance for future use. Data can be kept on your T-Mobile account for up to a year before the system starts to clear data saved from 12 months prior.
Simple Choice prepaid customers will be able to take advantage of Data Stash from March 22. Everyone eligible will receive a 10GB sum of data, and once that's used up they'll begin rolling forward any unused data at no extra charge. See the announcement post linked below for more details.
Source: T-Mobile (opens in new tab)
So will this include my 30/month pre-paid plan as well?

No, its for the Simple Choice Prepaid Rate Plans $60 - 3GB and $70 - 5GB

The $30 plan probably won't be included. It was discontinued and those that have it were grandfathered in. Posted via the Android Central App

They did away with the 30/month plan with 100 minutes and 5 gig LTE data speed?

It is still there, I am seeing it on their page. http://prepaid-phones.t-mobile.com/prepaid-plans

That's what i thought... I didn't think it was discontinued. It is internet only though I knew that.

Look towards the bottom of the page under other monthly plans.

This is from the link above:
$30 per month—Unlimited web and text with 100 minutes talk 100 minutes talk | Unlimited text | First 5GB at up to 4G speeds Includes unlimited international texting from the US to virtually anywhere included in your plan—at no extra charge. This plan is only available for devices purchased from WalMart or devices activated on T-Mobile.com. You have to activate on the internet which is exactly what I did...

I'm still on that plan, so it's not quite dead yet. This might get me to move-- I don't usually come close to my data limits, but every now and then, I go nuts, and would blow through the allocation on the $40 plan. But if I can bank that, it might be worth it to not scramble to add call minutes.

Are you sure it was discontinued? The $30 Walmart/web site plan is still listed on the T-Mobile prepaid plan page. Though, I think your right about it not being included in the roll over data.

No. The $30 plan is considered a "simple starter" plan. Posted via the Android Central App

That plan is already unlimited

All of their plans are unlimited. The rollover data is for high speed only.

Rollover data in my opinion sounds stupid. Just give customers a generous bucket of data and call it a day. Posted on my Samsung Galaxy Note 4 that is happy to not be on Lollipop.

They do. It's att that doesn't. This is just a bonus of being on T-Mobile. Plus, they let you accumulate and keep for a year versus att that only does it for a month. Of course if you're on the truly unlimited plan from T-Mobile you don't have to worry about that, something that neither att or Verizon offer. You just have to live in area that's covered by T-Mobile which still needs work but works great in most major cities. Posted via the Android Central App

I would think what Cricket is doing would put pressure on AT&T. Considering they run the same identical network minus capped speeds for the 4G LTE. Posted on my Samsung Galaxy Note 4 that is happy to not be on Lollipop.

AT&T owns Cricket. Posted via the Android Central App

I know that, but you would think that AT&T would try to run something identical to what Cricket has. Posted on my Samsung Galaxy Note 4 that is happy to not be on Lollipop.

@ phone - Na. Cricket runs through proxys, has speed caps, is lower tier priority , etc -- So AT&T customers have more advantage. As they always say .. you get what you pay for.

@Phonefanatic.......they are the exact same company. So when you say att should do what Cricket is doing is stupid to say. That's like saying gmc should do what Chevy is doing. Posted via the Android Central App

They are not the same, cricket is a division of att Posted by my soon to be retired Note 3

I agree nothing beats Tmobile in Pheonix area where I live... since they upgraded the infrastructure I often get better speed on TMobile than I do on my cable modem on Cox o.O It really is amazing what upgraded LTE can do speed wise!

The only carriers that work well in Missouri are Verizon and AT&T. Verizon has great voice quality but still isn't fully 4G LTE in all major areas as compared to AT&T. Posted on my Samsung Galaxy Note 4 that is happy to not be on Lollipop.

That's really unfortunate... I suppose they still have some work to do for sure. I suppose if I had to choose I'd go with AT&T then... or Cricket like you did maybe.

I have metro. And live in the stl kind of area. Works great in the city. It's once you hit the back roads where it starts to degrade. Posted via the Android Central App

T-Mobile works great in the Kansas City metro. Posted via the Android Central App

I get great LTE in Springfield, MO metro area also.

No service at all for me in Scottsdale. Bummer.

If the customers have enough unused data to rollover, it sounds the 'bucket' is generous enough already.

I get 10 gb of data from Cricket. I barely go over 2 or 3 gigs. I opted out for the 20gb just for the fact I have three lines and paying $100 a month for three lines is a great deal, plus I have coverage everywhere I go. Posted on my Samsung Galaxy Note 4 that is happy to not be on Lollipop.

They just have my while family unlimited data for the rest of the year. Probably were chosen since we never come close to our limit, ever. What ever the reason it's appreciated. Posted via the Android Central App

What now you got chosen for some upgrade for free?

Yup. Got a text that I was afraid to open because it sounded suspicious but we all got one and when I clicked on the link it led to the Tmo site and said we were chosen for the free gift for being a long time customer (started eway beck in the Voicestream days). Not going to question it, Sounds like a small bunch of people got the deal Felt kind of bad because we pay for 3 gig each and maybe use 2 between the three lines. It could go to someone who uses it but like I said, that's probably why we were chosen for it.

You must be old. Opening a text will never harm your device. Clicking a link on the other hand... Posted from my Moto G.

Except that the text links to a website, and yes, texts can also be dangerous..http://www.technologyreview.com/news/422272/sms-of-death-could-crash-man...

some of the trolls must still sleeping we have not had any tmobile bashers yet lol

Right! The Verizon snobs that pay 2 to 3 times as much as me and somehow brag about it lolol!!!
...oh and the sushi looks good!

I hear u about the Verizon snobs, but some people, myself included, don't get great reception on Tmo and prefer to pay a little extra for the better service (which it is in my area). It goes both ways, a lot of Tmo customers brag about the $30 or $40 they save. They don't consider that the relatively small savings, in my case to a small business owner, isn't worth it. One missed call from a potential customer and for me that's 2 years worth of savings so it's simply a business decision. I had Tmo for a week when I got my Nexus 4, had to switch back to Verizon 3 days into my prepaid plan. Hopefully that doesn't make me a snob! Posted via the Android Central App

It's not for all prepaid plans, just some

Not bad with 10GB free data to start.
My only issue is T-Mo coverage is like swiss cheese in my area. I just have to wait and see what AT&T may come up with
Competition is good for us.

too bad it doesn't include the $45 2gb simple starter plan

I'm disappointed in T-Mobile. I wanted to test drive the network and they wouldn't let me, because I'm in a service provider area. At&t and Verizon have LTE in my town so why can't they. Posted via Android Central App

@robert......your rant makes no sense Posted via the Android Central App

Your comment makes no sense. Posted via Android Central App

I don't understand. you wanted to "test drive" but "they" wouldn't let you? please explain Posted via the Android Central App

They would not let me test drive the network because I'm not in a 4g LTE area they cover and they can not garentee data speeds or service. They said I was in a service provider area. Whatever that means. Posted via Android Central App

I'm the only one left out in the dark. My family plan is currently 1GB of high speed data every month. Hopefully next time I get included with the rollover.

The rollover only applies to "extra" data you purchase. If you were to purchase the $10 3GB Data addon for your plan, next month you'll keep your remainder of the 3GB (plus the 10GB they give you for free for the promotion). Which is the way it should have always been. If I pay for 3GB, I should be able to use up all 3GB of that data, regardless of what the calendar says.

With apps like What's App, hangouts and so forth, that $30 plan is boss. Great for those pesky teenagers...lol

I love it! I'm actually getting better call quality on Voip than I do on the voice minutes much of the time!

Only *some* of their plans are eligible. For example, on the post-paid, 3GB or more plans ONLY, which sucks!

This only applies to "extra" data you buy on top of the plan itself. Data you already bought, doesn't just magically disappear at the end of the month ...which is what it should have been to begin with.
Android Central Newsletter
Get the best of Android Central in in your inbox, every day!
Thank you for signing up to Android Central. You will receive a verification email shortly.
There was a problem. Please refresh the page and try again.