T-Mobile: Not going to bundle streaming video and broadband — we're going to disrupt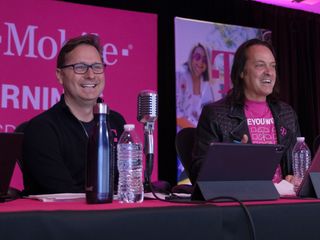 You join a T-Mobile earnings call for the financial news, but you stay for execs dog-cussing their competitors. That's just the way it is, usually. But today TMo CEO John Legere went full Dad Mode on AT&T when it comes to the prospect of bundling home broadband via 5G with its fledgling streaming video product, which just launched in limited form this month.
First, here's T-Mobile President and COO Mike Sievert:
And then, it happened. CEO John Legere — who certainly isn't shy during these calls (or any other time, really) — did it.
Bundling. Bungling. Get it?
Anyway. In other news, T-Mobile said to expect the first 5G-capable phones on its network in the second half of the year.
Get the Android Central Newsletter
Instant access to breaking news, the hottest reviews, great deals and helpful tips.
At least AT&T doesn't have massive congestion.

I have to agree with you on that. As a Tmo customer for 7 years I put up with the smoke and mirrors tactics (most notable Tmo Tuesdays) that divert customers from the reality...in Tmo quest to grow at any cost, to beat Verizon and AT&T, Tmo OVER SELLS service with ZERO intention of providing the level of service "claimed" or paid for. I switched to Verizon 1.5 months ago and I actually get data speeds I PAY FOR OR BETTER. Tmo has added so many subscribers without increasing capacity to the point if you're in a city you VERY LIKELY don't receive anywhere close to decent, consistent data speeds. It is cheaper for Tmo to toss the lame freebies with FULL expectation vast majority of their customers won't claim the offer INSTEAD of adding desperately needed capacity. John L and all of Tmo can kiss my grits. 😉 😂

Just like they are disrupting with that TV service...