T-Mobile and Sprint to sell off Boost Mobile and spectrum to get merger approval by next week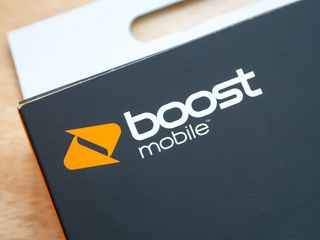 (Image credit: Android Central)
What you need to know
T-Mobile and Sprint close to agreeing to divest Boost Mobile and some spectrum.
Dish Network, Charter and Altice rumored to buy the assets to create new fourth carrier.
Deal between DOJ, carriers and asset buyer could be made as early as next week.
T-Mobile and Sprint are edging ever-closer to merger approval by working with the Department of Justice to divest assets that would create a new fourth wireless carrier. Building on information from a previous report, the New York Times says the carriers are in discussions with Dish Network, Charter and Altice to acquire Boost Mobile (currently a Sprint MVNO) and some of Sprint's valuable wireless spectrum.
The critical part of this deal structure is that Sprint would actually be giving up spectrum holdings, not simply the Boost Mobile brand that runs on Sprint's existing network. In order for any new carrier to be a true competitor on any scale, it would need its own spectrum holdings. If the merger were to be structured with this sort of deal in place, it would presumably ease pressure coming from a multi-state lawsuit that's aiming to block the merger on the basis that it would reduce competition.
The question, of course, is why we're going through all of these hurdles to simply end up with four U.S. carriers once again. The combined T-Mobile and Sprint would have a large enough customer base, and network infrastructure, to ostensibly compete with Verizon and AT&T. But this new Boost Mobile-based smaller carrier, now under control of another telecom company, would be so small and starting from a disandvantaged position such that it would end up becoming what Sprint is today — a distant fourth player not actually challenging the bigger three.
Android Central Newsletter
Get instant access to breaking news, the hottest reviews, great deals and helpful tips
Andrew was an Executive Editor, U.S. at Android Central between 2012 and 2020.
These things aren't meant to be understood...the name of the game any more is lobby up and lawyer up...he who lobbies/lawyers best wins...

I would love for this merger to happen Sprint has great deals and ****** network TMobile has a great network with good deals. Seams like a great fit. Verizon needs a third carrier to really push them on price

I agree with this. Hoping it is approved soon.

Interesting. My experience was the opposite.

Just look at who is against.... Nuff said

Everyone including the FCC is hoping for SYNERGY. That is, except for the 8 states suing to prevent it. Things obviously are changing VERY drastically with the advent of 5G LTE anyway, so who knows what will happen??? DISH needs to determine (along with DTV and ATT) how best to implement 5G and Sat signals. I'm sure it would be awesome if satellite could eventually get to 5G, looks like Musk's constellation will be first with low-altitude essentially ham radio signals bouncing around to get Internet and TV down faster, but who knows the secret labs at ATT and TMobile??? Boost is Sprint basically same CDMA as Verizon. Everyone wins with 5G LTE, IF they can honestly implement it standards based.....The rest of Sprint (management, tech, marketing) goes GSM to TMobile I guess. It's ALL LTE, now different bands. It would be MORE awesome if 5G LTE was only 1 BIG BAND and all 5G phones work on it without the need or capability of being locked to a carrier - THAT would ensure competition in wireless more than who's who.........
Android Central Newsletter
Get instant access to breaking news, the hottest reviews, great deals and helpful tips
Thank you for signing up to Android Central. You will receive a verification email shortly.
There was a problem. Please refresh the page and try again.