Similar to duct tape and a good flashlight, Sugru is one of those things that every DIY enthusiast should have around. If you haven't given it a shot yet, it's high time to do so, and you can pick some up at a discount today at Amazon. The Sugru Hacks for Your Home Kit usually costs around $15, and it doesn't go on sale very often. However, right now you can snag it for $10.57, which is one of the best deals we've seen for it yet. Shipping will be free if you spend at least $25 or if you use Amazon Prime.
Fix It Up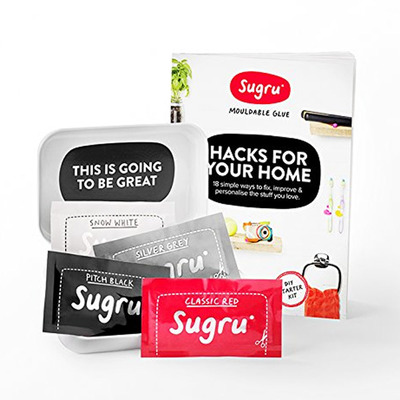 Sugru is awesome. It's moldable glue that can be used for tons of different projects, and this discounted kit includes packets of Sugru and a book filled with 18 ideas to get you started. Reviews are great too.
$10.57 $15.00 $4 off
Sugru is a moldable glue that is extremely versatile. In fact, it has so many uses that your purchase includes a book filled with nearly 20 project ideas to get you started. It won't cover all of the possibilities, but it will help inspire you to use your new Sugru in tons of different ways.
Basically, Sugru is a clay-like glue that turns to rubber as it dries. It bonds permanently to almost anything, from wood and paper to metal, plastic, glass, and more. You can use it to hang things without drilling holes in the wall, reinforce cables that are fraying, and so much more. It's heatproof, waterproof, shockproof, and flexible, meaning really, the only limit is your imagination. Your purchase comes with three packets of Sugru and a booklet filled with project ideas.
In case you're wondering what exactly you'll do once your order arrives, let me give you some inspiration. You could reinforce your laptop charger, repair cracks in your car's door or dashboard, replace the nosepads on your glasses, fix a shattered mug handle, insulate a handle, create cable storage hangers, replace a missing zipper pull, and literally thousands of other things. Sugru has a huge catalog of project ideas as well. Just keep in mind that deals on Sugru don't tend to last for very long, so move quickly if you're interested.
We may earn a commission for purchases using our links. Learn more.