YouTube live events can now be streamed to Chromecast via mobile devices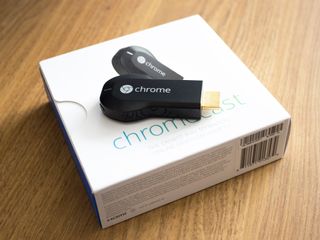 Google has allowed Chromecast owners enjoy YouTube live streams as they happen through a PC, but now the company has enabled this feature for mobile devices too. Simply browse to a live stream in the YouTube app and hit the cast button, which will work its magic in the usual way. While the functionality has only just been announced, Google notes it 'soft-launched' the feature a little while ago.
Google has also highlighted some upcoming live events in the announcement post, including the Electric Daisy Carnival (ECC) on June 20-22 and the ASP World Tour on July 10. If you haven't yet picked up the Chromecast for your TV, check out our in-depth review of Google's popular product.
Source: Google+, via: Engadget
Get the Android Central Newsletter
Instant access to breaking news, the hottest reviews, great deals and helpful tips.
I just got my Chromecast a few nights ago! So far I love it!

Been waiting for this. Great!! Posted via Android Central App

Just in time for IO! Posted via Android Central App

Agreed, that's what I was thinking. I'll be watching this from the couch now.

can someone explain to me what is so new about this, I have a Droid Razr Maxx and I stream everything from my phone to my TV or laptop through my hdmi cord or wifi , Netflix YouTube, Vimeo, live broadcasts whatever

Can you continue to use you device, check email, play a game, while the magic of streaming continues on your TV set?

Yes but while your battery is taking a beating the Chromecast is doing all the heavy lifting. Casting from Chromecast doesn't impact my battery at all. John Hancock

Yeah well I like to kick back and go wireless. Chromecast's convenience is why I spent the 30 bucks on it. Choice is up to you.

Well, see, not everyone is willing to get such an ugly phone in order to do such cool things as you. Therefore, the rest of us must use a device such as the Chromecast to bring our meager lives up to the excellent standards you and your Droid have set. - LG G2

"ugly phone" really? Your response sounds as childish as you must be. Team Bandwagon

Droid Razzr Maxx $120-$420. Chromecast $35. Seems obvious to me.

About damn time! Posted via Android Central App

I thought this was old news? I live streamed E3 all last week. =\ EDIT: Oh, that was a soft launch apparently. My bad.

+1 I lived streamed the lg g3 release... Posted via the Android Central App on my Nexus 5

I have been waiting a long time for this. Hopefully it works well. Posted via Android Central App

Yay more functionality. I love these little chromecasts more than I should. I use mine every day. It has made cutting cable more tolerable.

Also replace the lack of multimedia capabilities on the PS4 (which feels like a downgrade from the PS3 on that aspect..)

Does live casting work on the YouTube app for other platforms the way regular casting works? Like on the ps3?

i just got home and i can indeed cast live yt videos to the ps3 youtube app...so i guess this includes all the html youtube apps (ps, xbox, roku, smart tvs), not just the chromecast

Three words: Android. Central. Podcast.

Is this different than streaming hangouts. I've been doing that for several moths with the android central podcast

be careful you might get called out on here for asking a question

When are they going to add Hangouts video call support?

Wait, why is it showing a different username on my comment.... That is so weird. Has anybody else had that happen to them?

"While the functionality has only just been announced, Google notes it 'soft-launched' the feature a little while ago." Indeed, as I was able to stream the E3 show from YouTube on my Chromecast.