Spotify brings its 20 million songs to Amazon Fire TV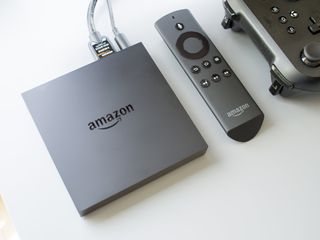 Spotify is now available for US owners of Amazon's Fire TV set-top box, allowing them to access the popular streaming music service.
In a statement, Spotify said:
The new feature does require a paid subscription to the Spotify Premium service. Do you think adding Spotify is a good move for Amazon and their Fire TV product?
Source: Spotify
Get the Android Central Newsletter
Instant access to breaking news, the hottest reviews, great deals and helpful tips.
I use Spotify every day and it is nice to see a compatible device show up. Too bad it isn't on something cheaper like Chromecast. Posted via Android Central App

It's actually pretty annoying they have no interest in Chromecast, but do Amazon Fire TV. That's why I switched to All Access and haven't looked back. Now, Google, please gimme a Material design version! :-)

I may wrong but they are simply supporting Spotify on fire TV now the ability to remote control is just part of Spotify, that not same Chromecast support...

I for the longest time wanted Chromecast support for Slacker but then I discovered Spotify and the ability to control Spotify remotely which i think is even better then Chomecast support assuming you have an extra device you can dedicate to Spotify... I'm using a Neo-8 now with Spotify and AllStream to push music via Airplay to a handful of Airplay speakers I picked up. I also picked up a Airport express to serve as a target airplay device for my amps. I use Tasker and AutoRemote to combine all the controls into a single remote in remote interface and app (Andre Pro) that controls my entire home A/V and home automation.

+1. It seems like a slap in the face to its paying customers by Spotify. I've seen many comments and threads asking for chromecast support but yet they're doing everything but it. Posted via Android Central App from my Verizon Samsung Galaxy Note 3

Great for Fire TV owners, hope they enjoy it.
I think the hopes of Spotify getting Chromecast support are dwindling further and further.

Looking at the Fire TV since I got amazon prime this weekend, people that have it, do you like it? I currently have Chromecast, and Roku Stick (not happy with the Roku) Posted via Android Central App

The Fire TV is a must have if you use Amazon Prime. Posted via Android Central App

Have 2 of em and cut cable..... i think hardware wise it is one of the best. Fast switching between menus. Only thing though i don't really care for Amazon Prime movie selection and they make you pay for HD content. SD is free with Prime.

I hope they integrate the Radio feature on these things. I don't know if it'll work the same as with Smart TV's (just as with those, only Premium users can enjoy this), but even there, the radio feature is missing and you can only listen to playlists and specific album/songs.

I am an Amazon prime user, tried their Fire TV and didn't like it. I love my Chromecast and its price. I have 1 on each one of my TVs at my house and 1 in my office. Imagine if I was going to buy 6 Fire TVs? Posted via the Android Central App

My link to Android Central is now defaulting to mobile view. I prefer desktop view when using my tablet. All of the toggles and drop-down menus at the top of the page appear as rectangles, how can I change to desktop view? I have posted this in several forums and have had a network moderator say he has the same problem, but still no solution, so I am blasting comments sections. Sorry if this annoys you (get in line).

The option to go to desktop view should be in the settings of the web browser you are using.

Spamming comments makes no sense here, man. It has to be a setting on your device. If it were a change on this side, everyone would be complaining about the same thing.

Actually, it worked beautifully, after 7 days of trying the forums and getting no love, though hellonnnewman did commiserate as it was happening on his android device also, I received 13 replies within 3 hours and discovered that if you open an article and scroll down the option is on the bottom of that page. Now if we can just get it on the bottom of the mobile home page. My wheel is done squeaking.

Well spotify are fcuking clowns...
Just implement chromecast support and I just "might" come back from Google music... Posted via Android Central App

Does Google Music have moods and pre made mixes like Spotify? Posted via the Android Central App