Spigen Slim Armor Case for the Samsung Galaxy S5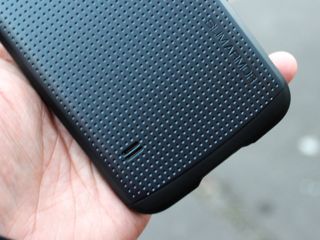 The name gives away what this Galaxy S5 case is all about.
You can tell a lot about a phone case from its name and the Spigen Slim Armor for the Samsung Galaxy S5 is absolutely no exception. What it offers is sturdy all round protection without adding significantly to the overall form of the phone.
It's a one piece, plastic case that fits nice and snug around the phone. The back and edges are completely sealed in with raised volume and power buttons while the charging port, IR blaster and the headphone jack are all left exposed. Round the front the case provides a decently thick lip to protect the glass from any face down falls.
The back of the Slim Armor isn't soft touch but it is dimpled like the back of the Galaxy S5. In the metal slate finish of the one we have here it looks pretty stylish offset against the rubberized black top and bottom. The dimpled part of the case actually detaches so if you can lay your hands on some different colors you can just swap them out on the fly without having to keep popping your phone in and out of a case.
Image 1 of 6
The Slim Armor features something called an air cushion shock absorption system to protect the phone against those bumps and drops, and whatever it is seems to work. While we're no advocates of drop tests, an unintentional fall from about 5 feet while wearing this case resulted in absolutely no ill effects on the phone. It's certainly tough enough to protect from the daily grind and looks pretty good while it's doing it.
Check out some of the most popular Samsung Galaxy S5 accessories that you can buy from Android Central:
Get the Android Central Newsletter
Instant access to breaking news, the hottest reviews, great deals and helpful tips.
Veddy nice Posted via the Android Central App

I have the equivalent Note 3 case; which is solid, but a bit thick. They seem to have softened the outline a bit for this one. I wonder how easily you can extract the cap covering the Micro USB 3 Socket. Request to ALL case makers: Please provide a lanyard (wrist strap) point on your cases. Most phones don't have them any more; but the case should. I modify all my cases to fit one. Drilling two 2.5mm holes, about 6mm apart. Case makers could design in a better solution.

I have a spigen like this but even thinner. I love it! Posted via Android Central App

Which case do you have? I was looking to order the Tough Armor one for my S5.

I love the Tough Armor for my S5. Looks better than the slim armor too.

I bought this case two days ago and I think it is the best looking armor for the galaxy s5. My Girlfriend wanted one for her phone but not luck..

The Slim Armor cases from Spigen is really one of the best cases IMHO. I have the same type of case on my Nexus 5, it is a bit bulky but offers excellent protection. Only gripe I experienced is that it is a dirt, grime and fingerprint smudge magnet, but rather that than accidentally drop and breaking your phone. I really like the dimpled look of this S5 case, I think it may possibly handle dirt much better. From my experience with my Nexus 5 case, I will most definitely get this for a S5 if I had one. Posted via Android Central App

I had this case when I had a GS5. Can't say I was a fan. For a "slim" case, I found it to be very bulky, more like the Otterbox Commuter series than anything. The rear finish is also very slick, the dimples offering nothing but aesthetic. The area of the case around the already poorly designed USB port cover made it somewhat difficult to open for charging. I don't have big hands or very long fingernails, and found it to be a hassle at times. I have since switched to an LG G3, and am still with the Spigen Slim Armor (no brand loyalty here, just not that many options for a G3). The phone being so thin, the case adds a good size and makes it a bit more comfortable to handle. The version of the case I have now, matte black, is a bit more grippy than the dimpled S5 gunmetal showcased here. I think that the product is much better suited to a phone without a port cover, and could benefit much better from the matte texture used on the G3 variant.

Looks nice, I thought about getting one , I wanted something that protected and was slim also.

I have this case on my Galaxy s4and I LOVE IT. its really protective but slim and it looks gorgeous!

A one piece plastic you say? I'm pretty sure it's a two piece case (I have one on my S5 right now). Spigen website actually says it's a two layer case: "The double layers of rubberized TPU and hard polycarbonate provide protection in a form-fitted design."
Other than that, the rest of the review is good.
I'd also like to add that pearl white case IS actually pearl white. They did a great job on making it match. I've always been a UAG user (an actual one piece case), but after scuffing it up for over a year on a construction site I decided to try something different. They're both great cases with military grade drop protection. UAG has more grip to it in your hand, but Spigen SA seems to have better dust protection around the buttons.