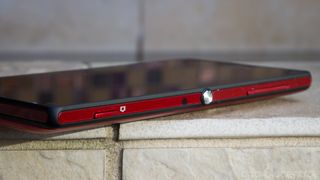 When we first laid eyes on the Xperia ZL at CES 2013, it may not have gotten the attention that it deserved. As the svelte, glass-backed and waterproof Xperia Z was stealing all of the camera time at the Sony booth, tables full of Xperia ZL devices sat unused. While the plastic exterior may not be as striking as the Z at first glance, the ZL is nearly identical in every other way -- a far cry from the "mid-range device" some purported it to be. Sure you don't get waterproofing or a glass back panel, but you do get the same specs, camera and a much easier to hold curved plastic shell in it's place. It's hardly a compromised device.
In a way, the Xperia ZL (and Z) are the first examples of a refocused and reinvigorated Sony, one that wants to release devices with a modern OS, this year's specs, and compete with other manufacturers on the highest level. On paper, there isn't a whole lot to complain about here. But in a time where we're seeing some seriously high-end devices just make their way onto the market, can Sony's effort from January of this year still stand up against the rest? Let's find out in our full Xperia ZL review.
Pros
Even with a 5-inch display, the Xperia ZL is no harder to use in one hand than smaller devices thanks to very small bezels and on-screen navigation buttons. The camera produces very high quality photos, does great with automatic settings, and a dual detent hardware shutter key is a nice treat. The software will feel very familiar to anyone who has used stock Jelly Bean, and is likely the least offensive of the OEM customizations out there today. The ZL also has enough supported radio frequencies to give you HSPA+ and LTE on just about any carrier in the world.
Cons
While the display looks great when using the device, it has very poor viewing angles even slightly off-axis. Even though it isn't a carrier device, Sony loads up the ZL with almost two dozen pre-installed apps, most of which aren't very useful. The camera takes great photos, but the camera software isn't always the most intuitive to use.
The Bottom Line
Aside from a few minor gripes, Sony has put together a great device with the Xperia ZL. The phone looks great and feels good in the hand even with the large display. If you're in the U.S. and have the money to spend on an unlocked device (the ZL runs $629 direct from Sony), you'll be rewarded with a phone that's top of the line in design, specs and software. Best of all this may be one of the few unlocked phones this year that supports both AT&T and T-Mobile fully on LTE and HSPA+ 42.
Xperia ZL hardware
Sony went all the way on making sure the Xperia ZL had every high-end spec available to it when the phone was announced. Making this phone tick is a Snapdragon S4 Pro (APQ8064) processor clocked at 1.5GHz, backed up by 2GB of RAM and 16GB of internal storage (which is expandable by up to 64GB with a microSD card). Save for a step up to a Snapdragon 600 processor -- found in the HTC One and Galaxy S4 -- there's not much more you could expect Sony to have here, and given the time of the ZL's announcement back in January that chip just wasn't ready to go yet.
On the front of the device you'll find a pleasantly pixel-dense 5-inch 1080x1920 display, and around back you'll see the camera pod holding a 13MP camera. As usual, we'll get into more details about these a bit farther down in the review.
Build Quality
Sony may have thrown much of its cutting-edge design power behind the Xperia Z, but the ZL is no ugly sibling by any stretch. The "Sony Style" design is alive and well here, and while that design language has proven to be a bit polarizing over the years, I think they've knocked it out of the park here. The mix of a solid sheet of glass for the screen surrounded by accenting flat black and glossy red plastic inserts (white and black versions are also available), along with then a matte red plastic back plate is very appealing. You'll certainly get a few looks -- in a good way -- when pulling this phone out of your pocket.
The most "Sony" of all the physical features on the Xperia ZL may be the circular metal power button, which protrudes authoritatively dead center on the right side of the device. While it takes a bit to get used to having a power button that low down the side of the device, I found it to be very easy to hit no matter how I picked up the phone. Above the power button you'll find a volume rocker, which is narrow compared to the power button but still easy to hit. The left side of the device is clean save for a micro USB port at the very top and an entry hole at the bottom for a lanyard loop. The top edge has just a 3.5mm headphone jack, and on the bottom you'll find the other side of that lanyard loop hole.
The back of the Xperia ZL, while still red (or white, or black) is a different texture from the inserts on the side of the phone, which almost makes it seem like a different color. The inserts have a glossy coating over them that dull down some of the texture inherent to the color being used, which is much easier to see on the back. This isn't just a solid red, it looks as though it has small specs of grey and black in it. It's hard to explain, but it still looks nice to our eyes. That back plate houses a 13MP camera pod (which sticks up noticeably from the back) and LED flash at the top, flanked by a small speaker to the right and mic above. Down at the bottom there's a partially removable flap that houses your Micro SIM and microSD card slots. The flap fits pretty well into the spot with a satisfying click, but it unceremoniously breaks up what would otherwise be a very nicely designed back plate.
Ergonomically, the Xperia ZL was much easier to use in one hand than I would have expected given the 5-inch screen size. The bezels around all sides of the screen are kept to a minimum, even on the bottom edge thanks to on-screen navigation buttons. The end result is a device that is 7.5mm shorter than the Xperia Z, and about 1mm narrower as well. It is even 2mm shorter than the Nexus 4, which only has a 4.7-inch display. The difference is of course made up in thickness -- the ZL clocks in at 9.8mm -- and while it isn't the thinnest phone ever, the curved back makes it easy to hold. That's in stark contrast to the angular and ergonomically-challenged Xperia Z.
Display
Around the front, the Xperia ZL packs Sony's latest display technologies. We're looking at a 5-inch 1080x1920 TFT display (that's 441 ppi), along with "Mobile Bravia Engine 2" which is software that is supposed to help enhance quality of photos and videos. The display is insanely high density, and looks great in terms of clarity and color representation, as most LCDs do. Outdoor visibility is pretty good with the screen brightness cranked to 100-percent, but it isn't necessarily any better than other modern displays out there. I kept the phone at about 70-percent brightness most of the time and things looked fine both indoors and out, except for direct sunlight.
Unfortunately, things deteriorate quite quickly when viewing the ZL's display off-angle. The entire display washes out considerably when the phone is tilted at any angle other than directly (and we mean directly) at your eyes. For example when sitting at my desk on my laptop, with the phone directly to the right of the computer, the entire screen looks as though it has a milky white hue to it. While you may not be using your phone off-axis very often, it is a little annoying when you want to just glance at the phone on the table or show something to a friend next to you and one (or both) people will get a sub-par viewing experience.
Another quick grievance with the display isn't the panel itself, but rather what's on top of it. As is the case with just about all Sony devices, the Xperia ZL ships with a screen protector pre-applied to the screen. This isn't your regular peel-off-and-go protector though -- it actually isn't designed to be removed by the end user. Unfortunately no one told me that (nor did the phone, quick start guide or user manual), and my OCD tendencies immediately had my thumb nail picking at the corner of the protector to remove it. It wasn't that difficult to have a corner lift up, but you quickly realize this isn't your standard factory protector when it won't peel up further. The protector is applied perfectly, but still doesn't feel like glass, collects extra lint and dirt around the edge of the screen, and overall just looks cheap. We would greatly prefer the screen protector included in the box and not pre-applied.
So a quick PSA for Sony newcomers: DO NOT attempt to remove that screen protector! No matter how much it annoys you. It's not supposed to come off.
Radios
From a super-nerdy unlocked phone perspective, the radio set on the Xperia ZL may be one of the most exciting parts of the device. Unlike most devices that make some kind of compromise on frequencies or radios to cut costs and serve a certain market, we're looking at pretty much any frequency you could ask for here. Here's your breakdown:
GSM/EDGE: 850, 900, 1800, 1900MHz
HSPA+ 42: 850, 900, 1700/2100 (AWS), 1900, 2100MHz
LTE: Band I, Band II, Band IV, Band V and Band XVII
That's a whole lot of numbers to digest, but what it means is the Xperia ZL will work with EDGE, HSPA+ 42 and LTE on pretty much any carrier around. And most importantly for many of our readers here in the states both AT&T and T-Mobile are completely supported, including LTE. For the duration of our review we used the device on T-Mobile and had speeds just as we expect from the Nexus 4 and the same SIM.
Wireless data aside, the Xperia ZL has a full complement of sensors and radios. From Wifi and Bluetooth to GPS and NFC, they're all here. Call quality on the phone was just fine -- that is, if you even make calls on your phone anymore.
Battery life
You'll have to just trust Sony on this one, but underneath that non-removable back case is a 2370mAh battery. We'd say that's right in the middle of the pack for battery sizes nowadays, and with a 5-inch 1080P display you'll need every extra mAh you can get. In my daily use of the device I had no problem making a full 12 hour day out of it. I generally kept the display brightness parked at about 70-percent, and would see anywhere between 2 and 3 hours of "screen on" time during the day depending on what I was using it for. Days with more time out of the house (I'm usually on Wifi over 50-percent of the day) saw the battery drain more, but that can also be attributed to turning up the screen when outside. The screen is a major drain on every mobile device, and the Xperia ZL is no exception.
Overall we never saw any alarming drain of the ZL's battery, and we can't fault it for regularly making it through a full work day with consistent use. If you are slightly worried about the battery, Sony has included a bit of software in the settings to help prolong the phone's life. Under "Power management", you'll find a few toggles -- STAMINA mode, Low battery mode and Location-based Wifi -- that can all add up to some battery savings if you're willing to put up with the compromises. STAMINA mode disables data traffic when the screen is off, with the handy addition of a whitelist for apps that are still allowed to connect. Low battery mode can automatically trigger things like lowering the screen brightness and screen timeout time, turn off vibration, GPS, Wifi and others when the power level gets low.
Xperia ZL software
It's a rare case among some of its recent launches, but Sony has shipped the Xperia ZL with a modern version of Android -- in this case Android 4.1.2 Jelly Bean. As manufacturers tend to do, Sony has put its own touches on the software to make it fit into the rest of its branding and designs. In this case, that means a flat, clean interface that is mainly grey, black and white with little pops of blue color added. It falls in line with previous Sony software, and is what I would call less offensive than other manufacturer's takes on the Android interface.
Launcher and interface
While the overall "look and feel" of the software customizations are different from stock, the ZL doesn't function much differently than you expect on a stock device. As far as menus, buttons and functions around the OS are concerned, everything will be where you expect it, just with a little visual flair added. That's evidenced from the on-screen navigation buttons down to the settings menu, where everything has been kept relatively clean.
Sony's launcher is pretty basic, but again has its own way of doing things. The lock screen is plain and can be unlocked with a swipe up or down anywhere on the screen, with a nice clock display and quick launch buttons for music controls and the camera. Once on the home screen, you'll see a standard array of screens with a standard dock, status bar and app arrangement. The app drawer is customizable in terms of sorting, although it only holds apps and not widgets as stock would. You can access customizations -- including widgets -- with a long-press on the home screen or from the settings menu inside the app drawer.
Sony includes several "themes" that change the look of the device and wallpapers, and it's actually quite nice to have an easy way to mix things up. Beyond just the launcher, the color accents throughout the entire UI will change from the default blue to green, red, or grey (for example) depending on the theme selected. You of course have access to some great Sony wallpapers also.
Bundled apps
Even though this is a non-branded and carrier unlocked device, Sony has still loaded up the ZL with plenty of its own pre-installed apps. At my count there are at least 20 different Sony apps loaded, not taking into account the useful ones such as Notes and an FM radio. While Sony has done a good job making a consistent platform of content apps such as Sony Music Unlimited, things just get out of hand having this many pre-installed.
Luckily, it seems as though every one of the apps can be either disabled or actually uninstalled, which is great if you want to clean up your app drawer or even save a little bit of space.
Performance and usability
In daily use, the Xperia ZL performed just like a modern high-end device should. Apps opened quickly and performed smoothly, the launcher and app drawer were quick (although a touch jerky on rare occasion) as were the settings. I never experienced any crashes, freezes or random reboots (I never even saw the launcher redraw), which is a good sign as well. Whatever customizations Sony has made to the software don't seem to have interfered with the improvements that have been made in Jelly Bean as far as interface smoothness go. Coming from a Nexus 4, I never felt as though I was getting a sub-par experience with normal routine on the ZL.
Xperia ZL cameras
Much like the other internals of the Xperia ZL, Sony has put what is likely its best camera sensor to date into the phone. We're looking at an Exmor RS 13MP sensor with an f/2.4 aperture here, and while that may not be as good on paper as the f/2.0 that we see on some HTC handsets, we never came across any issues using the camera.
Pictures
The Xperia ZL sports a crazy number of settings and tweaks that really go beyond your average phone's camera interface. Five buttons line up on the left side of the viewfinder, which let you access groups of settings. The top one lets you select the shooting mode, where you'll find things like scenes, panorama, the dedicated video camera and picture effects. The second button will let you granularly adjust exposure (in +/-0.3 increments), and the others round out to turning on/off HDR, the flash, and access general camera settings like timers, ISO, geotagging and the like.
Having options is great, but we ended up finding that the "Superior auto" mode took the best shot in 90-percent or more of situations. The idea of this mode is that it analyzes the scene and switches modes and settings appropriately to give the best shot. The interface indicates which scene or shooting mode its switching to, and it does a good job of figuring things out. Pictures in Superior auto are limited to 12MP instead of 13, but you won't notice a difference. If you're looking to take the phone out of your pocket in any given situation and have it take an acceptable (or better) picture, Superior auto is the way to go.
If instead you're trying to give a certain look to a shot, manually changing your exposure, ISO and metering options can lead to exceptional results. There is plenty of headroom on the ZL's camera to learn your way around the settings and make the most of that 13MP sensor. This is aided by the inclusion of a dual detent physical camera key, which with a little stabilization can help reduce movement and blurriness in shots. There is still a software shutter key, of course, as well as tap-to-focus when you want to get a different focal point.
Click images to open full res in a new window
Stills taken with the Xperia ZL were extremely crisp and clear, with good color reproduction and dynamic range (even without HDR). While in Superior auto the camera will try extra hard to properly expose the entire photo and may give less striking shots, the option to switch over to full manual control of your pictures will satisfy the nerdiest of camera buffs. We really didn't find any situation in which the ZL captured what we would call a "bad" picture -- the worst you could get was an "acceptable" shot. And that's saying something, as the top end of what this camera is capable of is beyond most phones out there. The conversation about some of the pictures taken with the ZL went beyond "that's a nice picture for a smart phone" to instead "that's just a great picture from any camera."
With all of the praise to be had, there are just two spots where the ZL's camera software is lacking. First is the interaction between the gallery (called "Albums") and the camera, which isn't nearly as smooth as it is by default in Android 4.1. Sony has removed the ability to swipe between the camera and gallery interfaces, as well as the vertical swipe to delete photos. Because the interface (and on-screen navigation buttons) quickly hide when viewing photos, it takes extra taps to switch between taking pictures, viewing/deleting them, and getting back to taking more pictures. Second is the panorama mode (called "Sweep Panorama"), which is set to a fixed width -- which means you can't start and stop the panorama wherever you want. You'll want a third party app to take panoramas here.
Video
The Xperia ZL captures 1080P video, and unlike many phones is actually set to 1080P by default. The quality seems quite good, as does the sound captured from the rear-facing microphone. Video can be captured directly from the main camera UI via a secondary button, but if you want to do any tweaking to the settings you have to flip over to the dedicated video mode.
There are a few subtle tweaks you can apply to the video if you'd like, including an HDR mode, which just like in a still image increases the vibrancy and contrast of your video. If you really want to start tweaking you can manually set exposure, white balance and metering much the same as if you were taking still photos.
Front camera
The ZL has a 2MP front-facing camera, with a very awkward placement in the bottom right corner of the screen. Although we have certainly seen devices before with this placement, the top of the device seems like a more natural place for it. When holding the device in portrait you get a very unflattering view of your face, but it works well enough if you hold it in landscape instead. The camera takes fine pictures, and has a small subset of the customizations available to the rear camera, such as HDR, image stabilization and timers.
The bottom line
For the first time in most people's recent memory, we can actually speak of Sony in the same breath as other manufacturers when talking about flagship phones. From the high-end hardware specs and striking design to the fluid and unobtrusive software, Sony has seriously stepped up its game with the Xperia ZL. There are a couple of small gripes, but we all know too well that no phone is without flaws or compromises. Sony has made a phone that can compete on the highest level set by other manufacturers in every respect, and even best them in some areas. If you're ready and willing to buy your phone unlocked, we see no reason why the Xperia ZL shouldn't be on your short list of phones to get in 2013.
Image 1 of 16
Image 2 of 16
Image 3 of 16
Image 4 of 16
Image 5 of 16
Image 6 of 16
Image 7 of 16
Image 8 of 16
Image 9 of 16
Image 10 of 16
Image 11 of 16
Image 12 of 16
Image 13 of 16
Image 14 of 16
Image 15 of 16
Image 16 of 16
Andrew was an Executive Editor, U.S. at Android Central between 2012 and 2020.
Nice review. I must agree with the preinstalled apps lol. I uninstalled like half of them immediately after turning my Z on which has the same software.

Thanks! Yeah the pre-installed apps are a bit much. It's nice to see that many of them can be completely uninstalled.

Very nice review! I'm glad to see you guys gave this phone the credit it deserves. I've had my USA LTE (6506) ZL for about a month and I'm permanently ditching my SGS3 for it. The red version looks quite nice, but I prefer the textured back of the black one. I don't even want to use a case with my phone because it feels so wonderful in the hand. I'm also happy to see Sony lowering the price to something far more reasonable. I picked mine up from ShopBLT for less than $600 new back at the beginning of April, and have not been disappointed by it in the slightest. For anyone on the fence about this phone because of the battery: If you're a light user, the ZL gets exceptional battery life even on AT&T's LTE (I get anywhere from 2-3 days on a single charge). Even if you're a heavy user, the battery performs quite admirably.

how much screen time do you have for 2-3 days?

I have the ZL too and the screen time averages around 2hours 20 mins per charge. Whether you use the phone for 1 day or 2-3 days is up to you... but this is how much it would give you on a full charge...and the Screen time is approximately equal to HTC one and SGS4...

THIS. I'm a light user, so it takes me 2-3 days to use about 2-3 hours of screen-on time (unless I'm taking a lot of photos, and then it's more like 1-2 days). It's rare that I need a charge after a single day, though. I use low battery mode on the ZL, but not stamina mode. The ZL has its quirks, too, but I don't miss all the built-in touchwiz Samsung bloat that I'll never use and can't get rid of either (sorry, but whatever crap Sony pre-loaded doesn't even compare to what came on my AT&T SGS3. UGH!)

Well I already have more in 6 hours than you in 3 days. I just hope that the phone can get through the day without having to charge it like I do now with my 2 years old phone

Sorry to tell you but 2.5 hrs screen on is absolutely horrible and no where near the GALAXY S4, my S4 I get 6.5 hrs screen on time on average. Even my Nexus 4 which has terrible battery life gets 4-4.5 hrs screen on time. These are playing games most of the time even which we all know takes the most battery of anything. So if the ZL gets only 2hrs then I wouldn't recommend the phone to anybody at all its a POS if the 2.5 hrs screen on is accurate which I'm thinking you have to be mistaken.

so question....i want this phone but some sites dont recommend it. why do i want it great specs and MICROSD CARD! So my question is what is the best phone out there w/ microsd card thats not a S4. I currently own a n4 and will not buy samsung. what other options are there???? I was considering this or the HTC ONE 64GB.

1.HTC one 64gb
2. lg optimus G pro
3. Xperia ZL

HTC One has no micro SD. The ZL is a solid phone, that's all I can pretty much say. If you have a Sony store nearby, I'd suggest going and handling the ZL for yourself and see what you think. Keep in mind when asking "what's the best phone" that what works for one person might not work for you -- so your best might not be the same as someone else. That said -- I loathe HTC's sense, so the list in the post above would be wrong for me. I hate Touchwiz, too, but I'm used to it, so I can get along with it if I must. So, it's more a question of what you want from your phone and what experiences you've had thus far (for someone who has used nothing but Touchwiz, stock android could actually be a bit of a letdown!). I've settled on the ZL after using it for a month, while keeping my old SGS3 handy for the following main reasons: 1) It smokes my S3 for battery life for my usage. I used to charge my S3 every day to every other day, even with my light usage patterns. 2) The screen is FAR more readable in direct sunlight than my S3 ever was, no matter how bright I made that screen. 3) More stock-android UI. This is huge for me, as I prefer Sony's minimalistic themed stock android UI to the ugly garbage that is Touchwiz (sorry, Sammy fans, I just hate the look of Touchwiz.) 4) Camera & GPS lock. My S3 was so wonky with GPS tagging photos -- it often would NEVER get a lock in the camera app alone. I'd have to launch maps and then go back to the camera for it to lock. Also, I was overly unimpressed with the Samsung camera's photos. The Sony stands up admirably next to my Nikon DSLR (with a 40mm micro lens) for macro functions, and has so many camera options that I'm blown away. It beats my old Fuji point and shoot any day. That said, the ZL has its quirks and isn't without its own set of issues. I wrote an initial post in the forums regarding my first impressions of the ZL after I bought it. I've been using it as my daily driver for about a month now, so if anyone really wants, I'd be willing to update my original post with more info on my daily usage & experiences with the phone.

great response thanks for the info...oh the htc one has microsd...in china LOL joking. I would think 64gb would be enough. thats why i am leaning that way. i have been wanting the zl for a few weeks and have seen it pretty close to $525 $550 online. I have not played with but a friend has the Z and its pretty nice. I like the zl has a smaller footprint than my N4 and of course the microsd. And the z seems to have better battery. my n4 sucks. i consider myself a medium user and i get about 8 - 10 hrs before it dies! if i dont plug in during the day it will be dead if i go out. thanks again for the info!

please do. this phone looks great. I am looking at S4 for my first android device, have also considered HTC 1.
Leaning towards S4 I guess. But with no ties to any particular android system, this looks nice.

Great review.I now have all my questions answered. Thanks

This is what a great review is. Android Central always does it right. Thanks

If people stop chasing CPU numbers (only to use the same apps that work on a Nexus One) they'd realize how better designed and built the Xperia Z & ZL are in comparison to the SG4 and even the HTC One. Design aside, the Xperia skin maintains the beautiful stock Android look and uber fast performance, adding just enough functionality and customization to make up for some shortcomings. Sold my HOX+ to get the Xperia ZL and I couldn't be happier, especially more so knowing AOSP is available as well to keep the phone running latest Android builds.

Great review Andrew. Thanks for explaining the mystery of the "12MP" sensor, I couldn't figure out why Settings was showing that as the max resolution when all the marketing/spec material said "13MP". I'd only used "normal" mode a couple of times and didn't go into the camera settings panel at that time, only when I had it in Superior Auto. Good choice on the color, red is one of the huge reasons I bought the ZL, the rest has been gravy. I've gone all in, even selecting the Ruby theme and setting Swiftkey up with a red theme for my keyboard - it's a lot of red. Have you noticed the phone seems to dim the screen whenever you pull the notification shade down or get a pop up window in settings and the like? I have mine set to auto brightness and it works perfectly except for that one anomaly, kinda strange. Another big but tiny feature Sony included: battery percentage as an option on the notification bar - why doesn't everyone do this out of the box?!

Hadn't noticed the screen dimming when bringing the notification pane down, but then again i didn't use automatic brightness very often. Possible you're swiping over the sensor when pulling down the shade and it's adjusting accordingly? That would be my only guess.

Yet another great phone not on Verizon :(

i would of buy this if it had a bigger battery. something in the 3000mahs

Where does that wallpaper from the header image come from? I've been looking for it.

You can find it here: http://www.behance.net/gallery/iPad-Retina-Wallpaper/3516257

If you truly can obtain the ZL at the $500.00 mark unlocked.. then it's a fair buy for what looks to be a very good alterative.. At $629.00? if you just have to buy now go with the Note 2.. If you can wait 150 days.. Without Question spend that $629.00 on what is sure to be the *Incredible* Galaxy Note 3... That Phone is going to set a "New" Standard... And Will be the phone to Get My Cash.. :-)

I was more excited about the experia z than any phone since my first iPhone and I would have picked it up if T-Mobile worked in mid-Missouri. I just can't justify spending that much on a phone if my monthly bill is the same. I love my 64gb HTC One but I can't wait to see what Sony has to offer in 2 years.

Its unfortunate that the major carriers (save for T-Mo now) don't give a discount for bringing your own device.

Nice looking phone, hope to see more phones like this from Sony in the future. Still would be hard for me to justify the added expense over the Nexus 4 but there is definitely some things about this I'm liking over my N4.

Right, if you're price sensitive it's very hard to justify the extra ~$250-300 over the Nexus 4 for ANY of these latest unlocked devices.

Sony is known for overpricing its devices yet I think the Nexus 4 (in the Play store) spoiled us. In my country the Xperia Z is only about $100 more than the N4 and we're stilling wondering about the ZL's availability. It's a shame though that there is not more storage options (besides the microSD slot).

Where Do you get Wallpapers like that? They're awesome

Although a glass-back would be awesome for this phone, the red's shiny fake-metal makes this phone looks a lot less cheap.

Nice effort on the review, but you put too much emphasis on the Camera, as do most reviewers. I like the camera, and we almost all use our phones instead of lugging a separate camera nowadays. But a phone is much more than just a camera. Also, most of us tend to use our phone a lot for media purposes. In your review, there is not a word on Sony's shabby work with the "Walkman" software. It support too few formats. I can't access stuff on my SD card with it, nor can I browse file folders from within the Walkman software to find my content. If it's possible (And I don't think that it is), they've made the process cryptic enough for the software to be very heavily criticized, if not downright vilified. Adding a different media player is an absolute must on this phone. I don't understand your gripe about the screen's viewing angle; It is perfectly wide enough for anyone to view it without problems, even when used on a windshield stand at odd angles, as a GPS guiding device in a truck. This is not a living-room TV, it's a bloody phone, and the angle of viewing is fine. Anyone over 40° off the screen, probably shouldn't see what's on it, anyway. No mention of the speaker. It's quite capable, and that's worth mentioning. Loud environments require a phone's speaker to be rugged and powerful, or they go unheard when ringing. Missed calls because of poor speakers is a common problem. They Experia can be loud enough to avoid this problem, and it should get points for it. I liked the bit about the screen protector, which I had not found out about until I read your review, and also explained why the screen seem so much easier to scratch than my old phone was. Good work on the form factor and build, but do take note about a common blue collar gripe: A recessed power button is much more user friendly for us. Not all of us are desk jockeys; some of us put our phone through a much tougher environment - A manual worker's pocket.

I love my ZL, even though I have had problems with it which made me have to send it back to Sony. It's a great phone, but I have some crummy luck with my devices. Can't wait to get it back. It's the best pone I've ever owned.

Hi, does Philippines has LTE support or we'll just getting the HSPA version? i'm confused, 'coz i saw some stores here selling ZL 3g only. please enlighten me,, thanks!

yes we have LTE here in the Philippines(but i believe it is still only available on major cities) courtesy of Globe and Smart. xperia ZL has 2(or 3) versions. the one with 3.5G(HSPA+) and the one with 4G(LTE).

What is weird for me is that i could not get this phone to work on AT&T's LTE Network. It would only go up to HSPA+. I also confirmed with AT&T and Sony that this phone does not work with there LTE Network. I have the red C6506. Am i missing something here??
Android Central Newsletter
Get the best of Android Central in in your inbox, every day!
Thank you for signing up to Android Central. You will receive a verification email shortly.
There was a problem. Please refresh the page and try again.