Sony Xperia Z1s gets update to Android 4.4.4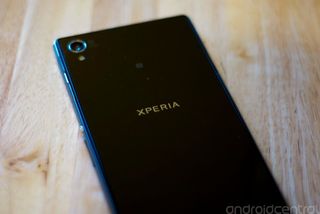 Android 4.4.4 is now available for the Xperia Z1s on T-Mobile. The update changes the build number of the Xperia Z1s to 14.4.B.0.37, and brings a few changes to both look and functionality. This includes compatiblity with the Sony Smartband SWR10.
In addition to SWR10 compatibility, this update also lets the Z1s work well with Sony's Lifelog app. The Z1s also now has a transparent navigation bar, slight changes to the status bar and quick settings, and new boot animations and themes.
Have you downloaded the update to your Xperia Z1s yet, and if so, what do you think? Leave your thoughts in the comments below.
Source: Xperia Blog
My friend has it and its his first time he's received an update. But does it really require a computer? How come? Lol Posted via Android Central App

It did not need a pc for the update when I updated.

Stop the whining now? Sony has slowly started showing a commitment to updates. This is. Good. If they start changing their standard I will start supporting them more on their products. Posted via Android Central App

Wow... That took forever. Posted via Android Central App

Okay so can anyone tell me how the update works? It says "Requires Computer". But I cannot find any software on Sony's website that support the handset.

Look up PC companion app. You use that. Posted via Android Central App

Let's hope it doesn't destroy your battery like the last update on the Z did. Posted via Android Central App

It does, and it also makes it heat up very quick

One reason I bought unlocked. It is so simple to update an xperia when the carrier is cut out. Already updated my z2 to .314 And have had it for 2 weeks. But congrats to the tmo owners! Posted via Nexus 5

Last time my wife got an update for her Sony SP, they took away the shortcut on the notification bar to turn on mobile Internet. It was really stupid, now she has to use a separate widget or go into the setting. Does Sony do things like that often? Posted via Android Central App

Great news and it's 4.4.4 which not many phones are on. Hope T-Mobile gets more Sony phones in the near future. Posted via Android Central App w/G2

Pretty sure G2 carrier branded versions will not get update till end of year at which time they will decide to update to L release directly by next march. But by then the G4 will be nearing and no one will care about the G3. Useless carrier branded versions as usual. Posted via Android Central App

What do details about LG phone models have to do with Sony, who makes the phone that is the subject of this article/discussion?

Z2 should be near... Waiting here Sony. Posted via Android Central App

This I actually don't mind. They committed to their older models first. I respect that. Posted via Android Central App

This is exactly why I'm with the Nexus 5, Sony has to be more prompt with these updates. They have great hardwares, but slow software updates. Posted via Android Central App

Dude, I own an unlocked Z Ultra and of all the models, it and the Z1 Compact were the first to get 4.4.4. I probably got it on my Z Ultra the same time you did on your Nexus 5. In fact, both those phones have gotten the last 2 updates as fast as the Nexus 5. Please remember that Sony has more devices to support than are in the Nexus line before ripping them about their slow update policy. Adding a carrier variant ike the z1s slows stuff up a little bit. Posted via Android Central App

To be fair, Sony pushed out 4.4.4 updates to the unlocked version about 2 weeks ago, the extra delay was probably related to T-Mobile. Of course they skipped over all of the previous 4.4 updates...

While Xperia Z, has never worked after receiving 4.3. If you update play store, the phone will start rebooting Posted via a sexy Nexus 5

Great right when I leave my laptop on my dad's house this happens, why do we need a pc sony why? It should be ota like regular oem Posted via Android Central App

Finally the z1s gets kit Kat but y need a computer???? Posted via Android Central App

Does anyone know where I can get the changelog?

Is your Xperia any slower? Posted via Android Central App

My xperia z1s is slower, the camera barely works, my battery life took a crap. Not happy with update. Also, I did not need a pc for the update. Only requirement was my battery had to be above 50% throughout the update process.

I hope the Note 3 gets this update soon on AT&T. Posted Via AT&T Galaxy Note 3

Is anyone's Xperia running slower and heating up the phone? Posted via Android Central App

Yeah my Z1s got extremely hot and when I launched my camera it kept crashing and said "XPERIA needs to cool down" Posted via Android Central App

Mine does a lot, I need to reboot it every time to cool it down

My xperia z1s already had overheating issues, but after updating to 4.4.4 about a week ago, my phone is acting up. It's much slower, battery life went from amazing to terrible, and the camera barely works.

My Xperia feels smoother/snappier than before. You could try wiping the cache:
http://support.t-mobile.com/docs/DOC-9904
Elsewhere I saw that people would do a complete reset (factory wipe) and that improved things.

My wife just received today her new unlocked Xperia Z1 (to replace her old Xperia X8 Mini Pro, Android 2.1). It came with JB 4.3, but then it updated itself OTA to 4.4.2 and then to 4.4.4. That was awesome! My Moto X is still on 4.4.3... Posted via Android Central App

Updated, but now Sony has forced one of their apps, What's New, onto the same home-swipe that Google Now is on. You can't uninstall or disable the app, the only way to get rid of it is with root access or blocking it via adb ( http://forum.xda-developers.com/showpost.php?p=53916026&postcount=20 ). They were doing so well...

Just got the update last night for my Z1s. It didn't require me to connect it to the computer. Only change I don't like is the notification bar changes. Before you could see all the "quick setting" icons with the notifications below when you swiped down, now you have to click on 'notifications' or 'quick settings'. Defaults to notifications. They also changed personalization, I can't seem to figure out how to get my color scheme back, but it's not a huge issue. Neither changes are that big of a deal, but when you get used to something, change takes a bit to get used to. ;)

Has your phone started acting up since you updated it? I didn't have to connect to a computer either.

The only thing I've noticed is the battery drains faster now. I used to only have to charge it once a day, now it's up to twice a day. I haven't changed my usage on the phone or added anymore apps, so I don't get it.

Oh, Ok. One of the commenters mentioned clearing your cache. By holding down volume up and power button at the same thing me will clear the cache. I was also able to clear the cache in the storage menu. I had 8 gigs of memory used up in cache. Seems to work better now. I'm gonna keep an eye on the battery life. I read turning off back-up helps with battery life. Thanks for the reply! :)

I cleared my cache earlier and freed up a lot and I already had the back up turned off. But I sent Sony an email about the battery draining so quick since the update & they sent me the following steps. I haven't tried it yet, so I'm not sure if it actually helps the issue or not. Settings>Developer options>enable 'Force GPU Rendering. Go back to Settings>Apps>scroll to the 'All tab' Look for the Google Play Services and tap 'Force Stop' then Uninstall Updates and tap Disable. Then tap 'Clear Cache', then Enable the application back and tap 'Clear Data' again. Now restart the phone and go to Google playstore, search for Google play services and update it.

I can't find developer options. I remember seeing that before but can't locate it tonight. My Google play services wasn't actually active. I'm seriously frustrated with how crappy my battery life is now. Clearing my cache seemed to have made my phone run smoother, but battery life is still an issue. Thanks for the tip. If I ever find the developer options I'll let you know how it goes.

Ok, this is what I had to do in order to get Developer Options to show up. Go to Settings > Scroll to 'About Phone' - Tap > Scroll to 'Build Number' and TAP BUILD NUMBER 7 TIMES! > Go back to Settings and Developer Options will now be visible. Hope that helps.

But now that I'm going through the steps, I can't tap 'Force Stop' on the Google Play Services. I only have the 'Disable Option'. So I skipped the other step since I didn't have the option. Cleared the Cache, restarted my phone and went to Google Play Store to update Google Play Services, but it's not even available. I think I'm going to email them again about this. Crazy!!

Just saw this reply. I noticed the same thing about Google services and was afraid to disable it.

Once I get a response from them I'll post what they say.

Ok this is what they sent me.....and it's long. I may attempt it tomorrow, or just deal until the next update. I'm getting tired of trying to figure out why my battery started draining quicker since the update. lol Hopefully it makes some sort of sense to you, cause just skimming over it, I'm already lost. heh. what is recommend is to re-update the software using one of our update tools by installing either PC Companion for Windows based computers or Bridge for Mac. You can download the one you need, depending of your computer's operating system, from the any of the links below.
http://www.sonymobile.com/us/tools/pc-companion/
http://www.sonymobile.com/gb/tools/bridge-for-mac/
In the case you have a Windows based computer, follow the steps below. Visit this link:
http://www.sonymobile.com/us/tools/pc-companion/
Click on Download PC Companion
Run the software and install it Turn the phone off and disconnect it from the computer 1. No matter what the program says do not connect the phone until you complete step 9
2. In the welcome screen you will see the different modules available for you including the "Support Zone" option. Click on "Start" below it.
3. On the next page Click on "Start" under "Phone Software Update"
At this point if you get an error stating that "Unable to install update components" or "Server is busy" , then please proceed to step 12
4. The program will say that there is no phone connected. Click on the option below that reads: "Repair my phone" the program will issue you a warning about the content that you will lose during the update
5. Choose the option to continue.
6. The program will issue a final message warning you of possible data lost during the update. Click on the checkmark and then on "Next".
7. After that, the program will download the necessary information (5 to 6 minutes) and it will present you with a list of phones.
8. Choose your phones model from the list then click on "Next" then you will see a new section telling you how to connect the phone. (don't connect it yet)
At this point the phone must be off and disconnected from the PC.
9. Connect the cable to the PC not to the phone, then while pressing and holding the indicated button (in the steps on screen an specific button will be shown for you to press on the phone) connect the cable to the phone and keep holding the indicated button until the program says "the update of your phone has started..." (in some cases a message of "Installing drivers" will appear before the message of "the update of your phone has started..." is shown.)
10. If you failed to follow the steps correctly the phone will turn on and it will request that you "Proceed with the following steps, slide down the notification bar", If this happens disconnect the phone from the cable, turn it off and repeat from step 9).
11. If the phone is connected properly, PC Companion will proceed with the update ( It will tell you to let go of the back key) then wait for the update to finish and follow instructions on screen to disconnect the unit. Dear Customer,
12. If "Unable to install update components"
1. Close PC Companion
2. Install Java from: http://www.java.com
3. Start PC Companion again and try to do the software unlock process once more.
Note: If you wish only to update the unit wait for the program to open and then select the quick link on the upper left corner that says "Update Phone/Tablet" and follow the instructions to perform the update. (the PC may request for the phone to be placed in Mass Storage mode. Do this by going into Settings>Xperia>Connectivity>USB connection mode)

What??? Haha, that's crazy. How'd you figure that out? Thanks so much. Trying now...

I saw it on another forum. haha

What will you recommend then? :/
Should I update my Z1 or not? I was just going to update it when i saw your review and stopped.

That would be completely up to you. (I have the Z1s) Since the update I have noticed my battery drains a bit faster and my camera freezes and acts up occasionally. Battery: went from charging once day no matter the use to charging sometimes 2 times a day with the same use. Camera: sometimes when taking a pic the camera freezes & the image doesn't save. I'll have to turn off the screen & turn the screen back on and then it's back to normal. But it's not all the time. Anyway, over all, the issues don't bug me that much. I didn't notice anything fantastic about the update either. Oh! They also added another annoying start up tone. So, besides the Tmobile tone it also plays something else right before that. I can't figure out how to stop that either.

MY battery life has been cut in half and memory usage has gone up, not to mention the camera app is buggy O.O

I've noticed the battery draining faster as well since the update. :/

I updated my software... my battery died. I plugged my phone in and I have a green light. But it won't turn on.
Android Central Newsletter
Thank you for signing up to Android Central. You will receive a verification email shortly.
There was a problem. Please refresh the page and try again.