Sony Xperia Z Android 4.2.2 update rolling out now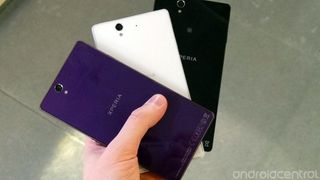 Latest update hitting multiple models in different markets around the world.
Coming in just fashionably late behind its sibling the Xperia ZL, the Sony Xperia Z is receiving an update to Android 4.2.2 starting today. According to reports from users to XperiaBlog, the update is rolling out to several different regions already for the C6603 LTE model, and in Taiwan for the C6602 HSPA+ model. While the official support page hasn't been updated to reflect the newest build, the build number is reportedly the same 10.3.A.0.423 as the Xperia ZL. If you have your hands on an Xperia Z, you may want to download Sony's PC Companion (or Bridge For Mac) for the earliest shot at the update.
This also leads to a few questions about what version of Android will land on the Xperia Z when it hits T-Mobile in short order. Let's hope it's the same updated version as is rolling out worldwide today.
Source: XperiaBlog
More: Sony Xperia Z Forums; Sony Support
Andrew was an Executive Editor, U.S. at Android Central between 2012 and 2020.
I just updated my Z via the Sony PC companion, the update went flawless.
So far so good, my Z runs smoother :) nice update a little late but it was worth waiting.

Hi Nicola, where are you from?. I bought the C6602 in USA, and now connected to Chile I can't find any update to 4.2.2. I setted up as Taiwan in the Country list of the PC Companion software...but no updates are available to me. Please, share your experience!

Hi Asrhael, I have a C6603 Z, and currently I'm living in Holland.
If I'm not mistaken the C6602 model is for unbranded Z's, so actually you are suppose to get the update first. Try to uninstall and re-install the PC Companion see what happens. If not you can always download the firmware version and install it manually.
In the xda-developers website you can find more info on how you can perform this. I hope this info was helpful anything let us know. Regards,
Nicola

Why isn't it an over the air update? Posted via Android Central App

They come OTA, but are pretty much always available via the PC/Mac software first.

It's hit the UK now down loading it now Posted via Android Central App

Who are you with? I got mine through O2 and still don't have the update I'm gonna tweet them to ask when it's happening :-P

Im with orange and in the UK still no update for my Xperia Z. Its been over 2 weeks now since it started rolling out why have we not had it in the UK

Still not available on my C6603 Z. I'm using Sony Bridge for Mac from the US. I have tried my normal AT&T SIM and a Vodafone SIM. Hoping it comes through soon!

Just received update but alas no 360'panorama, camera update. I have it on my nexus 10.
three uk

I updated my Sony Xperia Z to android version 4.2.2 yesterday and the changes on the utility front were not so much impressive as they were towards disappointing me for the performance. Yes please think before you upgrade because the new Jelly Bean will consume twice the RAM while running the same apps which were on its predecessor. Though XperiaZ comes with 2GB of RAM just the simple mailing apps and common chat apps along with the OS now accounts for ~950MB.

I have my SONY Xperia Z Model C6602 (Android Version 4.1.2) Build number
10.1.1.A.253. I purchased these 2 months ago, but apparently now it started
frequent shutting down even the battery is almost 72 % of power charge, then
what to do is, press the power button, as the conventional method in
powering-On a mobile handset to regain it in normal state. Secondary, I observed that if I plug-in the AC Power Charger to
the mobile handset, then No any shutting down happened, But if I removed the AC
charger to the handset, then just count for a couple of minutes then it started
and happened the handset to be shutdown without unexplainable reasons...? Since 8 years way back, I am a very fanatic user of Sony Ericsson product based
mobile phone. But during the extent of tie up of Ericsson to Sony Corporation,
I didn't encounter any problem occurred to any of my mobile handset. BUT, now it is at the flagship of Sony Corporation, why circumstances happened
that even the Sony Corporation did not know the immediate solution for these
problem occurred to their mobile handset Xperia Z. Please, we all the consumers waiting for your immediate solution to resolve the issues, and this is not one, not two but this is now around the world where your
product was reach at the market. MR. SONY Coporation, It is a huge negative reflection at you end, if you will not found any immediate solution for these negative occurrence at your mobile product "XPERIA Z".

Just checked and not yet available on talktalk mobile in the UK

My xperia v has started shutting down and overheating too. Not working most of the time, unless it is plugged into the main. No new apps etc installed...I think it coincides with he update. May have to abandon it as just not able to even do calls and texts...back to HTC...how sad! Sony, please work on a solution quick!

A great little update. The camera seems better and the interface is more crisp and smooth. The update was originally available to me only through PC Companion but every time I tried to download it, I kept getting an error. A week later and the update became available wirelessly. Anyone having difficulties, just be patient and you should get it over the air. :)
Android Central Newsletter
Thank you for signing up to Android Central. You will receive a verification email shortly.
There was a problem. Please refresh the page and try again.