Sony Xperia XZ2 & XZ2 Compact specs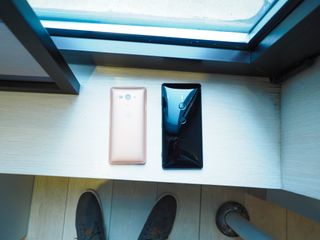 Sony knows how to tell a specs story, but it often lacks a compelling narrative for why someone would want to buy the phone in the first place. The Xperia XZ2 and XZ2 Compact don't change the narrative too much, but they're considerably better looking than any Xperia product before them — and having a usable fingerprint sensor can't hurt, either.
Swipe to scroll horizontally
Category
Xperia XZ2
Xperia XZ2 Compact
Operating System
Android 8.0 Oreo
Android 8.0 Oreo
Display
5.7-inch LCD, 2160x1080
Gorilla Glass 5
18:9 aspect ratio
5-inch LCD, 2160x1080
Gorilla Glass 5
18:9
Processor
Snapdragon 845 64-bit
Adreno 630
Snapdragon 845 64-bit
Adreno 630
Expandable
microSD up to 400GB
microSD up to 400GB
RAM
4GB
4GB
Rear Camera
19MP Exmor RS, hybrid AF
960 fps FHD slow-mo, 4K HDR video
19MP Exmor RS, hybrid AF
960 fps slow-mo, 4K HDR video
Front Camera
5MP f/2.2 23mm wide-angle
5MP f/2.2 23mm super wide-angle
Connectivity
Wi-Fi 802.11ac, Bluetooth 4.2, NFC, USB 3.1, GPS
Wi-Fi 802.11ac, Bluetooth 4.2, NFC, USB 3.1, GPS
Battery
3180mAh
2870mAh
Charging
USB-C
Quick Charge 3.0
Qnovo Adaptive Charging
Qi wireless charging
USB-C
Quick Charge 3.0
Qnovo Adaptive Charging
Sound
Stereo S-Force front speakers
Stereo S-Force front speakers
Water resistance
IP68
IP68
Security
Rear fingerprint sensor
Rear fingerprint sensor
Dimensions
153 x 72 x 11.1mm
135 x 65 x 12.1mm
Weight
198 g
168 g
Network
1.2Gbps (Cat18 LTE)
800Mbps (Cat15 LTE)
Colors
Liquid Black, Liquid Silver, Deep Green, Ash Pink
White Silver, Black, Moss Green, Coral Pink
Daniel Bader was a former Android Central Editor-in-Chief and Executive Editor for iMore and Windows Central.
That paltry battery on the regular XZ 2 won't cut it. So unless they've got an XZ 2 Premium coming, it's a pass. And what's the difference between regular stereo speakers and these "S-Force" speakers?

It's an algorithm based 3D spatializer from the description below. --- From Sony's help site: What is S-Force Front Surround? S-Force Front Surround is a new technology thats emulates a three-dimensional sound field naturally and realistically. Users can enjoy 360°of full surround sound with only two front speakers.

My xz1 lasts forever battery wise. I think even with the larger screen these will probably have really good battery life.

My wife as the XZ1 Compact and, FWIW, her phone lasts like two days with pretty heavy use.

I think the 835 on the XZ2 Compact is a typo...they both have the 845, no?

Whoops, thanks for the heads-up!

Sony has another dud on their hands, yes the bezels are reduced but that pathetic battery and their insistence on using 4K screens and until Sony gets with the times then they'll continue to flounder.

The screens are both 1080P...

I was originally excited due to the 19MP sensor, but just noticed the old version had the same. Not sure how I feel now. I do like OLED screens although I currently do not own anything with it. Guess, I'll keep waiting for my magical device and Mr Mobile's review.

Awful specs, it ain't a flagship device. Why the battery is so poor??? 4GB of ram in 2k18 is good for budget phones, like the Redimi series, poor front camera too.
I guess Sony loves to fail everytime.

Love that they changed up the design and look of their phones. Much better looking, in my opinion.
Shocked at battery size and RAM. I think, once again, that they are failing.

The XZ2 is 11.1 mm thick, but only has a 3180 battery? What were they thinking? should be at least 4000

Am I missing the area where the base storage is mentioned? I'm curious to see if the Compact gets 64GB of internal storage this year. Also, the resolutions should be 2160x1080, correct?

Very very disappointing design and specs!
Come on Sony... how can you get ahead of the competition if you don't even understand the basics ... Do some surveys before you launch another disappointing mobile phone! It's been years and you have not learnt from failures ...

My Xperia X got the Oreo update 3 days ago and it's like a new phone. I am amazed it made such a difference. Now I don't see any need to buy a new phone. Although I should add I would never consider paying the launch price for any phone. I feel so sorry for people who do when, three or four months later, their pride and joy flagship is suddenly running last year's version of Android. And will be for many, many months.

I think the posted specs are wrong...those aren't 18:9 Specs.....
5.7-inch LCD, 1920x1080 ?
Gorilla Glass 5
18:9 aspect ratio
Android Central Newsletter
Thank you for signing up to Android Central. You will receive a verification email shortly.
There was a problem. Please refresh the page and try again.