9 things to know about the Sony Xperia XZ Premium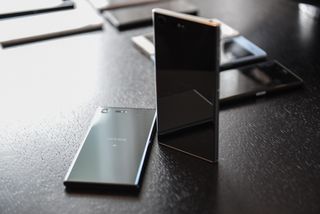 Sony's latest flagship is the Xperia XZ Premium, and it's really nice. It's one of those phones you don't want to touch because it's so nice to look at. You may also not want to touch it because the damn thing is incredibly shiny, exposing fingerprints as well as any mirror. And it may not be worth buying because, well, there are just better devices out there at a lower price.
Interested in this phone? Here are a few things you need to know about Sony's best phone ever.
This is Sony's second 4K phone, but its first with HDR
Sony debuted the 4K smartphone in 2015 with the Xperia Z5 Premium, and this year's follow-up has a better, brighter 5.5-inch 4K panel with a trick up its sleeve: HDR support.
Content that supports HDR — High Dynamic Range — will look more vivid and colorful on the XZ Premium's 4K display. Let's just hope that app developers get up to speed with supporting it — Netflix, at the moment, still only supports the LG G6.
Beyond that, the screen itself is really good for daily use. It's bright, crisp and colorful — and Sony gives you a few display settings to tweak it how you want it to look.
The camera is new, but isn't the best
People don't buy phones; they buy cameras that connect to the internet. Sony understands this and has designed its devices around the camera experience for years. But as much as it's tried to outdo the likes of Samsung, LG, and Apple, it continues to come up short.
Sony thinks the XZ Premium has what it takes to beat the competition in 2017 with a new "Motion Eye" camera setup that lowers the resolution from 23 megapixels to 19 while increasing the size of the individual pixels, ensuring improved low-light results. At the same time, a new connection between the camera sensor and the phone's memory allows for caching of photos — predictive capture, as it's called — five times faster than any previous Sony phone, so no frames are lost during quick-shutter action shots.
The results are good, but not great. This is indeed the fastest Sony camera we've seen yet when it comes to opening and capturing — whether it's a single shot or a burst. But the results are mixed, not necessarily jumping to the top of the heap with the leaders such as the Galaxy S8, LG G6 and HTC U11. Sony still highly over-sharpens photos in "auto" mode and requires tweaking in "manual" mode if you want anything better.
You can capture slo-mo video at 960fps
Yup. Insane.
It may only be 720p but think about the contrast between a regular 30fps capture and something as smooth as 960fps, slowed down to look great on this big, beautiful screen.
You can only take very short clips and it takes a bit of time to get used to how the interface for super-slow-motion works, but it's a great trick that sets the XZ Premium apart from most other phones.
The glass back is reflective AF
Seriously, this is just about the most reflective phone we've seen — right on par with the HTC U11. The Luminous Chrome variant is the worst offender, offering an easily-tarnished mirror finish that shows off every fingerprint.
As long as you're not too particular, and walk around with a microfiber cloth in your bag or pocket, the Xperia XZ Premium could stay pristine, but it's likely to pick up hairline scratches pretty quickly — a problem with all phones, but exacerbated by the reflectiveness of the Gorilla Glass 5.
You get dual speakers and a headphone jack
It's easy to complain about the size of the bezels above and below the XZ Premium's display, but Sony is at least putting part of that space to good use. In an increasingly rare combination, Sony includes both dual front-facing speakers and a headphone jack on the phone.
The speakers sound pretty good and of course have the direct advantage of firing toward you rather than down and away, though I have to say the volume doesn't top out as high as the HTC U11's combined speaker approach.
There's still no fingerprint sensor in the U.S.
Seriously Sony, this is getting ridiculous. We know there's some sort of contractual obligation that's limiting Sony's ability to include a fingerprint sensor in its U.S. phones, but consumers don't care about the reasoning — they just want a fingerprint sensor.
For a phone this high-end and expensive, it's just downright frustrating to not have this core smartphone feature found in phones as cheap as $200.
It's water resistant and dustproof
Like most Sony phones of the last few years, the Xperia XZ Premium is IP68 water resistant and dustproof. The ratings mean you can submerge the phone in up to one meter for an extended period without incurring damage. And, of course, there are no port covers to worry about.
More: What do IP ratings mean?
It runs Android 7.1.1 Nougat
We may be beyond it by the time the phone is released but the Xperia XZ is currently certified for Android 7.1.1 Nougat, which means that it will support all the latest goodies from Google, including rounded icons, image keyboards, and more.
Sony's skin continues to be very light and very fast, and there's no question that the company has learned its lesson in deviating too far from Google's recommendations. This isn't Samsung; Sony doesn't have the customer loyalty, nor the resources, to develop great custom skins, so the more it keeps to Google's Android the better.
Most of the XZ Premium's interface is unchanged from the Google Pixel, and the launcher even includes the Google Now feed to the left like Google's own launchers. Sure you get some Sony apps and icons, but it's nothing offensive or getting in your way. And of course because Sony sells unlocked and not through carriers, you don't get any extra carrier bloatware.
The price is high — probably too high
As you'd expect for a phone with the title "Premium" right in the name, the Xperia XZ Premium is expensive. It goes on sale in the U.S. on June 12, and the price tag is $799. That's the upper edge of what most people are willing to pay for a phone — the only other mainstream offering challenging that price is the Galaxy S8+ at $825.
With a price like that, it makes you really question whether the Xperia XZ Premium could be a true competitor. For all of its great improvements, features, and design, it still has a handful of missteps that are tough to overlook when there are other great phones out there for less money.
Sign up for Black Friday email alerts!
Get the hottest deals available in your inbox plus news, reviews, opinion, analysis and more from the Android Central team.
Andrew was an Executive Editor, U.S. at Android Central between 2012 and 2020.