This is why Sony phones in the U.S. don't have fingerprint sensors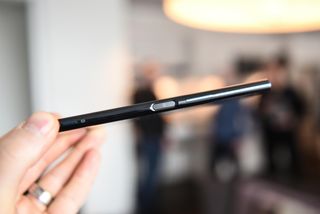 This article was previously published in February 2017, but in light of Sony once again releasing phones in the U.S. with no fingerprint sensor, we thought we'd resurface it as a resource for those trying to understand what's going on.
Another year, another Sony phone launching in the U.S. without a fingerprint sensor — despite the exact same model packing the biometric authentication process everywhere else in the world. With the announcement of the Xperia XZ Premium and XZs, Sony once again has a couple of enticing phones. And even though it seems to have made good strides in terms of cameras and a few other pain points, this one issue still plagues it. For whatever reason, Sony cannot bring a phone to the U.S. with a functioning fingerprint sensor.
The question of why this is the case has been a constant bugbear for us as we speak with Sony representatives time after time, and at MWC 2017 we got perhaps the most candid explanation of what's going on.
Speaking with Don Mesa, who is Head of Marketing, North America for Sony Mobile U.S., we started to get a more concrete picture of what's going on here. When asked about the exclusion of fingerprint authentication on the Xperia XZ Premium specifically, Mesa explained, "There are a lot of external and internal factors that contribute to us making a conscious decision not to include [fingerprint]."
The "external" portion of that statement is the interesting part, and something that wasn't previously disclosed. For the past couple of years, Sony's stance on not including fingerprint sensors in the U.S. was that it didn't see demand for them and there was a business decision made to not include the feature. This external factor, it seems, is something to do with deals it has made (or terminated) in the U.S. specifically. When asked further about those factors Mesa continued, "[...] that was very much about us consciously deciding that we want to continue our business here [in the U.S.], and [that's] one of the conditions for us to be able to do business."
So here's the meat of the issue: based on some deal previously made relating specifically to the U.S., in order for Sony to sell phones in the country it cannot ship them with functioning fingerprint sensors. Taking the lesser of two evils, Sony chose to continue to sell phones with the fingerprint sensor disabled instead of give up on the U.S. entirely — and this seems to be the case still, as Sony has continued to sell a wide range of unlocked phones here. So despite this bizarre limitation against using fingerprint sensors, Sony still sees the U.S. as an important market and wants to keep selling its top-end devices here.
When pressed for specifics, Mesa acknowledged the rub with U.S. carriers in Sony's transition from selling carrier-backed phones to going entirely unlocked, eventually leading to this fingerprint situation in some way. Events like the launched-then-canceled Xperia Z4V and various one-off carrier devices that never sold well seem to point to Sony having troubles dealing with the U.S. operators. It wouldn't be surprising if a deal (or deals) gone bad led to some fingerprint exclusivity problems as a penalty of such a fallout. Of course the real rub here is the specifics of such deals are not — and may never be — disclosed.
So what can we take away from this? Well, the first part is that Sony confirms it is indeed consciously shipping its phones to the U.S. with fingerprint sensors ... and that at the same time it is explicitly disabling them in software. Sony Mobile U.S. is, for the first time, also confirming that without these outside factors influencing these decisions, it would prefer to be shipping phones in the U.S. with fingerprint sensors enabled. That in no way completely lets Sony off the hook here, though — it takes two to tango, and Sony itself was obviously involved in whatever mechanism led to this odd limitation surrounding fingerprint sensors. Someone signed off on this, and it's been a constant thorn in the side of the company since.
And no matter the mechanism of how this all came to be, it isn't much solace for those of us in the U.S. who are big fans of Sony design and hardware but will continue to refuse to buy its phones until they have such a basic feature. U.S. customers deserve a fingerprint sensor just as much as anyone else in the world buying a Sony phone. And Sony itself seems to think this is a short-term limitation that, when lifted, will comfortably be put in the rear-view mirror as it continues to sell unlocked phones in the country.
Sign up for Black Friday email alerts!
Get the hottest deals available in your inbox plus news, reviews, opinion, analysis and more from the Android Central team.
Andrew was an Executive Editor, U.S. at Android Central between 2012 and 2020.