Sony Xperia XZ1 and XZ1 Compact hands-on: Tiny upgrades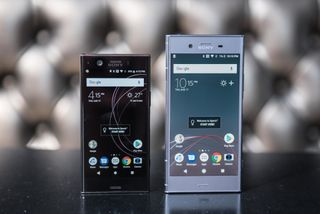 It's almost September, which means that Sony is readying another duo of phones for the consumer market. And as Sony is wont to do, these phones are nearly visually identical to the ones that came before it.
Don't think, from my dour tone, that I don't respect this decision since Sony appears to be moving in the right direction from a financial perspective, but it's difficult to view the company's output as anything more than a by-the-books consideration of what it believes a smartphone should be. In other words, with such consistency comes a bankruptcy of creativity.
This leads to me the two phones on display: the Xperia XZ1 and Xperia XZ1 Compact. The former is an almost-perfect hybrid of the Xperia XZ from this time last year and the Xperia XZ Premium, which was unveiled at Mobile World Congress in March. The latter, the first to bear the Compact moniker in the XZ line, shrinks the XZ Premium's qualities even further, and in doing so is sure to find a niche amongst smartphone users exasperated by the "bigger is better" trend in smartphones these days.
Being miniature versions of the Xperia XZ Premium, these phones share much of that phone's internal specifications, including a Snapdragon 835 processor, 4GB of RAM and its MotionEye camera technology, though here we have a few software improvements. Speaking of software, these phones launch with Android 8.0 Oreo, and it's likely that when the XZ1 comes out on September 19 that it will be the first new handset to ship with Google's new version of Android.
Sony Xperia XZ1 + XZ1 Compact specs
Starting with the designs, the XZ1 eschews the shiny, scratch-prone glass of the XZ Premium for metal, which is more resilient and hides fingerprints a great deal better. If you've used any phone in the X or XZ line, this is a known quantity: smooth, brushed aluminum in a variety of colors (each phone launches with four hues) with LCD panels and dual front-facing speakers. The XZ1 Compact, on the other hand, is made up of a beautiful glass-fiber body. For what it's worth, the XZ1 is slightly less boxy than the XZ; you can't stand it up on its own anymore, given to a slight curvature of the perimeter bezels. The XZ1 Compact, on the other hand, is deliciously squared-off, and completely fantastic to use in one hand.
Like all Sony phones of recent memory, the company is not conforming to the trend of minimizing bezels. Instead, it's doubling down on dual front-facing speakers, which in this case are some 50% louder than in previous X-series phones. While I only listened to them for a few minutes in a bustling outdoor testing area, they did sound particularly crisp for phone speakers.
The new XZ1s support a stupefying mélange of audio acronyms and marketing terms, including DSEE HC (audio upscaler), LDAC (Sony's new high-quality AptX-beating audio codec supported in Oreo), Clear Audio+ (a super equalizer of some sort), S-Force Front Surround (louder-than-average dual speakers).
Similarly, on the video side, you'll see things like X-Reality for mobile and TRILUMINOS, which purport to improve video and photo quality, respectively. Over the years I've tried to determine whether these terms are actual differentiators or just variants of common algorithms, codecs and optimizations that are employed by nearly every Android manufacturer, and have come up with this: Sony makes some very good speakers, receivers, and televisions, and some of that innovation does trickle down to its mobile products, but phones can't defy physics. No phone speaker is ever going to be as good as a set of towers, nor a camera as versatile as a DSLR, acronyms or no.
Sony has once again chosen power consumption over density with these screens; the XZ1 has a 5.2-inch 1080p LCD panel, so this year it's certified for HDR playback, which should be nice for the handful of people that watch Netflix on their phone. The XZ1 Compact, on the other hand, keeps things familiar with a 4.6-inch 720p LCD panel; the Xperia Z3 Compact had the same screen specs when it debuted three years ago.
Things get interesting when we turn our attention to the cameras. On the rear of both these phones is Sony's nascent Motion Eye technology, which pairs a 19MP 1/2.3" Exmor RS sensor with the company's now-famous f/2.0 G Lens and a bunch of extra RAM to process photos really quickly, or take stupid-cool bursts of 960 fps slo-mo video.
On paper that's nothing new compared to the Xperia XZ Premium, which could take some excellent photos but was mainly underwhelming compared to rivals like the Pixel, HTC U11 and GS8, but Sony has some new software features in this phones (that may come to older models with an update). Autofocus burst is likely going to be the most useful of the bunch, as it lets the camera lock onto a moving target without losing focus; think trying to capture a moving kid or a dog or a person walking towards you.
Predictive capture has been beefed up, too. Instead of just taking a photo a few seconds before and after the shutter is pressed, Sony now looks out for specific bursts of motion along with emotions on peoples' faces like smiles, to determine when to start capturing. We've yet to see this in action, but it looks promising.
We have, however, seen another crazy-cool camera feature in action. It's called 3D Creator, and it's one of the most insane things I've ever seen on a smartphone. It uses the camera to capture a full 3D model of something, be it a person's head or face, a piece of food or, well, anything you can imagine. There are four distinct settings, and in the case of a human it requires him or her to sit still for about 90 seconds while someone else uses the phone's on-screen guide to walk around and capture as much detail as possible.
I was skeptical at first, but the results induced actual shivers in me; using a phone with a single sensor capture such exquisite detail was exhilarating and slightly terrifying. Right now, the models can't be used for much; Sony says they can be turned into videos or GIFs and shared using messaging apps, and soon you'll be able to submit them to 3D printing companies to get your very own bust printed (!!).
Eventually, though, Sony sees plenty of augmented and virtual reality applications for 3D Creator, while gamers will look forward to having ultra-realistic avatars in their favorite RPG.
What's interesting about these new features is that nothing precludes them from being backported to the Xperia XZ Premium given that they share the same hardware foundations, but Sony won't comment on whether that will happen with an upcoming Oreo update.
Where the phones' cameras differ is on the front: the Xperia XZ1 has a 13MP sensor with a "normal" 22mm lens — wide, but not fisheye wide. The XZ1 Compact has an 8MP sensor with an 18mm-equivalent lens, offering a 120° field of view. The Compact also has half the amount of storage as the XZ1: 32GB compared to 64GB.
Curiously, both phones have the same-sized 2700mAh battery, owing to a much thicker chassis on the Compact than the taller and thinner XZ1. Battery life should be nearly identical, too, given that they share the relatively efficient Snapdragon 835.
Of course, all this is likely for naught for U.S. buyers if the phones once again omit fingerprint sensors, and unfortunately, I have to be the bearer of bad news. Once again, Sony isn't saying why (though we probably know the reason), but neither the Xperia XZ1 nor the XZ1 Compact will have a functioning fingerprint sensor. These models sold in other countries will, though, and they should be relatively easy to import.
One potential wrinkle in that plan, though, at least for prospective XZ1 Compact buyers, is that Sony has certified the phone to work with T-Mobile's VoLTE and VoWiFi services, making it at least partially more enticing than its larger counterpart. The move doesn't mean that Sony will once again go back to selling phones at U.S. carriers, but the unlocked variant sold on Amazon and elsewhere should just work with T-Mobile once a SIM card is installed.
So when can you get these phones? The Xperia XZ1 will go on sale in the U.S. on September 19 for $699.99. For the Xperia XZ1 Compact, you'll have to wait a little longer: until October 4 in the U.S., but you'll be paying a slightly more reasonable $599.95 for the privilege.
Ultimately, buying a Sony phone today feels, despite being powerful and crammed full of technology, like taking a step backward. It's ironic then that these are the first devices to actually ship with Android Oreo out of the box, even though Sony obfuscates so much of its beauty that it may as well be running KitKat. Even with fingerprint sensors, these phones feel pedestrian, though they check all the right boxes. While the fan in me wants the XZ1 Compact, my workflow has moved onto bigger screens and better cameras. My life relies on them, in fact.
Maybe next year.
Get the Android Central Newsletter
Instant access to breaking news, the hottest reviews, great deals and helpful tips.
Daniel Bader was a former Android Central Editor-in-Chief and Executive Editor for iMore and Windows Central.
Yeah, it is. It's a cool concept but no thank you.

Do both of these have a headphone jack? I can't quite tell from the provided shots (though I can gather that if they do have one, it's not on the bottom of the phone).

The Compact, the V30 or Pixel 2 XL?

Pixel 2 XL, V30 and XZ1 in that order

V30, Compact and Pixel 2 XL in that order

Xperia XZ1, pixel 2 and Maybe lg v30.

I'd leave the Pixel 2 off the list to be honest. It doesn't have a headphone jack and uses a goofy 2:1 resolution.

I'm confused is the xz1 a xz premimum upgrade or a step below it. I have the xz premium and been very impressed with it so far and for me prefer the Sony style to what LG and Samsung are doing.

Wow that it will have VoLTE (and VoWiFi) on T-Mobile. That's really nice to finally see. It makes me wish that I was on that network again.

I had that on Z3 I think, least the wifi calling. I ordered a t-mo variant though.

Yeah that sounds right. It's been a while since a Sony phone had this.

Nothing new in that, may non carrier unlocked phones work perfectly on T-Mobile with WiFi calling, VoLTE etc. That's why I prefer T-Mobile, will get good experience without having to use the sub par crappy carrier devices.

This is true but this is new for Sony. All of the Sony phones that have come out after the T-Mobile Z3 haven't been supported for those two things.

I love Sony stuff. Phones, Tablets,.. Maybe it's the little "tink" sound it makes as a touch sound, but seriously, the longer this design goes the less I consider these phones.
I know everyone complains about the design,.. but it's looking especially dated now. I heard rumors of a bezeless design and really got my hopes up (even though I just bought the G6), I would have made the trade in a heartbeat.

I went the other way I had a g5 and loved the look of the xz premium over the g6 and having a camera button was a big plus for me. Having this phone for a month now I have to say I prefer the Sony ui over LGs and the phone is very very quick and the battery life is amazing to. I prefer the design of the Sony phones to but it is each to there own.

Well, I didn't directly switch from Sony to LG. The Sony phone was an impulse buy after enjoying the Tablet so much, I stopped using my HTCM 8 for the Sony. I only paid like $250 for it off amazon.
I still use all of them though lol.
G6 is my daily Driver
The Z3 is on my work desk, as I use it as an FM radio
Z2 tablet on my coffee table
The M8 is in the bathroom, streams I Heart in the morning, and emails when I'm... not taking a shower.

Haha fair enough I think it's mad how different phones are but I do think this year Sony HTC LG and others have stepped it up but getting people to switch from Samsung or Apple is not going to be easy for me the lack of headphone jack on the u11 put me off LG g6 only having 32gb storage put me off that and that's why I went for a sony. I've been impressed so far though I was also a windows mobile users until 2 years ago and I also feel the Sony camera and feel of the phone is close to what my 950xl felt like. It's each to there own though and I do believe no matter what phone you get you will enjoy it esp the high end ones.

I am digging the designs of both of these Sony mobile phones. Never owned a Sony mobile phone but one of these may be my first. Throw the Blackberry HUB and VKB on and I might be good to go. ☺

Actually they somewhat confirmed that the xz premium will get 3d creator https://twitter.com/SonyMobileNews/status/903233326827405313

Would like to hear more details about camera app shutting down during long duration video shooting.. Is that still the case? I returned my z compact (notorious sd810 chip) for the same reason.. would love to try the compact version again. thx!

Sony fell off Years ago. Does anyone even care about Sony Phones? Their Phones should be sold at K-Mart or Sears.

Er, yes. Plenty of people do, otherwise they wouldn't make phones with the same designs anymore. I like my excellent X Compact, thank you very much!

Xperia X user here. I'm getting almost five days of battery life on average. SUPER happy with this phone.

Yeah! I have the Xzs and it is a pretty awesome phone! I like it a lot actually. I was hoping for a little bit of change, but honestly I like that it stands apart from the rest.

Somebody must be buying them, they haven't shut down the phone division yet.

Wow what kind of deal with the devil they have signed that they still can't enable fingerprint scanner out of the box :)

I wonder that too, who the hell has that patent?

I'm very interested to see these pop-up on Amazon and how quickly they receive some price cuts. Nice-looking phones, overall.

Amazon is no place to find a deal, plus you'll have to pay the sales tax which will negate any savings. The best bet is Ebay, Mercari, or B&H. Unless you live in New York in which case B&H will have to charge sales tax as well. These things start at kind of high prices too, it may take 6 months to a year to get any decent savings.

It's nice to see them adding wifi calling and VoLTE. It would be nice if Sony would add those features to the XZ premium. Maybe they will with a software update

I must be alone but I'm very excited for the compact. Last year's x compact is fast and smooth but was missing key features. This year the compact is a full flagship with the processor, more ram, waterproof and dual front speakers that are supposed to be 50% louder. I guess this is a niche device but I love the series.
Btw, i was shocked that they are shipping with Android O. Thats great!

will the international unlocked version work with T-Mobile's VoLTE?

Yes, this is what I was interested in. A new compact phone with flagship specs. This seems like it will do nicely.

While other manufacturers are innovating and changing their designs, Sony is making their phones like Walkmans

Wifi calling! I wonder why they didn't certify both though? Anyone know how easy Sony phones have been to root or tinker with in the past? I have been spoiled by using OnePlus and Google phones in that regard. It's going to be a tough decision on whether or not to replace my Pixel with one of these two phones. The WiFi calling is something i need though so that may be the deciding factor.

Very easy. Sony is great at providing source code and easy unlocking. Hell, for some devices they even release AOSP builds on their own. The only major problem is that the proprietary DRM firmware for the camera is lost when you unlock, reducing camera quality. I *think* it can be backed up beforehand, but I'm not sure.

Actually, the 3D model capture seems like a big deal for 3D printer owners. It would be awesome if someone could do a comparison between more refined scanners (or even Google Play apps) to see how precise and printable-ready those scans are. Aside from that, same old same old from Sony.

I wonder why Sony continues to use a power button mounted fingerprint sensor in all of their phones and just omits this on US released phones, instead of just putting it on the back and not have this problem. This is like the 3rd iteration of Sony phones that have had this conundrum, yet they do not act on it. Kind of like their attitude to their camera performance. They make the best camera sensors, but their own phones are well below par in the camera department compared to competitors year after year.

Do either one of these phones come in the mirror finish?

I would loved to get that compact.