Sony Xperia XZ1 and XZ1 Compact specs: Snapdragon 835, Motion Eye camera, and dual speakers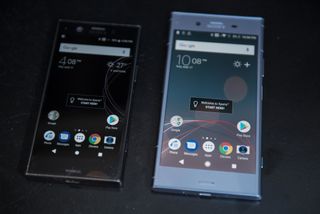 As Sony is wont to do — it's done it pretty much the same way since 2013 — it is giving its flagships a refresh during the IFA time period, and the Xperia XZ1 and XZ1 Compact are impressive distillations of the company's XZ Premium into smaller, cheaper packages.
Like the XZ Premium, the XZ1 and XZ1 Compact focus on audio and camera capabilities, with support for plenty of modern codecs and unique camera tricks that will be sure to turn an eye.
Unfortunately, U.S. buyers still have to contend with a lack of a fingerprint sensor, so there's that.
Swipe to scroll horizontally
Category
Xperia XZ1
Xperia XZ1 Compact
Operating System
Android 8.0 Oreo
Android 8.0 Oreo
Display
5.2-inch LCD, 1920x1080
Gorilla Glass 5
4.6-inch LCD, 1280x720
Gorilla Glass 5
Processor
Snapdragon 835 64-bit
Adreno 540
Snapdragon 835 64-bit
Adreno 540
Storage
64GB
32GB
Expandable
microSD
microSD
RAM
4GB
4GB
Rear Camera
19MP Exmor RS, hybrid AF
960 fps slow-mo, 4K video
19MP Exmor RS, hybrid AF
960 fps slow-mo, 4K video
Front Camera
13MP f/2.0 22mm wide-angle
8MP f/2.4 18mm super wide-angle
Connectivity
Wi-Fi 802.11ac, Bluetooth 4.2, NFC, USB 3.1, GPS
Wi-Fi 802.11ac, Bluetooth 4.2, NFC, USB 3.1, GPS
Battery
2700mAh
2700mAh
Charging
USB-C
Quick Charge 3.0
Qnovo Adaptive Charging
USB-C
Quick Charge 3.0
Qnovo Adaptive Charging
Water resistance
IP68
IP68
Security
Fingerprint sensor (except U.S.)
Fingerprint sensor (except U.S.)
Dimensions
148 x 73.4 x 7.4 mm
129 x 65 x 9.3 mm
Weight
155 g
143 g
Network
1Gbps (Cat16 LTE)
800Mbps (Cat15 LTE)
Colors
Black, Warm Silver, Moonlit Blue, Venus Pink
White, Silver, Black, Blue, Twilight Pink
Get the Android Central Newsletter
Instant access to breaking news, the hottest reviews, great deals and helpful tips.
Daniel Bader was a former Android Central Editor-in-Chief and Executive Editor for iMore and Windows Central.
Still no AMOLED, still no OIS, still no wireless charging. Well done, Sony. I've been writing this since 2014.

AMOLED isn't better than LCD, it is a choice. Both have pros and cons.

With the pros of AMOLED outweighing the pros of LCD. and yes, it is better. AMOLED screens are quantifiably better, not just theoretically better. They outperform LCDs on battery efficiency, RGB reproduction and brightness levels.

True , they are way more power efficient and brighter.
But please explain, how is the Samsung's diamond pentile sub pixel structure (green dominant) better in RGB color reproduction than standard straight line. they can only tweak calibration to get it close to true colors.

Marketing. It's supposed to be a charging technology that helps preserve the life of your battery by reducing the degradation caused by the daily charging of the phone. But in reality it's a completely unproven technology that, just like all other Sony marketing bullsh*t around their phones, is highly unlikely to actually work as advertised.

Wrong. It's technically accurate as far as how it preserves battery life by not over charging your device overnight. Plus it also actually works really well. I have it on my Sony XZ premium and it does exactly as advertised.

Wait, how long have you had an XZ to be able to say that it's battery hasn't degraded over time?

The XZ Premium hasn't been out for 6 months. You DO NOT have any proof of your claim since you should only see the benefits of this after a couple of years. So...nice try Sony PR ;P

It learns your charging habits over time and charges your battery at full speed up to 90% and then slows down, finishing the charge at your predicted unplug time. This prevents overcharging and should help the battery age better

From a technical perspective, it's the right way to preserve battery life span. For my former HTC M8, I used an Aukey power bank which stopped charging 45 minutes after the phone reached full. No sitting for hours on the charger while I'm sleeping. That phone is 3 years old and still gets good battery life. My wife has an M8 also, but leaves it on the charger all night. Her battery had to be replaced after 2 years.

I find it interesting that the batteries are the same size, but nice to see that it isn't that much different between the two.

With an SD835 and a 720p display, that this is going to have battery life for days.

My dad would love the compact phone. Although I might try the z5 compact or X compact first just because they're usually cheaper.

I'd stay away from the Z5 Compact, for no other reason than than pretty much anything with an SD810 should be avoided.

I understand the sd810 was poorly optimized and overheats, but does it still do bad on 720p device with 2gb of RAM?

The X Compact is a nice phone but unless he's a manual mode kind of guy, the camera can be hit or miss. Otherwise, it runs a lot cooler than the Z5 Compact.

Even on manual mode, the Compact camera will fight you all the way. Xperias are terrible for anyone who knows the bare minimum about photography, unfortunately (and frustratingly).

My dad isn't too tech savvy, he mostly uses it for browsing and calls. He just prefers small phones, which is why he went with an iPhone SE instead of the other models.

Go with the X Compact. It will get Android 8.0 (unlike the Z5C) and it doesn't overheat because of the chipset (like the Z5C with its Snaptoaster 810).

God WHY are Sony phones always so expensive

Since they have an SD835 and Android Oreo 8.0, shouldn't their Bluetooth version be 5 instead of 4.2?