Sony Xperia XA, X and X Performance specs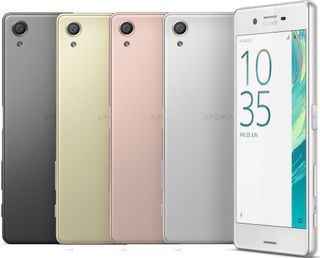 Sony's latest line of smartphones, the X series, contains three different models, the Xperia XA, Xperia X and Xperia X Performance, with slightly different internals. Overall, they are all pretty similar, with some minor internal differences. You'll find the best specs in the Xperia X Performance, though aside from the processor and waterproof capabilities, there isn't much that stands out.
Let's take a look at how they all compare:
Swipe to scroll horizontally
Category
Xperia XA
Xperia X
Xperia X Performance
Operating System
Android 6.0 Marshmallow
Android 6.0 Marshmallow
Android 6.0 Marshmallow
Display
5-inch 720P HD
5-inch Full HD 1080P
5-inch Full HD 1080P
Processor
MediaTekHelio™ P10
Qualcomm Snapdragon 650
Qualcomm Snapdragon 820
Storage
16GB
32GB
32GB
Expandable
microSD up to 200GB
microSD up to 200GB
microSD up to 200GB
RAM
2GB
3GB
3GB
Rear Camera
13MP with Exmor RS
23MP with Exmor RS
23MP with Exmor RS
Front Camera
8MP with Exmor R
13MP with Exmor RS
13MP with Exmor RS
Networks
LTE (4G), LTE Cat4, GSM GPRS/EDGE (2G), UMTS HSPA+ (3G)
LTE (4G), LTE Cat6, GSM GPRS (2G), UMTS HSPA(3G)
LTE (4G), LTE (4G) Cat9, GSM GPRS (2G), UMTS HSPA (3G)
Charging
micro-USB
Pump Express+ 2.0
micro-USB
QC 2.0
micro-USB
QC 2.0
Waterproofing
None
None
IP65 / IP68 dust-tight & water resistant, Capless USB
Battery
2300 mAh
2620 mAh
2700 mAh
Dimensions
143.6 x 66.8 x 7.9 mm
143 x 69 x 7.9 mm
143.7 x 70.4 x 8.7 mm
Weight
138g
156g
165g
Get the Android Central Newsletter
Instant access to breaking news, the hottest reviews, great deals and helpful tips.
Jared started off writing about mobile phones back when BlackBerry ruled the market, and Windows Mobile was kinda cool. Now, with a family, mortgage and other responsibilities he has no choice but to look for the best deals, and he's here to share them with you.
Price and release date? Posted via the Android Central App

Yep, also want to know the price as well. Posted via the Android Central App

What a disappointment. Would expect more from a company trying to stay relevant. Posted via the Android Central App

June release = Sony screwing themselves over again. Way to late. S7, G5 and whatever HTCs flagship is will be out well before then. Makes me think they felt pressure to announce at MWC so people at least knew they had something coming out and they didn't get steam rolled. Sony always makes the dumbest decisions... And I am a Sony fan. Posted via the Android Central App

I couldn't agree with EVERY WORD you just said more lindsey! I'm a huge fan of Sony too, and it frustrates me that IMO they make THE BEST smartphone in the world, but they keep f'ing up how they market it. Also, I don't really care about OIS, but why is it that HTC, Samsung and Apple all have it on their cameras with Sony's camera sensors on them, but Sony doesn't? It makes no sense. Other than that, it's the perfect phone really for a lot of reasons. But marketing.............THAT'S where Sony really fails. There's absolutely NO good reason to release the X phones that late. I bet there are a BUNCH of people who might've been swayed to get one of the X phones had they released it at least by now. But instead, these people, who probably don't want or simply CAN'T wait, have to if they want it. So what will many of them do? Give up and buy an S7, an HTC 10, or a G5. STUPID! lol Sony could be KING of the world (even the U.S.) if they'd just get their heads out of their asses! lol Keep the fingerprint sensor even on the U.S. version of the X Performance (and X), get with ALL FOUR major carriers, and start advertising more already!! Get some big actors too.........George Clooney, Bradley Cooper, Jennifer Lawrence! The last 2 already HAVE a working relationship with Sony!! They could at least start by televising that great ad with the Brazilian visual artist ( http://blogs.sonymobile.com/press_release/rafael-mantesso-is-first-photo... ) instead of confining it to the internet! It's a little nicer & cooler than their usual ads (which are fine too, but still lol), and I think people would like it if they saw it. The other Sony departments could chip in too since how does Sony Mobile succeeding NOT help the Sony name overall?!

5" snapdragon 820 with a 1080p screen?? Win!! Posted via the Android Central App

I agree exactly what I wanted till I compared it's size to say the s7. The x is larger. Which is upsetting.. Posted via the Android Central App

At least for a good reason - front stereo speakers. VZW Moto X DE/N7

I agree. But I wish they stuffed a 3000 mAh battery into the X performance.

Yups it good on the other spec except battery. Posted via the Android Central App

Sony's battery life is awesome. I would know, my wife owns the Z3. Nexus 6

Z3 has a 3100 mAh battery

I do wonder where this falls in line with their Z series though.. Kinda weird Posted via the Android Central App

I would compare it with Samsung's A line of phones. The XA would be like the Galaxy A3, the X would be the A5, and the X Performance would be the A7. The Z and S lines are still the flagships though. Posted via the Android Central App

As long as it does come out in the US by summer, and not postponed like they did with Z5, I'll be more than happy to get the X Performance. Posted via the Android Central App - LG G4

I think I may have to wait too man. I'm on an old z3c right now bit don't want to jump on the LG Samsung bandwagon. Sonys skin is so much less cluttered Posted via the Android Central App

Sony had no business having this press conference if they can't release these phones for FOUR MONTHS. And they're on display and seem ready to go. WTF Sony, screwing up in a big way, again...

not much of a difference bt the X and XP

There really isn't. I feel like they could have done away with the low end XA, and made the X a bit cheaper by dropping the fingerprint scanner, maybe going with 2gb or ram instead of 3, that sort of thing. That way they'd have one less phone to maintain, and a more clearly defined mid range phone. Posted via the Android Central App

Looks like the Xperia X Performance is the no-brainer here.

The X Performer is a beautiful device with KO specs. Perfect size and great looking. I would get it but no one knows if it will have US Bands or when it will be available.

Of course it will have US bands. Sony phones typically have every single GSM band imaginable. It won't work on Sprint or Verizon, though.

I thought Snapdragon 820 supports Quick Charge 3.0? Specs not updated?

It's possible Sony decided not to include it, like they didn't include 2.0 for most Z3 variants except Japan.

Does the X performance have ir blaster?