The Sony Xperia 1 III is one of the last flagship phones for hardware fanatics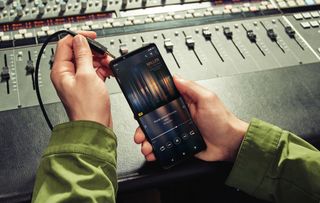 (Image credit: Sony)
Sony's smartphones don't get a lot of love these days, but if you ask me, they're incredibly underrated — in fact, the recently announced Xperia 1 III might end up being one of the best Android phones of 2021. Aesthetically, this phone looks like any of its predecessors, with roughly the same squared-off design and extra-tall aspect ratio. However, under the hood, this looks to be one of the few remaining high-end phones that cater to fans of both new and old features.
The Xperia 1 III has an impressive spec sheet, helmed by the latest and greatest Snapdragon 888 processor, along with 12GB of RAM and 256GB of UFS storage. That storage is expandable via microSD, something that's become increasingly difficult to find in high-end phones over the last year, and as a bonus, you even get a 3.5mm headphone jack for wired headphones.
As is always the case with Sony's flagship Xperia line, the Xperia 1 III also features a 4K display in the cinematic 21:9 aspect ratio. For the first time, that display is 120Hz with a 240Hz touch sampling rate that ensures the phone will feel ultra-responsive — something that'll particularly benefit competitive gamers.
This mix of modern and legacy hardware accoutrements makes the Xperia 1 III immediately compelling to a particular subset of users who have felt let down by the dwindling feature set on more mainstream phones like the Galaxy S21 Ultra. Especially with LG's departure from the mobile space, it's crucial to have more worthwhile competition offering pro-grade options in the high-end space.
The Xperia 1 III's perks don't end with a simple headphone jack and microSD slot, though. Instead, it undercuts even Sony's pricier offering, the Xperia Pro, by packing extremely similar video monitoring tools. With either phone, you can connect your dedicated mirrorless or cinema camera via HDMI (in the case of the Xperia 1 III, you'll need an HDMI to USB-C adapter) and take full advantage of the 4K HDR display to get a real-time look at your footage, and even stream or upload your footage over 5G.
This is a huge benefit for videographers, who could potentially replace their bulky and expensive external monitors with this slim, pocketable, and of course, always-connected phone. You don't get every feature you might find in a dedicated monitor; I'd love to see support for features like histograms, false color, and focus peaking independent of the camera the phone is connected to. But this is exactly the kind of niche feature that appeals to someone like ... well, me.
Of course, the cameras on the Xperia 1 III itself are incredibly capable, as well. We're looking at a triple camera arrangement (quadruple if you count the 3Di time-of-flight sensor) with a 12MP primary sensor behind a 24mm lens, along with a 16mm 12MP ultra-wide and a first of its kind, a variable telephoto camera with physically adjustable optics that allow you to switch between native 70mm and 105mm focal lengths. This system covers a lot of ground without relying heavily on digital zoom, which is always good to see, and as you might expect, Sony's doing quite a bit under the hood to make the camera experience even better.
Just like the a7 III I shoot with every day, the Xperia 1 III has eye autofocus for both humans and animals — if it works half as well on the phone as it does on my mirrorless camera, it'll make grabbing crisp action shots of your dog a breeze. I'm moving two blocks from a dog park next week, so ... I'm definitely excited to give this feature a try. There's also continuous object tracking for both photo and video, meaning even after the Xperia 1 III has focused onto a subject, it'll stay locked on as long as the object is in the frame.
So far, my only problem with the Xperia 1 III is that Sony hasn't given any word on U.S. pricing or availability, other than "early summer." I have no idea when to expect the phone, but if last year's Xperia 1 II is any indicator, it'll likely cost around $1,200. That's no small amount, but for better or worse, it's about on par with the rest of the flagship market these days. On the bright side, that's still only about half the price of the Xperia Pro.
Here's hoping we'll have a review unit sooner than later — this will definitely be a phone to keep an eye on if you're into photography, videography, wired audio, or even gaming.
Get the Android Central Newsletter
Instant access to breaking news, the hottest reviews, great deals and helpful tips.
Hayato was a product reviewer and video editor for Android Central.