Sony shipped less than 1 million Xperia smartphones in Q2 2019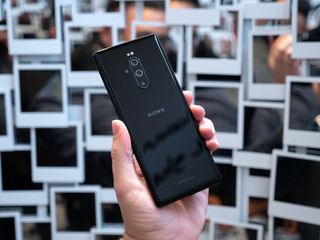 What you need to know
Sony shipped just 900,000 smartphones between March 31 and June 30 this year.
Revenue from the smartphone business fell by 15% compared to the previous quarter.
Sony's operating profit went up to $2.1 billion (231 billion yen), an increase of 18% compared to last year.
LG wasn't the only big consumer electronics company that struggled to sell its phones during the second quarter of the year. Japanese conglomerate Sony also saw its smartphone sales decline by 15% compared to the previous quarter. More importantly, the company shipped just 0.9 million smartphones between April and June this year, slipping below the 1 million mark for the first time.
The smartphone business, which is a part of the company's Electronics Products & Solutions segment, brought in $4.45 billion (483.9 billion yen) in revenue during the quarter, down from $5.23 billion (568.2 billion yen) a year earlier. While the company had forecasted in April that it would sell 5 million Xperia smartphones this year, it now expects to sell only 4 million units. Last year, the company shipped 6.5 million phones.
As always, the company's imaging division performed well during the quarter, with sales increasing by 14% year-on-year. Operating income also went up from $267 million (29 billion yen) to $455 million (49.5 billion yen). The increase in operating income has been attributed to strong sales of image sensors for smartphones.
PlayStation 4 sales also witnessed a higher than expected drop during the quarter, with shipments of just 3.2 million units. As a result, Sony has downgraded its shipment forecast for the whole year from 16 million to 15 million. The Game and Network Services segment clocked sales of $4.21 billion (457.5 billion yen) in Q1 FY19, down from $4.34 billion (472.1 billion yen) last year.
Sony Xperia 1
Sony Xperia 1 is currently the only flagship Android smartphone to feature a 4K OLED display with an extra-tall 21:9 aspect ratio. The smartphone also offers a capable triple camera array, IP68 water and dust resistance, as well as a near stock build of Android 9 Pie.
Android Central Newsletter
Get instant access to breaking news, the hottest reviews, great deals and helpful tips
ALL phone makers will be shipping less phones from this point, forward. I see no reason why a new phone is needed with me and my friends unless it's lost, broken or battery life dwindles to nothing. This commoditized market is about to have a re-balance.

Do you think that entry and midrange level devices will occupy a larger share of the market versus flagship ones?

amm well is obvius, Sony left some contries, the number is expected...but LG?

Ouch! That is BlackBerry Mobile territory...I thought Sony devices are quite good. The sample devices I managed to try out in stores over the past few years, were, I thought well designed, responsive, with good specs, good battery life and a good UI and performance. Am I missing something? Are Sony devices, especially the Xperia line, overpriced?

Good specs and good battery life? You must be joking! Xperia phones = Overpriced, underspecced, and still exist now because of legendary Japanese stubbornness and a modicum of ultra loyal fanboys (you can find them on Xperia Blog). It's a farce when other phones using the same Sony camera sensors take much better photos than an Xperia phone. The Android skin on Xperia phones is lightweight and not bloated compared to some other brands, I give credit where credit's due. Sony's mobile business has been on a decline since 2014. Now we wait for the other shoe to drop: Sony Mobile calling it quits for good, maybe giving Xperia the 'Vaio treatment'.
Android Central Newsletter
Get instant access to breaking news, the hottest reviews, great deals and helpful tips
Thank you for signing up to Android Central. You will receive a verification email shortly.
There was a problem. Please refresh the page and try again.