LG smartphone sales dropped by 21.3% YoY in Q2 2019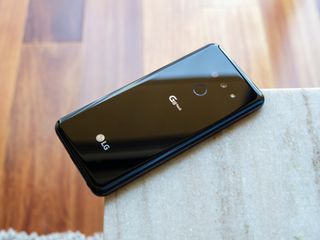 (Image credit: Android Central)
What you need to know
LG Electronics saw consolidated sales rise to $13.4 billion during Q2 2019, but operating income was down 15.4%.
LG's smartphone sales during Q2 2019 were 21.3% lower compared to last year.
The company has blamed the lower sales on stagnant demand in the smartphone market and aggressive pricing by Chinese smartphone makers.
On July 30, LG announced its financial results for the second quarter of 2019. The company registered record sales during the April-June period this year, with consolidated sales going up by 4.1% to $13.4 billion. Operating income, on the other hand, was down 15.4% compared to the same period last year. While the company as a whole did quite well in the second quarter, LG's smartphone business continued to struggle.
The company's mobile communications division record sales of $1.38 billion during the period, which is 21.3% lower compared to last year. LG says the sales dropped due to the stagnant demand in the smartphone market and the continued aggressive pricing by Chinese smartphone makers.
When compared to Q1 2019, however, sales increased by 6.8%. Despite that, the business reported an operating loss of $268.4 million, mainly due to higher marketing investment for new models and costs related to relocation of smartphone production to Vietnam.
Even though things don't appear very optimistic right now for LG's smartphone division, the company is hopeful that things will get better in the third quarter. The company believes the introduction of new mass-tier smartphones, such as the new W-series for the Indian market, will result in improved performance next quarter.
Additionally, LG is hoping that the growing demand for 5G products will also contribute to higher sales in Q3 2019. LG currently offers only one 5G-enabled smartphone, the V50 ThinQ 5G. It went on sale in the U.S. last month and happens to be slightly more affordable compared to most other 5G smartphones that are currently on sale.
Android Central Newsletter
Get instant access to breaking news, the hottest reviews, great deals and helpful tips
Surprise! People holding on to phones longer and other companies competing better. You gotta make something people really want or need and outdo the competition.

It's not about them outdoing the competition it's just the fact that most platforms are in for huge Samsung and Apple propaganda. And you can't count Asian brands because the USA finds a way to make it seem that they're spying and make them lose profits

When did LG stop being Asian?

LG devices are nice and all but the fact that they abandon them after only a year is terrible. I know 90% of people who own LG devices don't even know(or care) the version of Android they're running. For those of us that do care about updates to the latest versions know that LG is infamous for slow updates, very slow. I know the subject here is about sales and profit margins. Just sucks cause they do have nice devices. I have a V40 bit will soon upgrade to a one plus. Only thing holding me back it is not water resistant.

Last LG phone was the G6. No updates. It just felt underwhelming especially when you have the Samsung S8 side by side.

LG needs to start competing from the upper mid-range on down with compelling prices. They shouldn't just keep running the same tired old devices either. It's time for a fresh new lineup. They should also realize their competition is OnePlus and Motorola at least in the USA. Stop going head to head with Samsung for the high end market. LG should aim for the $200-$599 market but give great specs.

LG is the next HTC, I've been saying it for the past couple of years. There's no place for them in the market because they don't get it.

I tried a V30 a while back, and returned it after a week because of its terrible camera...

I love my v30 and would love tp get another LG next month when I upgrade but there does not seem to be any available in the uk.
Android Central Newsletter
Get instant access to breaking news, the hottest reviews, great deals and helpful tips
Thank you for signing up to Android Central. You will receive a verification email shortly.
There was a problem. Please refresh the page and try again.