Sony posts strong Q4 profit, but smartphone business continues to struggle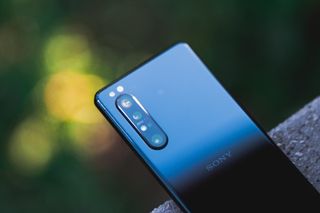 (Image credit: Hayato Huseman / Android Central)
What you need to know
Sony shipped just 0.4 million Xperia phones in the fourth quarter of the fiscal year 2020.
It shipped 2.9 million phones in FY2020, down from 3.2 million units in the previous year.
Despite falling sales, Sony is still not ready to give up on the smartphone market.
Sony today announced its financial results for the fourth quarter of fiscal year 2020. The company reported an operating profit of 66.5 billion yen ($610.8 million) in the March quarter, up from 35.4 billion yen during the same period a year earlier.
The Japanese tech giant could only ship around 400,000 smartphones in the January to March period, down from 1 million units in the previous quarter. While Sony shipped a total of 3.2 million Xperia smartphones in the fiscal year 2019, shipments declined to 2.9 million units last year. Although Sony admits that its mobile communications business isn't doing well, it is yet to hint at an exit from the smartphone market.
While the company's own Xperia phones aren't finding many takers, the success of Apple's latest iPhones gave Sony's image sensor division a big boost in the last quarter. However, the loss of Huawei as a client is expected to have an impact on the business unit in the near future. Sony is also facing increased competition from Samsung, which is soon expected to announce its first 200MP camera sensor for smartphones.
Unless Sony introduces massive changes to its smartphone strategy, it is unlikely to be successful in turning around the mobile communications business. However, its latest flagship phone, the Xperia 1 III, proves that the company is capable of making phones that can challenge the best Android phones from Samsung.
Get the Android Central Newsletter
Instant access to breaking news, the hottest reviews, great deals and helpful tips.
Maybe if they advertised here in the US, or invested in some type of carrier access/sales I have no doubt that would help! It's not like Sony is an unknown name brand! The second issue is announcing a phone, getting people all excited, and then not making it available to purchase for several months! Most people are the same when it comes to tech purchases. We get the itch and we want to scratch that itch. Who gets an itch and waits three months to scratch it? People lose interest, forget, or just move on and get something else to scratch their itch for a new toy! I wonder if Sony ever reads these types of comments to make a change?

This isn't in the least bit surprising. They release way too late in their device's life cycle. The Mark III looks poised to be 5-7 months behind the S21 launch. With the Mark II, they were 4-5 months late, and a staggered lineup launch had the Xperia 5 II way behind that. On the plus side, the non-flagships aren't seeing a delayed release, but the Xperia lineup as a whole is still way behind Samsung, and even others like OnePlus, Oppo, and Vivo. To boot, Sony's devices are priced to the moon, so it's hard to recommend them to anyone who isn't in their niche. That niche should grow a little this year though. With LG bowing out (and barely trying last year, in terms of high-end releases), Sony remains as one of the few flagship sellers that will give users a headphone jack. They should pick up a few sales, since they've got the only "everything and the kitchen sink" phone left on the market, in terms of hardware features. Personally, I would be interested in the Xperia 1 III if the price isn't outrageous. I'd like to upgrade from my G8, even if it's only for 4-6 months until a new Duo entices me. However, after LG launched the G8 under $600 (thanks to launch day sales), I couldn't see myself meeting Sony at their $1,200+ price point for the Xperia 1. That they took Qi out of the Xperia 5 just feels like a slap in the face to anyone without more money than sense, as they'll probably still want $900+ on that thing--like with OnePlus, I'm not going to pay a premium price for something missing basic comfort features. I hope Sony gets some more customers without LG to split the "companies who can't get it together" sales, but they're going to keep struggling for relevance (especially in the US) if they keep wanting you to pay above Samsung prices while lagging way behind in their release schedule. If the Xperia 1 had launched in the January-March windows the Galaxy lineup usually does, I might have bought in. A summer launch leaves us close to the next Duo, Z Fold, and Z Flip, along with Apple's latest. You're also halfway to the S22, so you kind of end up feeling like Sony is selling you a device that's nearly outdated when it finally hits store shelves. That's gotta change.

Sales may be down, but if I'm reading the report correctly, the division was profitable. Sales really aren't as important as the money is. If they can survive on lower sales, then there's no reason they should waste money to try and grow it since they know that won't happen.