Sonos Arc vs. Samsung HW-Q90R: Which Atmos soundbar should you buy?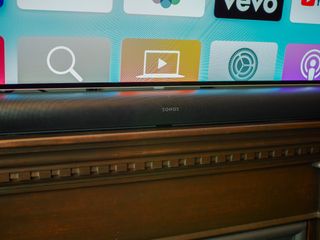 (Image credit: Daniel Bader / Android Central)
Sonos Arc
This standalone soundbar will make you forget that you don't have a full home theater with enough amplifiers, upward-firing drivers, and woofers to effectively play Dolby Atmos content. With Alexa, Google Assistant, and AirPlay 2 commands, you'll easily control your music from almost any device. Plus, Sonos' excellent EQ settings and TruePlay calibration will make sure the Arc is optimized for your home.
Sonos Arc
All-in-one soundbar saves space
Google Assistant / AirPlay 2 support
Excellent TruePlay calibration and EQ settings
Impressive bass despite lack of subwoofer
Night Mode, Speech Enhancement modes
Only one HDMI input, no pass-through
No Bluetooth connectivity
Calibration app is iOS-only
Samsung HW-Q90R Soundbar
This soundbar, subwoofer, and rear speaker bundle offers you true 3D audio and outstanding performance, without being difficult to set up. The HW-Q90R works best with Samsung QLEDs but thanks to its HDR/Atmos pass-through can still perform well on older TVs. With excellent AI for calibrating audio to suit whatever you're listening to, you almost won't miss proper room calibration.
Samsung HW-Q90R Soundbar
Excellent 7.1.4ch surround sound
DTS:X support
4K, HDR10 pass-through
Adaptive, Surround sound modes
Easy to set up subwoofer / rear speakers
No Google Assistant, AirPlay 2 commands
More expensive
No automatic speaker calibration
Do you prefer a soundbar that exceptionally mimics surround sound or a soundbar with accessories that actually surround you with sound? This question cuts to the heart of the duel between the all-in-one Sonos Arc and multi-speaker Samsung HW-Q90R, both excellent Dolby Atmos-compatible soundbars. They differ in key areas like voice assistant support, connectivity formats, and room calibration, but either would be an excellent addition to your home theater. This article should help you decide which best fits your needs and current devices.
Sonos Arc vs. Samsung HW-Q90R Calibration and performance
Sonos technically sells a subwoofer and discrete speakers that pair with the Arc, but they're fairly expensive. Thankfully, they're unnecessary, as the Arc is built as a standalone device with enough drivers to place "objects" of sound in a sphere around and above the listener. However, this depends in part on the size and echo of your living room, as well as how well you calibrate it to match the dimensions of the room.
Samsung doesn't provide any means of calibrating its soundbar to your home. Instead, you must carefully place the subwoofer and speakers in key places throughout your room. For example, the rear speakers should be placed at a 135–150-degree angle to the left and right behind your couch, equidistant so that their sound collides in the center of the ceiling just above the couch. If your room doesn't have the space for this configuration, you won't get the optimal Atmos performance. However, Samsung is generally excellent at providing straightforward step-by-step setup instructions, which should help make the process simple.
Some buyers will still prefer the Arc because it recreates the effects of a subwoofer and discrete speakers, even if you don't want to fit them in your space. This is thanks to the customizable EQ settings and Sonos' TruePlay app for calibrating sound. Unfortunately, this app only works for iOS, and Sonos has no plans to bring it to Android — shutting out a healthy portion of buyers from automating a complicated process. It is also important to acknowledge that a simulation of surround sound won't live up to the real thing for those who have experienced it in the past.
Calibration difficulties aside, let's move on to compare performance if both soundbars are set up correctly. With that in mind, the HW-Q90R wins the raw specs battle. With more channels, more upward-firing drivers, and an excellent 8-inch subwoofer, the HW-Q90R somewhat justifies its higher price tag and delivers excellent audio performance.
(Note: At launch, there was an issue with its wireless subwoofer and discrete speakers disconnecting from the soundbar, but as long as you update your drivers to the latest update, that issue should be resolved.)
Swipe to scroll horizontally
| Header Cell - Column 0 | Sonos Arc | Samsung HW-Q90R Soundbar |
| --- | --- | --- |
| Size of soundbar | 3.4" H x 45" W x 4.5" D | 3.26" H x 48.26" W x 5.35" D |
| Colors | Black, White | Black |
| Channels | 5.0.2 (simulated) | 7.1.4 |
| Number of drivers | 11 | 17 |
| Up-firing drivers | 2 | 4 |
| Subwoofer | Must purchase separately | Included, 8" wireless |
| Rear speakers | Must purchase separately | Included, wireless |
| Compatible audio processing formats | Dolby Atmos, Dolby Digital, Dolby Digital+, Dolby True HD, MAT | Dolby Atmos, Dolby Digital, Dolby Digital+, Dolby True HD, DTS:X, DTS Digital Surround |
| Compatible AV decoding formats | AAC, AIFF, ALAC, FLAC, MP3, MP4, M4A, OGG, WAV, WMA | AAC, AIFF, ALAC, FLAC, MP3, OGG, WAV |
| Connectivity options | Wi-Fi, Ethernet, Optical, HDMI | Bluetooth, Wi-Fi, Optical, HDMI |
| HDMI ports | 1 input | 1 output, 2 inputs |
| ARC | ARC/eARC compatible | ARC/eARC compatible |
| Video passthrough | None | 4K, HDR, HDR10 |
| Voice assistant compatibility | Alexa, Google Assistant | Alexa |
| AirPlay 2 | Yes | No |
| Room calibration | TruePlay app that only works with iOS | None |
| Multiroom support | Yes | Yes |
| Remote control | None (Sonos app) | Samsung OneRemote or Samsung app |
To be fair, the Arc is no slouch when it comes to sound performance. Its eight built-in woofers rival a subwoofer in bass volume. We found that it successfully recreated the surround sound necessary for Dolby Atmos. It also accomplishes this at a much lower price than the HW-Q90R.
Both soundbars also do an excellent job of altering your audio sources in real-time to improve performance. Sonos Arc comes with a Speech Enhancement mode to emphasize dialogue and a Night Mode that reduces sound intensity without limiting quality or audibility. Samsung HW-Q90R comes with three modes beyond Standard: Surround, which takes advantage of your rear speakers; Adaptive, which uses AI to emphasize certain audio channels based on the type of content, such as dialogue on news programs; and Game Pro to optimize gaming sounds so they appear to surround the player.
The compatibility war between Sonos Arc vs. Samsung HW-Q90R
The specs table above should give you a sense that both Sonos and Samsung were very thorough when it came to making their soundbars work with most content and devices. However, both the Arc and the HW-Q90R have their lapses, which should help you decide which will work with what you already own.
Both soundbars can natively run any Dolby content, from Digital to TrueHD to Atmos, yet only the HW-Q90R can handle DTS and DTS:X content. This primarily matters if you frequently play Blu-Ray or 4K UHD discs, as these cinema soundtracks often use the DTS format. Streamed content on Amazon or Netflix will only use Dolby, if anything, so the lack of Arc DTS support will only affect certain users.
For connecting your devices directly to your soundbar, the Arc lacks Bluetooth support, while the HW-Q90R lacks an Ethernet port. Bluetooth connectivity is an excellent way to avoid overtaxing your Wi-Fi network and avoid dropped connections between your devices and your soundbar. An Ethernet port gives your soundbar a faster internet connection, letting you stream music directly instead of through another device, which causes latency.
You'll want to consider carefully which devices you want to connect to your soundbar — specifically your television. Both devices support both ARC and eARC via HDMI, enabling uncompressed audio and preventing desync between audio and video. However, the Arc only has one HDMI input, which you must use for your TV-soundbar connection. The HW-Q90R has one output and two inputs, letting you connect your gaming consoles, Blu-Ray player, or cable box directly to your soundbar, instead of using your TV as a go-between. With 4K and HDR10 pass-through, your soundbar is optimized to handle almost all content natively.
Both devices respond to Alexa commands, a plus for any Echo users. Additionally, Sonos made its soundbar compatible with Google Assistant and Siri via AirPlay 2, giving you far more options for controlling your soundbar verbally or linking it directly to Google / Apple devices.
Sonos doesn't bundle the Arc with a remote controller, meaning you'll need to use an app or your TV remote to change settings. The HW-Q90R does bundle with a remote, but you can still use an app to control it if you prefer.
Sonos Arc vs. Samsung HW-Q90R: Which should you buy?
Either the Sonos Arc or Samsung HW-Q90R will give you an excellent entry point into Dolby Atmos soundtracks, as well as solid treatment of non-Atmos content. So your choice should come down to your budget, living room layout, and the devices you own or plan to own.
Barring any sales, the Sonos Arc will save you a decent amount of money versus the HW-Q90R, but both devices are within the high price range you need to pay to properly recreate Atmos in your living room. So if you're already willing to spend a high price for audio quality, you do benefit by upgrading to Samsung with true surround sound if you can afford it. You could also purchase two Sonos One SLs as rear speakers for your Sonos Arc, and theoretically still pay less than you would for the HW-Q90R package.
You should strongly consider buying the HW-Q90R if you own a new Samsung TV, which will automatically pair with your soundbar and can even automatically change its mode to Game or Surround based on the content on screen. Blu-Ray fans will obviously benefit due to DTS:X support. Finally, if your TV is too old to take advantage of ARC or eARC, you'll need to pass Dolby Atmos data through your soundbar instead for it to work, something only the HW-Q90R can do.
Conversely, fans of Apple or Google products will have an easier time connecting to and voice-commanding the Sonos Arc; you can connect these to the HW-Q90R via Bluetooth or Wi-Fi, but with fewer features and perks. The Arc's Night Mode is great for considerate buyers who want late-night entertainment without angering loved ones or roommates. And Sonos is a good choice for soundbar newbies who need automated help for proper EQ settings.
All-in-one Atmos
With eARC, excellent EQ and all the voice assistants
Straight out of the box, the Sonos Arc offers Atmos-quality sound that you can calibrate via an app instead of by littering your home with peripherals. It competes strongly against other Atmos-compatible soundbars that cost much more. And it is extremely convenient to control thanks to its Alexa, Siri, and Google Assistant voice commands.
True 3D surround sound
With more speakers, DTS:X and HDR/ Atmos pass-through
Samsung's top-end soundbar comes with excellent peripheral speakers and an 8-inch subwoofer that justify its high cost. Thanks to its excellent HDMI pass-through and support for both Atmos and DTS:X, the HW-Q90R is future-proofed to play cinema content as you'd experience it in theaters for years to come.
Sign up for Black Friday email alerts!
Get the hottest deals available in your inbox plus news, reviews, opinion, analysis and more from the Android Central team.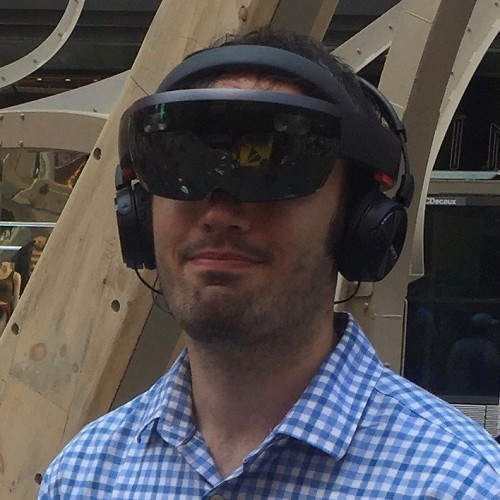 Senior Editor, VR/AR and fitness
Michael spent years freelancing on every tech topic under the sun before settling down on the real exciting stuff: virtual reality, fitness wearables, gaming, and how tech intersects with our world. He's a semi-reformed Apple-to-Android user who loves running, D&D, and Star Wars. Find him on Twitter at @Michael_L_Hicks.