Songza review - a playlist for for any occasion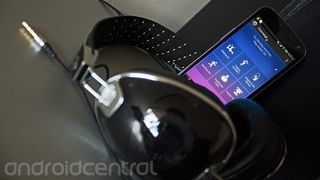 Songza for Android was recently updated for tablet layouts, following up on the release of Concierge. The music streaming service's big selling points are its mood-based playlists and time-based suggestions. For example, launching the app on a Friday night in December will probably offer a playlist for Christmas-themed party songs, while Monday evenings are more likely to offer something to unwind from work. Of course, you can browse through the catalog of playlists ranging in subject matter from genre, activities, moods, decades, or culture.There's even a cute record-store clerk category with playlists such as "This Will Piss Off Your Parents" and "Indie Music That's Not Too Weird".
Best of all, the app's free and there aren't any audio ads. I'll try not to ask how they manage to swing that, on the off-chance someone catches on and we've gotta start paying $10/month.
Style
Songza falls very nicely in line with the Android design scheme with a few excellent touches of its own. Putting the classic stick-figure into a wide variety of situations for the playlist icons is particularly characterful. The app switches to a really nice swipeable carrousel view when exploring collections of playlists.
There's plenty of track control available through the notification menu, a simple home screen widget, and through in-line headphone buttons. There are banner ads on just about every track page along with links to buying tracks on Amazon, but that's a nuisance worth dealing with for free streaming music. There's also a web interface for listening to music and submitting your own playlist to the archive.
Function
Concierge is the main function that offers the ideal playlists for whatever time of day or year it is. As soon as you boot up the app, it has a handful of suggestions, but there's a lot more to dig through.
Aside from the more esoteric playlists, there are plenty of traditional ones too, such as top charts from Billboard, iTunes, and Amazon. Selections for genres like classic rock are often broken up into more specific lists like Greatest Hits, Classic Rock Guitar Solos, Classic Rock Summer, and Hipster-Approved Classic Rock. Though that might sound like overkill, there's a handy search bar to find exactly what you're looking for, and a favoriting system to access the playlists later. Songza is also really good about suggesting playlists similar to the ones you're listening to, especially if you've thumbed-up or thumbed-down particular tracks.
Like most free streaming music services, you can't pull up individual tracks on demand, and can only skip forward songs. This is fine by me, since I've been really happy with every playlist I've tried out, and am happy to give up a bit of control to discover new music. Besides, I usually have my music on shuffle anyway. The audio quality on the music streams have been extremely good, and though you might think licensing costs would limit selection, but you'll find The Beatles, The Rolling Stones, and Queen right alongside Skrillex, Justin Bieber, Katy Perry, and everything in between.
Facebook linking ties in perfectly with the dedicated Music stream, where whichever playlist you're listening to is automatically shared. The nice thing about this as opposed to other other services is that your friends can actually listen in without having to sign up for the service. The only real function gaps that I noticed were a lack of on-demand music and offline caching, which are typically reserved for paying subscribers on similar services anyway.
Pros
Massive number of high-quality playlists
Free with no audio ads
Cons
No offline caching
No on-demand tracks
Bottom line
Songza is awesome and free. The quality of variety of playlists is mind-boggling, and ensures that you always have something to great to listen to on any occasion. For my purposes, I couldn't imagine needing to pay for a music service with Songza in the picture. I don't know how they're making money, but if banner ads and affiliate sales through Amazon are enough to keep them in business, I'm all for it.
Android Central Newsletter
Get instant access to breaking news, the hottest reviews, great deals and helpful tips
Simon has been covering mobile since before the first iPhone came out. After producing news articles, podcasts, review videos, and everything in between, he's now helping industry partners get the word about their latest products. Get in touch with him at simon@futurenet.com.
I'm all about the Songza. Personally, I haven't had too much luck using the Concierge feature, but it's a cool idea - they just need to take into account my musical tastes and it'll be great. For me it's been perfect just in using search to find the different playlists available. I have been curating Pandora stations for YEARS that have been blown away by some of Songza's built-in playlists i.e. Cosmic Funk (not to mention the community created playlists - a cool feature - I'm currently working on a great one ... that I'll never be able to listen to .. such is free life)

Yeah, that's a good point about not being able to listen to your own playlists. It sucks not being able to listen to it, but I'd at least like to be able to bring it up so I can share it with friends. Edit: Scratch that, turns out there's a tab in the web version which shows the playlists you've made. Feel free to check out mine... Most of it was made when I was trying to put something together to listen to while playing EVE Online.

Installing this now. I've been looking for some way to find new content other than the recommendation engine in Google Play or the worse one in itunes. I suck at playlist building anyway, so anything that can do that well will be welcome. I suspect that they will try making money with that shopping cart icon at the top of the screen, which takes you to Google Play Music store. A couple cents per sale might add up to enough money to pay the bandwidth fees, but I doubt it.

Streaming seems a little wonky right now. The gap between songs, can get rather massive, making you thing the stream failed. Occasionally it stops playing mid-song, and it jumps to song fragments before starting a new track. I've had it crash and want to send crash reports twice in 10 minutes. Often it will play a song completely, then crash at the end of the song, suggesting this, like Google Music, is not a true streamer, but rather a file-transfer-then-play method. (Such a technique is ripe for hacking, as someone is bound to find a way to copy the temporary track files). I suspect it may be getting hammered with the Android Central effect right now, and can't keep up with the transfer demands.

Great app IMO. I've been using this badboy ever since I ran into out. Pandora was my main streaming music app but not anymore.

WOW....How did this slip by me? this blows pandora away IMO.....no sound ads, notification controls, and lock screen controls....yes please. this will be my new party DJ and work companion!

I know this is a drawback of most streaming services, but I feel it should be mentioned (just to avoid getting hopes up and then UTTERLY crushed): THIS APP IS US-LOCKED :(

Just to clarify, I've been using it in Canada!

I started using it this morning at work. Amazing!! I switched to the website to preserve battery, but I love it! Goodbye Last.fm subscription. Works in Canada!

I've been a loyal Pandora user for years, and I've been doing my best to avoid paying attention to Songza. (The concierge thing seemed a little gimmicky to me when I first heard about it.) But fine, I'll check it out.

Just started using after I seen your post. Been listening for a few hours now and no problems what so ever. I'm really liking this already. Thanks for the tip.

good app, been using the web version at work and while I like it, I've seen two problems. First is the volume levels seem all over the place, one song is quiet, the next is very loud, annoying to have to constantly adjust volume. Also I am on Chrome, Mac OS X and I keep getting the script has an error window and it asks me to kill or wait, so I have to hit wait a bunch and it seems to either stop playing or have a huge pause if the browser is minimized. back to pandora for now...

I too dislike the volume fluctuations but all in all a very solid music streaming app!

Motorola Xoom
This item cannot be installed in your device's country.
Samsung GT-I9100
This item cannot be installed in your device's country. :(

I've been using it since it appeared on Apps of the Week this week. I like it, as someone else mentioned it sometimes hangs between songs but overall very solid. Only complaint, since I work nights the consierge thing is always time displaced from the moods I'm on.

too bad I cannot install it in my country, it seems like a good app!
Android Central Newsletter
Get instant access to breaking news, the hottest reviews, great deals and helpful tips
Thank you for signing up to Android Central. You will receive a verification email shortly.
There was a problem. Please refresh the page and try again.