Songza review - a playlist for for any occasion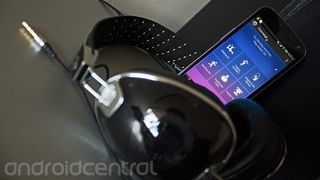 Songza for Android was recently updated for tablet layouts, following up on the release of Concierge. The music streaming service's big selling points are its mood-based playlists and time-based suggestions. For example, launching the app on a Friday night in December will probably offer a playlist for Christmas-themed party songs, while Monday evenings are more likely to offer something to unwind from work. Of course, you can browse through the catalog of playlists ranging in subject matter from genre, activities, moods, decades, or culture.There's even a cute record-store clerk category with playlists such as "This Will Piss Off Your Parents" and "Indie Music That's Not Too Weird".
Best of all, the app's free and there aren't any audio ads. I'll try not to ask how they manage to swing that, on the off-chance someone catches on and we've gotta start paying $10/month.
Style
Songza falls very nicely in line with the Android design scheme with a few excellent touches of its own. Putting the classic stick-figure into a wide variety of situations for the playlist icons is particularly characterful. The app switches to a really nice swipeable carrousel view when exploring collections of playlists.
There's plenty of track control available through the notification menu, a simple home screen widget, and through in-line headphone buttons. There are banner ads on just about every track page along with links to buying tracks on Amazon, but that's a nuisance worth dealing with for free streaming music. There's also a web interface for listening to music and submitting your own playlist to the archive.
Function
Concierge is the main function that offers the ideal playlists for whatever time of day or year it is. As soon as you boot up the app, it has a handful of suggestions, but there's a lot more to dig through.
Aside from the more esoteric playlists, there are plenty of traditional ones too, such as top charts from Billboard, iTunes, and Amazon. Selections for genres like classic rock are often broken up into more specific lists like Greatest Hits, Classic Rock Guitar Solos, Classic Rock Summer, and Hipster-Approved Classic Rock. Though that might sound like overkill, there's a handy search bar to find exactly what you're looking for, and a favoriting system to access the playlists later. Songza is also really good about suggesting playlists similar to the ones you're listening to, especially if you've thumbed-up or thumbed-down particular tracks.
Like most free streaming music services, you can't pull up individual tracks on demand, and can only skip forward songs. This is fine by me, since I've been really happy with every playlist I've tried out, and am happy to give up a bit of control to discover new music. Besides, I usually have my music on shuffle anyway. The audio quality on the music streams have been extremely good, and though you might think licensing costs would limit selection, but you'll find The Beatles, The Rolling Stones, and Queen right alongside Skrillex, Justin Bieber, Katy Perry, and everything in between.
Facebook linking ties in perfectly with the dedicated Music stream, where whichever playlist you're listening to is automatically shared. The nice thing about this as opposed to other other services is that your friends can actually listen in without having to sign up for the service. The only real function gaps that I noticed were a lack of on-demand music and offline caching, which are typically reserved for paying subscribers on similar services anyway.
Pros
Massive number of high-quality playlists
Free with no audio ads
Cons
No offline caching
No on-demand tracks
Bottom line
Songza is awesome and free. The quality of variety of playlists is mind-boggling, and ensures that you always have something to great to listen to on any occasion. For my purposes, I couldn't imagine needing to pay for a music service with Songza in the picture. I don't know how they're making money, but if banner ads and affiliate sales through Amazon are enough to keep them in business, I'm all for it.
Get the Android Central Newsletter
Instant access to breaking news, the hottest reviews, great deals and helpful tips.
Simon has been covering mobile since before the first iPhone came out. After producing news articles, podcasts, review videos, and everything in between, he's now helping industry partners get the word about their latest products. Get in touch with him at simon@futurenet.com.