Someone is trying to make a Galaxy S8 case that covers the Bixby button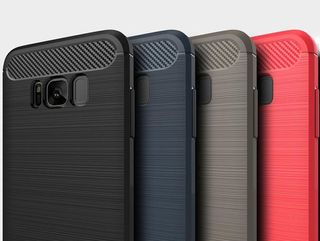 Calling Samsung's Bixby service not fully baked is perhaps the most gracious way to put the thing that was supposed to totally change how we interact with the world around us. Bixby Vision barely works, Bixby Voice still doesn't exist yet, and the core Bixby recommendation engine really only sees the light of day when I accidentally press the dedicated Bixby button on the side of my S8.
Samsung won't let you disable the button, and it won't let you reprogram the button, so the only option left is to make a case to cover the button up entirely and forget it exists. Would you like a case like that? Kickstarter has what you need.
The case itself looks nice enough, but it's clear by the I Hate Bixby stickers and hats that are also a part of the campaign there are some deep feelings held by the creator. It's a little unnecessary to go quite that far, but a case to cover this mostly useless button until Samsung gives you a real reason to use it doesn't seem like a bad idea.
Get the Android Central Newsletter
Instant access to breaking news, the hottest reviews, great deals and helpful tips.
Why isn't this called the Nixby already?

You win the internets today!

It's 9:30 and I think we already have our comment of the day.

So when does Samsung pull the plug on this half-baked version of Google Assistant, realizing nobody wants it? Or can we expect a Bixby Button on EVERY Samsung phone from here on out?

No it won't. They're trying to sell phones in China. No Google Assistant.

Afraid not. If you need proof, look how long S-Voice has been around.

My guess is it will be on every one of their S-Series phones for the next few years. Possibly coming down to the A series eventually. I don't think this is going away for a while.

Samsung will not give it up because they want your data to sell. There is a reason they try to replace every Google app.

Nice!!! I'd like a case without the button, tired of hitting it on mistake...

Why would a company release a device with a dedicated button for a feature that wasn't ready yet? Why didn't Samsung take every penny they spent on Bixby and dump it into developing and getting the fingerprint scanner under the glass?

They released it with a button for an unfinished service because the hardware has to be finalized long before the software is. And they spent time and money developing Bixby because once Bixby is finally ready for prime time (and assuming they can get people to actually use it), Bixby will be much more useful and profitable to Samsung itself than pretty much any other feature will be.

Wouldn't have helped, there are some things that can't be accomplished by simply throwing large amounts of money at them.

Microsoft released 2 smartphones with an OS that wasn't ready yet.. so...

Companies make mistakes. The free market provides solutions.

So my Bixby remapping app still works fine for me, is that because the app makers found a permanent way to make it work or is it just because I'm missing an update?

Oh ok. That one doesn't work well for me. It lags and sometimes opens Bixby. I just stopped using it and resigned myself to the button being useless

If I had an S8, I'd probably consider this as I really honestly do not care for Bixby at all.

You could just disable the bixby button with package Disabler pro. No Root required. Instructions here: https://forums.androidcentral.com/samsung-galaxy-s8-and-s8-plus/791830-s...

Exactly what I was gonna post. Disable and forget.

Exactly... you can disable it or repurpose it for another App. Not a big deal! Its like on some of the older phones with the dedicated camera button... no one ever used them, and no one cared. In terms of the bigger picture... I think people are making way to much out the the Bixby issue. Who cares if they are late in terms of delivering it. I highly doubt anyone acquired the s8 just because of Bixby. And, I would rather have them use the Apple mantra .... if you are going to deliver a customer experience, make sure it works well before you deliver it.... even if its late to the market.

But according to Mr Mobile, the S8 is "more advanced" than the U11. So advanced, cases are made to cover it's advanced buttons.

Ummmm There are many reasons why the Samsung S8 is better than the HTC U11 but I doubt anyone included Bixby on that list.

One great feature of the U11 is that you can at least turn off that stupid squeeze thing. Mind you what were HTC doing spending their limited resources on that anyway? No wonder they are failing fast.

Granted it won't be for everyone so thats why unlike the Bixby button, HTC gives you the option to map to applications or to turn off the feature

I like this idea, but you more than likely won't get the case before you get a new phone.

The way Samsung sold the feature, Bixy looked like it would be useful. Guess we won't really know until it fully rolls out. Hate is such a strong word for a button/phone feature. Haha.

That was my idea! I tweeted Phil about it weeks ago. lol

Who says it can be disabled? Since day 1 on my S8 bxActions app takes care for this. Maybe idea with Bixby is no so bad, problem is for many foreign countries it is more annoying then usable and button could not be in worst place.

It's Kickstarter- The case will get funded, there will be unexpected issues with the molds, there will be manufacturing issues getting the button alignment right, there will be delays in communication, then maybe around the time the Note 10 ships, the case will arrive.
Not that I've been burned on Kickstarter before...

Sorry Samsung. No one likes Bixby. Not to late to remove it from Note 8.

The people behind this are doing The Lord's work

This is hilarious. Sent from my Sony Xperia X Compact

Can they make a version where the opaque rubber also covers up the entire screen so ugly Touchwiz is nixed also?

Samsung needs to stop trying to fix what's not broken with Android...

I literally forget Bixby exists on my S8. I was curious about it as it sounded so much more advanced than similar technology. I don't find myself accidentally pressing the Bixby button though. Just tested it and it didn't even work first press, maybe because I use Nova launcher and it's been closed in the background or something?

These look like something Spigen sells.

Keyone has the true convenient button that actually works lol...u can also change it to any app u want, even set it as android pay or camera...wish samsung were as productive as blackberry. S8 is a great phone with useless software features

Coming from a 128 GB One Plus 3T absolutely hating my S8. Other than the price this time with samsung with the BOGO offer the samsung software is horrendous. The battery life is terrible compared to the same usage on the One Plus 3T. Samsung has good camera specially the front camera is perrty good to take nicer looking pics of yourself but other than that I don't feel the updated processor at all. The One Plus 3T is running 7.1.1 and there's no way you can slow it down a bit. The samsung is always feeling like it is chocking and the battery is dying. The curved screen does nothing only makes it harder to hold the phone and touch something towards the edges. In short Samsung is over engineering their stuff. I wish samsung was making a phone like the moto Z stunning sexy looks, incredible battery, stock android but lower end processor and Ok camera.

those phones exist. It called Samsung J series and C series

Still glad I sent mine back. I have more fun using my Note 4 when I need a touch of Android.