Some Google Photos editing features may soon be paywalled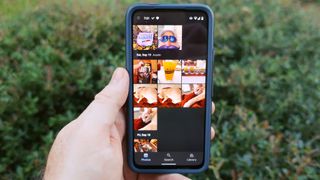 (Image credit: Jeramy Johnson / Android Central)
Update, November 06 (08:20 pm ET): Google explains what's going on.
What you need to know
Google is working on a change to the Photos app that'll make it easier to monetise.
It's moving some editing features behind a paywall.
You'll then need a Google One subscription to access those features.
Google Photos is a fun service from Google that's been recommended for its ease of use across platforms. It stores all your photos, works on all your devices, and even throws in editing for free. Now, Google is working on monetization for the app. The company already sells albums and prints, now it's going to put some pre-existing features behind a paywall.
As per XDA Developers, it's testing moving Color Pop, a feature that would leave the subject in color while rendering the rest of the photo in monochrome, behind a Google One paywall. If this rolls out, to use that feature, you'll need to have a Google One subscription on your Google account.
It's a move that strikes us as a little odd, especially when it comes to a stock app for Android One phones, but it's not without precedent. Microsoft does the same thing with premium editing features in the Microsoft Photos app being locked behind an Office 365 paywall.
Of course, it would be more user-friendly for the company to create new features for this new Google One integration, rather than lock away ones that were already in the project. Perhaps that's what Google plans to do when it rolls this change out widely, lest they risk being seen as greedy.
Update, November 06 (08:20 pm ET) — A Google statement sheds some light on the situation
Google told Engadget that the version of color pop it was rolling out to Google One customers is actually an enhanced version that works without depth information. It can therefore be applied to older photos and is presumably more technically complex than the free mode.
As per Engadget, here's the full comment:
sundar is running out of billions to count and needs a new inflow source.

It sounds like something Apple would do.

Well this will be a quicker way to kill an app. I'm not one to screw around with a good picture. I'll just hit auto and let it do it's thing. By tying these features to getting another service, It will only make those features very limited. Google is going the trail ware lot. Give a great app most but not all the features and hold the really good ones behind a paywall. NOPE.

I've got a Motorola phone and Google photos is the default photo album / editing app so this kind of bothers me though it doesn't affect me at this time because I have Google one. people shouldn't have to pay for features that are already integrated into there phone.

Yeah I'm not a fan of this at all. If anything any existing features should be free. Any new features that they want to implement they should decide if those are worth a paywall or not. I believe that is the fair thing to do.

That sucks for most people and google doesn't need them money.
I myself already subscribe to Google one for phone and computer backups so I won't be affected. But it's not a good precedent to see from the #1 free software company.
They also probably should give it to pixel owners for free too at minimum. I'm not including open source software in with for profit companies

So it used to be Google provides services for free and in return they collect our data, but now they want to collect our data and make us pay for services?

Bingo. Hit the nail on the head.

Google's computational photography algorithms are the best of the business, yet they don't work as well on older photos without charging extra money. What a load of BS.

So it's not really existing features so much as it's better existing features?

Well, yesterday I ditched the Google photo app on my Oppo A72. The reason is because it just wasn't working not matter what I tried. I've stuck now to the stock oppo app, which is pretty good. After reading this I think I've made the right decision.

if you have any issues related to hacking kindly contact EMRYSGHOSTHACKER on gmail for issues related to hacking
Android Central Newsletter
Thank you for signing up to Android Central. You will receive a verification email shortly.
There was a problem. Please refresh the page and try again.