Skype as your default Android messenger and dialer? It's almost a reality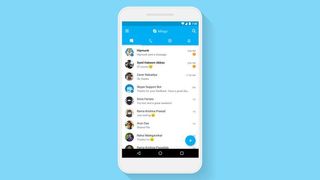 Thus continues the Microsoft takeover of your Android device. A new Skype application called "Skype Mingo" has been making the rounds. It enables Android users to utilize Skype as a native calling app, contacts manager, and all-in-one messenger. It's also equipped with features like file and photo sharing, video calls, and Skype's new bots — all the features that Microsoft's been touting for some time now.
As TechCrunch reports, Skype Mingo was first spotted by the blog, MSPoweruser, which initially reported that Skype is planning to bring SMS functionality to the app, hence it becoming an all-in-one messaging platform. But it's the Skype bots that are especially enticing, considering you'll be able to find flights, order tickets, and search the web right from within the app. It's like Google Assistant — except, it's Microsoft.
Skype Mingo is not entirely ready yet. Unfortunately for you, dear Android user, the app is still in alpha testing. You can find it in the Play Store (opens in new tab), but you likely can't download it, as it's still not ready for the general public.
Get the Android Central Newsletter
Instant access to breaking news, the hottest reviews, great deals and helpful tips.
Florence Ion was formerly an editor and columnist at Android Central. She writes about Android-powered devices of all types and explores their usefulness in her everyday life. You can follow her on Twitter or watch her Tuesday nights on All About Android.
I'll never use any Microsoft app as my default app on Android, Google's apps will always be my default apps, especially not Skype. After all why would any true Android fan use bing instead of Google or OneDrive instead of Google Drive?

I prefer Google over Bing...but much prefer OneDrive over Google Drive

Yep, and office apps are much better than the drive apps. They even fixed outlook on android!

I had so many problems synching Google Drive I deleted it and only use OneDrive, it works way better. Actually, Outlook on Android is pretty good also. I quit using Google Docs also and use the free Microsoft Office.I find most of Google's apps seem clumsy and beta-like to be honest. About the only thing I use is Google for search and Chrome.

I've never had a problem with most of Google's apps, the only Google app I've had a problem with was the stupid authenticator app. I tried using OneDrive on iOS and hated it, its such a confusing and clumsy app like OutLook too. I'll only use Google apps on Android as no other apps are better than Google's apps, Microsoft's bing maps ain't got nothing on Google Maps and Edge is crap against Chrome, the most used browser in the world.

Edge is also not available on Android.

Is Android your religion? I'm not sure why anyone would care about being a "true Google fan" or a true Apple fan. Would you care to elaborate?

I used to be a big Apple fan until recently, I've since sold my iPhone and bought a Chinese Android phone which does more than my iPhone ever did, I switched the default Chinese launcher to Google Now because I love Google Now so yeah, I'm a Google fan, always have been, I've tried WP to, complete trash especially without Google apps. If I had a religion the Android would be as close to a religion as it gets for me.

If you are SUCH A BIG fan of something, you have bigger problems than what app to use... If Google sucks with their decisions to make 10 chat apps and none of the useful then you should look somewhere else. Lately MS is killing it in the Android iOS development. Pretty sure time will come when they will destroy them with ads but for now they work great.

I really don't give a **** what Microsoft do on Android, I care only what Google does on Android or anyone else and I especially don't give a **** about crApple or iOS.

I don't know, many reasons! Office365 subscription? Why would someone use Google Drive if you already get storage with OneDrive thanks to your sub? Makes no sense.

Kind of limiting to confine yourself to one company... I love android on my phones, but prefer Windows laptops and tablets. Way more functionality. Google maps is my "go to" but the "bird's eye" view in Bing maps is just awesome and many times it's usually better than Goggle's limited satellite view.

"any true Android fan"???? I am an "it works best" fan. If it is made by Google and works best, I use it. If it is made by Microsoft and works best, I use it. I refuse to be a "fan" of anything to such a degree that I fail to take advantage of a better product.

thank you, a perfecht statement. I used a Windows Mobile for a while and it was not bad really. Switched back to Google because I needed some Apps that WM just did not have. When I went (and I still do frequently) visit the Windows Websites and Boards it is juast the same "how can you use Google if you are a WM Fan..." that is so stupid. Use wahtever suits your needs and what you feel comfortable using. I use right now mosltly Google Apps (Docs etc.) simply because I like it when all ist in the same enviroment. However I am also using Office365 and OneDrive (why not 1TB with Office 365). And MS does deliver a lot of verry good Apps so why not usinge them?

Then you Sir, are incredibly small minded. But hey, if you want to live inside your little tech bubble with your preconceived notions just because of the company name on it, you go for it.

Many of us are not myopic. A little enlightenment goes a long way, and the best office and productivity suites are not made IMO by Google.

Woah. This could be huge. The dream is to be able to do everything that Google has spread across 4-5 redundant apps (and Apple has spread across 2) in one.

Yep. I like the idea. Google missed that entirely.

"Unfortunately for you, dear Android user, the app is still in alpha testing. You can find it in the Play Store, but you likely can't download it, as it's still not ready for the general public." Umm...available on APKMIrror for those who want to try Alpha Software.

I downloaded and installed from the Play Store yesterday after seeing the post on MSPoweruser. Wasn't an issue.

I'm in Canada and it wasn't available to me via the Play Store. Not an issue for me since I side-loaded it anyways.

Wow, Microsoft is killing it! Well this is pretty cool.

This is awesome. Never really been a chat app person, but I'll definitely try this!

Microsoft is like one app away from offering a complete launcher an app suite for an Android based phone. All they need in Edge for Android now.

Yeah but Google won't let you use their launcher, not if you want to use a fingerprint scanner and Android pay.

Microsoft has Arrow Launcher and Next Lock screen which work with the fingerprint scanner fine. Not sure about the Android Pay thing.

That's exactly my point. Until Google recognizes it at a secure locker you can not use Android pay nor pay for play store apps with your fingerprint.

Maybe I'm not fully understanding your point but I have both the Arrow Launcher and Next lock screen on my OP3 and I'm able to use Android Pay using my fingerprint without any issue.

Nope, not until it offers end to end encryption and a dark mode. Cmon Microsoft....

They probably will keep that exclusive for a while to the Windows app

Facebook Messenger has this locked down im afraid. Ive actually given up on whatsapp because I got tired of asking people to download it. Most folks already had FB messenger because FB kinda forced its users to install to see PMs. So instead of asking folks to download whats app I just switched to FB messenger. User base is all important in a messaging app.

Microsoft is on to something. Windows Phone is dead, so Microsoft is pouring their energy in to Android and iOS. Google should be enhancing Hangouts. Instead they've gotten sidetracked with Allo. Allo will die a slow death unless Google puts SMS functionality in it.

You can actually download it. I guess it's unavailable in the US but it is available for download in India

Why would I switch from the defaults? I've used Skype, it's fine but certainly not worth replacing my existing apps. So it suddenly supports voice and SMS. I wouldn't consider that groundbreaking. FB is already desperately trying to do this. No thanks to either.

Skype ... the original cross platform messenger There really was nothing fundamentally wrong with Hangouts. In combination with a Google Voice number, it is very powerful. I love being able to have a conversation with someone and switch between phone, tablet and desktop without missing a beat. With Allo, you are tied to your phone. I have not used Allo. I see nothing compelling about it to make me want to switch.

Skype works great as is. Use Viber a lot for messaging with friends in Europe. Easy and convenient.