Simplicam offers home security alternative to Dropcam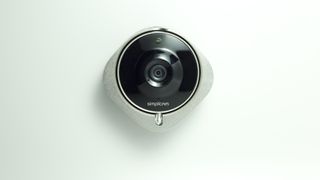 A new system called Simplicam by Arcsoft promises to be a strong Dropcam competitor thanks to cheaper cloud storage subscriptions and facial recognition alerts. Simplicam has the same simple plug-and-play set-up and mobile app for movement alerts and live monitoring. Facial recognition just lets you know that there's someone in the house, not who they are, but in most cases that's enough.
If you snag the $199 version of Simplicam (compatible with both Android and iPhone), it includes a year of 1-day subscription service of the cloud storage service, Closeli, so you can go over footage from the last 24 hours. You can also subscribe to a $49 annual plan instead. By contrast, Dropcam charges you $99 a year, though you get a full week's worth of playback. In both cases, you can skip the playback function and just tune into the live feed with the camera alone.
As it stands, Simplicam is clearly the more attractive offer for those who only need a day's worth of footage to go over, even if the the promotion is only for a year's worth of service. That sounds like a healthy demographic, especially since many aren't entirely sold on recurring fees for this sort of service. One can only hope that Dropcam offers a similar bundled cloud service with their hardware in order to compete.
Anyone interested in giving Simplicam a shot can order one now. How many of you guys have a Dropcam? Anyone looking for an equally-functional alternative?
Simon has been covering mobile since before the first iPhone came out. After producing news articles, podcasts, review videos, and everything in between, he's now helping industry partners get the word about their latest products. Get in touch with him at simon@futurenet.com.
I'll wait for Dropcam integration so that I can integrate it with all the other home accessories and my Nest devices within the house. I want one simple and well-supported ecosystem.

Check the forums at coocontech dot com. It is about home automation, but most participants are either designing their houses from the ground up, or retrofitting an integrated ecosystem, as you mentioned. This includes home automation, security, Audio/Video, etc. I have been controlling my house lightning from my mobile for years, but that is nothing to be proud of. I like better when the house reacts as programmed, instead. The alarm turns automatically to night mode if I forget to do it, the lights turn on when and alarm sensor is triggered, etc. In the week, the family room TV is turned off at 8:30pm and a message tells the kids that it is bath time....

The leading NAS (Synology, QNAP, and maybe others) allow you to record as much as you want to your own RAID system. They support several brands (again, the leading brands and more). Are any of these camera brands compatible? I would think that they are designed to be stand-alone. Just like the Nest Smoke alarm doesn't support the industry standard 2/4 cable connection for wiring the sensor to the house/building alarm or automation system.
This internet of thing market is in its puberty. And just like kids in puberty, they want to be independent, because they don't know better. Hopefully they don't take too long to mature. Only then they will learn that adulthood is about interdependence. You cannot achieve any big enterprise without collaboration.

This. I could not have written this better myself.

If it's remote storage only, no deal for me. That broke the deal for me with drop cam and several others, hope this isn't similarly inflexible.

I use dropcam as a baby monitor. It works well however I was bummed the storage only lasted in a week trial (not that I was using it). I actually disabled the sound and movement alarms because any change in sunlight (cloud making the room darker) sets it off and of course...cat. But we keep it live on the computer screen across from our beds at night so we have the always on view of our son in his bed (beats having to find our cell phones to look). We also bring it with us to the inlaws for naps and there is nothing more comforting when Im away from home travelling for work and I can check in whereever I want and see my boy sleeping comfortably. The 2 way sound sucks though mind you, very choppy and hard to hear while talking remotely.
Android Central Newsletter
Get the best of Android Central in in your inbox, every day!
Thank you for signing up to Android Central. You will receive a verification email shortly.
There was a problem. Please refresh the page and try again.