SIM-free HTC One Max arriving at UK retailers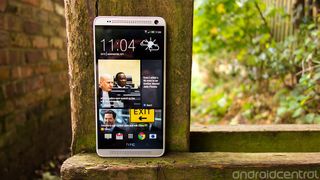 The HTC One Max has been available from Vodafone UK since shortly after its announcement, and now we're starting to see stock trickle through to SIM-free outlets. Unlocked Mobiles has the device in stock today, priced £584.98 inc. VAT; Clove, MobileFun and HandTec are expecting stock in the next day or so, and offer similar price points.
The One Max is a competent enough big-screened phone, but it's a tough sell at its current SIM-free price, which is perilously close to the higher-spec'd Samsung Galaxy Note 3. For a complete walkthrough of the Max, hit up our full review.
Source: Unlocked Mobiles
Alex is global Executive Editor for Android Central, and is usually found in the UK. He has been blogging since before it was called that, and currently most of his time is spent leading video for AC, which involves pointing a camera at phones and speaking words at a microphone. He would just love to hear your thoughts at alex@androidcentral.com, or on the social things at @alexdobie.
The Note 3 can be purchased for £516 from amazon, so what does the One max offer that is superior to the Note 3, well the answer is NOTHING. Wrong price point and it WILL be a flop that i am sure of. Posted via Android Central App

I wouldn't buy the ONE max but I'd prefer sense over touchwiz every day. What's the killer feature of the Note besides the pen (which I had no real use for)? And regarding the build quality the ONE is a clear winner.

Is that worth £65 more though when you'll cover it up in a case and end up with a worse spec'd phone? Hmm, probably not They missed a trick with this phone, should of upped the specs but they didn't bother.

What is the killer feature to the one max? Flippent perhaps but that deseves an answer so come on, So whats the killer feature of the Note 3 many in my opinion, yes the S-Pen and the multi-tasking options, the high sensitivity of the screen, the power, performance, the screen resolution, the apt size, the design, the storage, the camera, the options of the smart screen to name a few. What does the one max offer that is above and beyond the note 3? And why go on about touchwiz like its a bad thing it brings so many great features, and the appearance can be changed free by using novo launcher, apex, smart ect. All the One Max offers is a larger screen, and expandable storage, yes the one's build is great, but from what i have read it not the same with the one max and its heavier aswel. Its just a one with a larger screen so bring the debate. Youl just show yourself up however. Posted via Android Central App

As you've already said, the only things that the One Max has the advantage over the Note 3 is: larger screen, better internal/external audio, FF camera, and better battery life. Off the top of my head, that's all I can think of. Not much IMO. Posted via Android Central App

How dare HTC to command this price for this large phone, that's supposedly to be a phablet. But doesn't even add value over the HTC One besides a larger screen? HTC fuck off I used to love you guys but they are not even trying anymore. Why would they knowingly release and inferior product and call it competition. Top of the line specs call for top of the line price. This is definitely not top of the line.

Love the phone but needs a multi-window like feature to take full advantage of that gorgeous screen Also needs the snapdragon 800 ; What would be perfect would be a Google play edition of the HTC One Max with a Snapdragon 800 Posted via Android Central App

What I need. - finger print scanner. Probably not very useful. But matches iPhone5S. Other Android phones can only copy next year 2014. It would be interesting to see if others copy Apple to put at front or HTC to put scanner at the back side.
- 5.9" screen. I was thinking 6.4" but 5.9" is minimum for good entertainment.
- LCD3 screen. accurate and beautiful color with superb brightness for outdoor. AMOLED screen is only good for indoor use.
- Dual Stereo Speaker. For for outdoor. Do not need to bring extra mini speakers.
- Big Battery.
- Long battery Life.
- FCC label is not visible from outside.
- Someone please make a desktop pogo dock. What's bad
- Only has 32GB version. I would trade SD card with 64GB version. Never see any body change SD card.
- S600 cpu. But everybody got 1. It's good for battery and ROM update since identical cpu for HTC ONE and Butterfly S. But everybody got S800 by now.
- Blink Feed. This is too easy to use. Waste too much time reading news.
Android Central Newsletter
Get the best of Android Central in in your inbox, every day!
Thank you for signing up to Android Central. You will receive a verification email shortly.
There was a problem. Please refresh the page and try again.